16th February 2012, Nottingham
Legwear International launches run-resist hosiery line
Nottingham UK based Legwear International is set to make waves at the Moda 2012 show at Birmingham's NEC this weekend, with the launch of a brand new line of run-resist products which it expects will revolutionise the hosiery market.
The new line called Couture Fusion will "embrace ladder protection technology to fuse together both sheerness and durability, a new industry innovation, to create tights so durable that they can be cut with a pair of scissors and still refrain from laddering," the Nottinghamshire based company says.
"It is a common scenario. You are already late for that important meeting when you ladder your tights and have no option but to either take them off entirely or to attend the meeting looking a little dishevelled," says Kirsten Taylor, Marketing Manager at Legwear International.
"Hot on the heels of previous fibre innovations, Invista has now released Lycra Fusion fibre, a ladder free, long-lasting, super-comfy yarn that makes legwear immune to laddering. We have been working closely with Invista and we are lucky enough to use this new technology in our brand new line to be named Couture Fusion, which will put an end to such mishap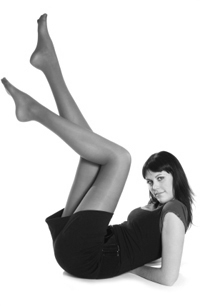 s for good."
Lycra Fusion fibre is based on Invista's new patent-pending technology which aims to deliver fusibility with superior stress-strain performance functions helping to prevent runs whilst maintaining stretch and recovery benefits.
According to Invista, Lycra Fusion fibre helps make hosiery ladder resistant and improves the durability and wear life of leg wear. It is also said to deliver exceptional fit and maintain shape retention. The technology can be adopted by hosiery makers on commercial machines and processes and is said to provide a uniform appearance to hosiery.
"Traditionally, durability and sheerness were two elements that did not sit hand in hand. The traditional 'ladder resist tights' were thick and certainly not sheer by nature. Products containing Lycra Fusion fibre are extremely soft to the touch, and do not lose their shape no matter how often you wear and wash them," Kirsten Taylor adds.
Providing the women who wear them with a 'second skin', Couture Fusion benefits from a more uniform appearance so whatever denier you opt for, there will be no inconsistency of shade, weight or finish, so whether you're at work, or partying the night away, your legs will always look great."
Legwear International Ltd was founded in 1997, by Allan Falconer, who has a long history in textiles and hosiery with Courtaulds, Pretty the South African Hosiery Company. With over 20 years experience in leg wear he has now taken Silky hosiery from a zero base and the business has grown year on year in both turnover and profit and now encompasses five hosiery brands.
This article is also appears in...