Over 30 Leicestershire textile businesses recently took part in an event about how to become more attractive to major clothing retailers who are looking to source from local suppliers.
Leicestershire Textiles Hub, an information resource and support programme for businesses and individuals involved in the textiles sector, hosted a free master class called 'Retailer Engagement' to equip local firms with tactics and guidance on how to secure work with household names in the retail sector.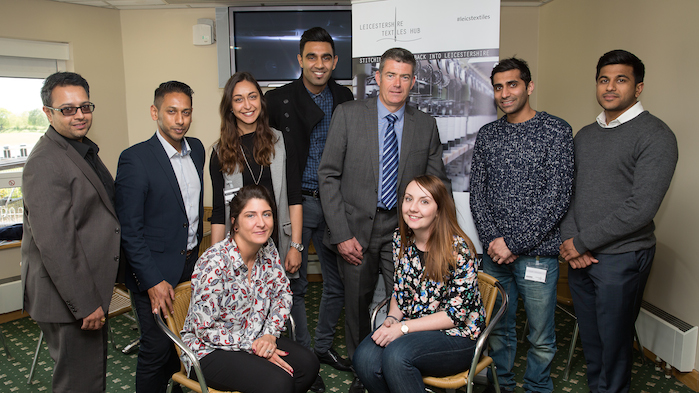 The interactive seminar was attended by a range of city and county firms including Pretty Legs Hosiery, Jack Masters, Djinn, Fashion Manufacturer Ltd, Fashion UK, Basic Premier, Who's Who and Britannia Garment Packaging.
Supporting future growth
The event is part of a regular series of bespoke workshops for the region's textiles industry. "This session was all about how we can support the future growth of the industry by promoting their capabilities and services in the right way," said Abdul Bathin, hub programme manager.
"We have a large pool of textiles companies who are looking to expand and this seminar was designed to help them go to the next level."
"We received some very positive feedback from those who attended who will now look to implement everything they have learnt."
Bhavik Master, director of knitwear manufacturer Jack Masters, who attended the seminar, said: "It was a very insightful session and something that will help to build our future growth strategy."
The session was delivered by Andy Dean, retailer engagement consultant at Leicestershire Textiles Hub, who spoke about how firms can promote their services and develop their product offering.
The event was part of Leicestershire Enterprise Partnership's (LLEP) 'Celebrating Business Event' and concluded with a fashion show promoting products made by the region's firms.
Leicestershire Textiles Hub, funded by the European Social Fund, supports local textile manufacturers by promoting the sector and helping businesses to grow and take advantage of new ideas, skills and technology.
Watch the Leicester Textiles Hub movie to find out more...
Leicestershire Textiles Hub launch from Pera Training on Vimeo.
According to Leicestershire Textiles Hub, it is estimated that Leicestershire is responsible for 20% of the UK's garment manufacturing with an annual turnover of around £560 million.
The Leicestershire Textiles Hub's website and its associated support strands are a joint initiative funded by the European Social Fund and managed by Pera Training Ltd. The hub will see the delivery and coordination of a range of support for the textiles sector in Leicester and Leicestershire. Part of this programme is the development and rollout of a website to bring together local and national industry support initiatives, particular around skills and growth and showcasing Leicestershire textile capability.
The Leicestershire Textiles Hub is one of a series of initiatives being delivered as part of the Skills Support for the Workforce programme. These contracts see Pera Training support small to medium sized businesses train and develop their workforce in the Leicester & Leicestershire Enterprise Partnership area.
The £1,519,040 of funding for the whole of the Leicester and Leicestershire Skills Support for the Workforce programme is provided by the EU's European Social Fund (ESF), an initiative designed to improve employment opportunities within the European Union.
This article is also appears in...