15th February 2013, Lenzing
Lenzing plans new Tencel jumbo line
Lenzing is constructing a EUR 130 million jumbo Tencel production line at its plant in Lenzing, which will go into operation in 2014. The new plant will have a 64,000 tonnes per annum capacity.
What the Austrian company describes as the most modern fibre production line in the world, is currently being built in Lenzing, where the combined expertise and technologies of the Lenzing and the Tencel Groups, which were recently merged, are being applied for the first time in the construction of the state-of-the-art Tencel plant.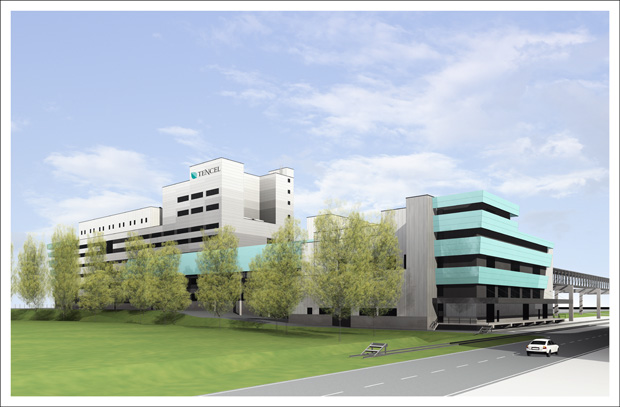 "Tencel represents the greatest technological innovation in the man-made cellulose fibre industry since the invention of the Viscose fibre around 100 years ago," says Dieter Eichinger, Vice President Business Unit Textile Fibers, Lenzing AG.
"The developments of the last twenty years are just the beginning of a success story which will continue for many decades to come. Tencel uniquely answers the demands for competitive production costs relative to other fibres with the demands for sustainable production. Tencel represents a breakthrough technology and I am proud that the Lenzing group leads the industry with Tencel."
Investments in the future
An investment of EUR 130 million and a 24 month construction time frame have been planned for the Tencel plant. The new Lenzing fibre plant will have a capacity of 64,000 tonnes per annum and in addition to the specialty fibres Lenzing Modal and Lenzing FR, Tencel will also be produced at the new site in Lenzing.
Tencel is currently only produced at the Lenzing sites in Heiligenkreuz (Austria), Grimsby (UK), and Mobile (USA). As a result of erecting the Tencel plant in Lenzing, the site will be expanded to become the central location for the Lenzing group's specialty fibres.
According to Lenzing, the attractive energy costs that result from the onsite energy generation, the skilled workforce, and proximity to Lenzing's central research facilities including the Tencel pilot plant were all critical factors for expanding strategic operations in Lenzing.
Fibre of the future
The capacity expansion supports growing demand for Tencel in many new textile and apparel applications, with denim designers in particular being excited about Tencel. Lenzing says jeans with Tencel are attractive, durable, and become immediate favourites due to their enhanced comfort.
"Tencel's smooth fibre surface and perfect moisture management turn jeans into articles of clothing which enhance physical well-being. Due to its high tenacity, Tencel stands up to the mechanical stresses of the denim production process like no other man-made fibre. Depending on the percentage of Tencel in the blend, authentic denims through to softer denims can be created," Lenzing says.
New applications are constantly being developed and Lenzing says the optimal moisture management of Tencel fibres makes them attractive for use in high quality home textiles such as bed covers and linens as well as in sportswear, outerwear, and technical textiles.
This article is also appears in...