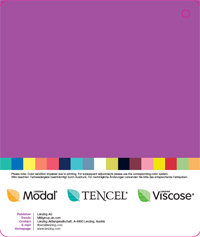 UPLIFTING
Soften / Energize / Excite are keywords for Spring Summer 2011. Colors are translated by treatment and finishing, integrated into the material as a part of the fabric. Colors are described by words like airy, waxy, silky…..
A compulsive will to solve the fashion contradiction between ephemeral and sustainable? Problems will be addressed in many ways; multiple solutions will be put into action. Readiness to joyfully accept new thoughts!
When the environmental account is to be settled regarding a new product, more and more elements will be on the plate: energy consumption, disposal after use, waste materials, ecologically benign and renewable fibers, ..……. Fashion is not only about aesthetics, but most certainly also embracing the content.The designer's role
will be still more complex, being a part of the effort of "greening" the fashion world.The task is, above all, to design products in first-class materials and production with aesthetic qualities in order to create lasting emotional and functional relationship between the object and the user.
"Slow fashion" will develop from being a diffuse buzzword to signifying quality in production and product. E.g. working to turn artisan crafts into fashion - and into profit for the locals – and to producing long lasting clothing.
Different materials are only blended for performance purposes, special effects etc, and preferably components that are to be taken care of and disposed of in the same way. On one hand "loom state" fabrics and natural color cottons awaken significant interest, on the other finishing and refinements are still developed and sophisticated. Feel good luxury sense is essential for our choices. Design for delight!
This article is also appears in...