25th January 2016, London
London Collections Men
Marcia La Madrid
Marcia La Madrid
Marcia La Madrid reports
Last Monday marked the end of a four day menswear, fashion party: London Collections Men A/W 16. I watched the collections online and it really was quite an exciting season. While focusing on the knitwear and behind all the usual jumpers that complement this or that outfit, I saw some really great pieces that I felt stood out the most.
So let me share some of my favourites with you, starting with one of the most exciting knitwear labels, Sibling, Their boxing inspired collection featured a big range of jacquard knitwear pieces, from shorts to bomber jackets, including abstract geometric shapes and of course their trademark leopard motif. My favourite were the chunky, hand knitted robes at the end of the show. (Plus the knitted boxing gloves!)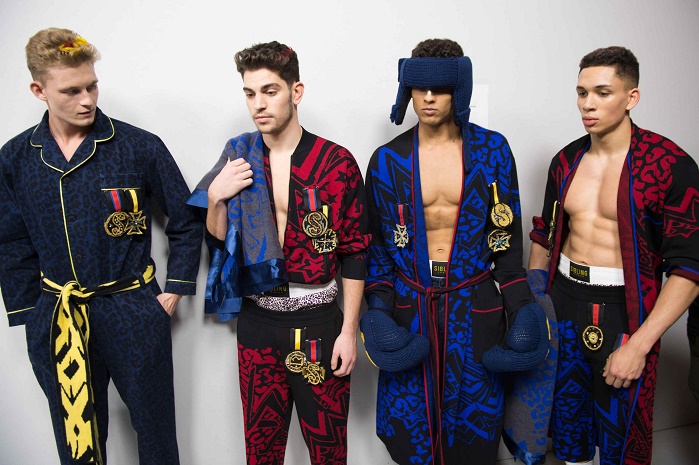 Designer James Long also showed one particular chunky piece which I loved. The whole collection had a darker feeling, but was also filled with quirky prints and bright stripy details.
There were also a few graphic, "novelty" jumpers, like the dinosaur character shown by Coach, or the colour blind message by Tiger of Sweden. I welcome these kind of jumper with my arms wide open, they are always good fun!
Agi and Sam showed this oversized, color block jumper in navy and other comforting, wintery tones. In a brighter scale, I spotted Astrid Andersen's oversized cable knit jumper, a very refreshing mix of olive green, white and mint. Color blocking was very popular in designer Christopher Shannon's collection too, which was actually my favourite one. A mix of mismatched, patchwork like fabrics made unique, modern pieces such as raincoats and plastic pocketed shirts. A very bright, inspiring collection indeed.
To finish with, I will show you my favourite, not knitting related piece, or not so creepy crawlies: the J. W. Anderson pastel snails jacket. Too bizarre not to love!
To see Sibling's backstage images visit www.derriuspierre.com/backstage-at-sibling-fallwinter-2016-show-london-collections-men/
To see all the other images and collections visit LCM's website: www.londoncollections.co.uk
This article is also appears in...