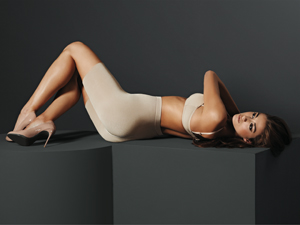 Invista has announced the extension of its Lycra beauty fabric certification programme, 'The Science of Shaping', at Mode City, Paris – July 9th-11th 2011.
According to Invista the innovative garment certification programme was introduced to great success for shaping intimates at Mode City in September 2010 with commercial programs from distinguished international brands from around the globe. The company says that the proven performance of Lycra beauty fabric has paved the way for more dedicated application within the intimate apparel segment with a look at the programme's new fabric categories, technologies and diverse garment offering.
This year, Invista says the platform enters new frontiers to meet the consumer desire for shaping with more comfort and style, with a wider selection of intimate apparel materials, ranging from delicate lace or ultra-lightweight fabrics to seamless garment construction technology.
In an even more enlightening glimpse of Lycra beauty fabric's potential applications in the industry, the programme extends into swimwear. Invista says the brand's promises remain unchanged when applied beyond intimate apparel : swimwear garments boasting the Lycra beauty fabric branding will bring shaping with comfort, combined with the lasting fit of Xtra Life Lycra fibre, delivering confidence and style to the end consumer.
Ninabeth Sowell, Global Marketing Director of the Intimate Apparel and Swimwear Segment for INVISTA, comments, "Lycra beauty fabric has been a resounding success within the intimate apparel segment and reflective of the market's heightened shapewear momentum. A break into swimwear is a natural progression for the brand, as we extend our science of shaping insights to other areas of the textile industry. This combination of fibre and fabric technology will help our customers add value to their business through innovative and relevant new programmes."
Invista says that by visiting the Invista stand, visitors can learn more about the diversity of Lycra beauty fabrics:
Latest commercial adoptions of shaping intimates with Lycra beauty fabric
Latest fabric developments in the Lycra beauty fabric platform
Latest commercial and concept garments showcasing the new Lycra beauty seamless developments
Launch of Lycra beauty fabric for swimwear
This article is also appears in...