30th November 2016, Castel Goffredo
Lycra hosts legwear innovation day for Italian firms
Lycra Legwear Innovation Day took place in the Castel Goffredo District, the Italian hosiery capital, last month, attracting 160 representatives from leading Italian hosiery manufacturers and brands.
The Lycra brand collaborated with its Italian distributor Fulgar, an international leader in manufacturing and distributing manmade fibres, and an authority on the Italian legwear industry, to organise the fourth instalment of this event.
Exclusive presentation
While the latest legwear trends and Lycra fibre innovations were presented in March to a larger international trade audience at Lycra Fiber Moves IV, Innovation Day presented them exclusively to Italian hosiery knitters, yarn coverers, distributors, and hosiery brands.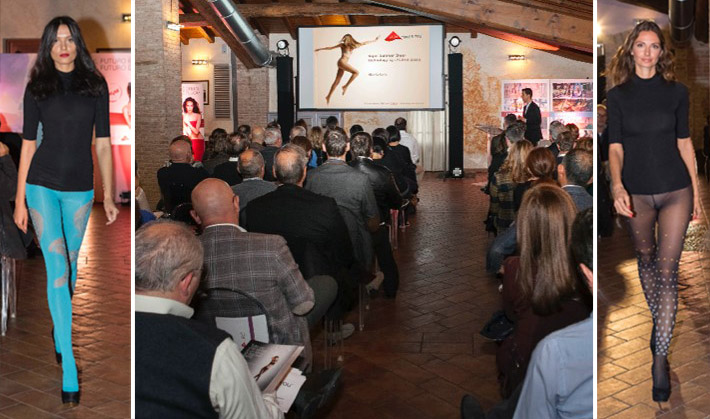 By hosting this invitation-only event, the Lycra brand says it aimed to demonstrate the importance of the Italian legwear market, confirm its leadership role as a unique source of fibre innovation and creative inspiration to best anticipate upcoming trends, and celebrate the brand's close relationships with leading Italian firms.
Lycra Fiber Moves IV
The legwear conference Lycra Fiber Moves IV in Como, Italy, saw the legwear industry's most influential professionals and leading decision-makers gather to share knowledge and learn about market-leading innovations, consumer insights, and legwear fashion trends.
The Lycra Fiber Moves conference is an exclusive invitation-only event designed to provide leaders of the legwear industry with a recognised global meeting point during which they can network with the best in the business, explore new opportunities, and benefit from insightful conference sessions.
The theme for Lycra Fiber Moves IV was Future Forward, offering valuable insights into customer buying trends, global consumer trends, digitalisation and the power of technology to communicate fashion and retail from high profile speakers.
Invista
With leading brands including Lycra, Coolmax, Cordura, Stainmaster and Antron, Invista is one of the leading integrated producers of chemical intermediates, polymers and fibres.
The company's advantaged technologies for nylon, spandex and polyester are used to produce clothing, carpet, car parts and countless other everyday products. Headquartered in the United States, Invista operates in more than 20 countries and has about 10,000 employees.
Further reading
Lycra 'must have' legwear trends for 2017-2018
Lycra Fiber Moves IV offers global perspective on future of legwear
This article is also appears in...