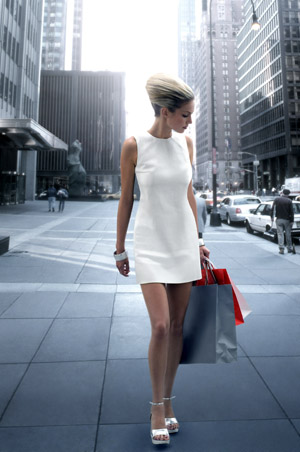 The brand new 'Lycra Style' fibre, which is specifically designed to meet consumers' need for personalized style without compromising comfort or fit, is kicking off its global launch in late March. Lycra Style fibre was developed for the unique branding, performance and pricing needs of the ready-to-wear market.
Brand owner Invista says the brand helps to create clothes that consumers love to wear, all day, every day, from day to night and casual to dressy occasions
"Invista's new ready-to-wear brand, Lycra Style fibre, is extremely important to the growth of our overall Invista apparel business, says Libby Neuner, Invista's global marketing director for outerwear. "The sheer size of the ready-to-wear business and the opportunity to further penetrate the market makes this a critical area of focus for Invista."‖
"Historically, the Lycra fibre brand has always had a strong emotional connection with consumers. The Lycra Style fibre brand signals stylish, modern, fashionable and contemporary associations with consumers—all key attributes in ready-to-wear, Invista says.
The new brand is targeted to reach a new, younger customer and will redefine the role Lycra Style fibre will play in providing individual style without compromise. To better understand how to emotionally engage this new target consumer, Invista went beyond traditional market studies and worked with Innerscope Research, a company working in the biometric market research field. The goal was to uncover deeper consumer insights that would not be limited by conscious responses.
"Working closely with Innerscope Research's biometric monitoring system, we were able to tap into consumers' emotional subconscious and understand what messages are relevant and will lead to emotional engagement," says Neuner. "Incorporating these messages into our Lycra Style fibre brand communications strategy will enable us to break through the clutter and resonate with our target audience."‖
In the Innerscope research study, women were exposed to the Lycra Style fibre brand, logo, hangtag, concept statement and imagery. A biometric monitoring system measured their physical reactions to the stimuli. Changes in the women's heart rates, respiration, perspiration, visual attention and cognitive processing were analyzed in relation to each stimulus. The data provided a thorough comparison of the women's emotional feelings versus their conscious responses for each marketing element.
"The test helped identify and optimise the key elements of the Lycra Style fibre brand launch. It also confirmed that the brand is ideally positioned to connect with target consumers and drive them to respond," Invista says.
Lycra Style fibre is available globally.
This article is also appears in...