Debra Cobb reports
Walking along West 39th Street in New York's garment district, one might be surprised to see a Stoll knitting machine through a street-level window. It's a sign that knitwear development is alive and flourishing in New York, in spite of competition from Asia and other global centres of knitwear manufacturing. While New York's knitwear industry was once relegated to factories in outlying Brooklyn and Long Island, today there are modern, well-equipped knitwear studios in Manhattan offering state-of-the-art design and sampling facilities to the city's knitwear designers and students, run by forward-thinking equipment manufacturers as well as by private organizations.
Stoll
Stoll's New York Fashion and Technology centre serves the industry while highlighting its flat knitting machines and pattern software, which are used in the production of fashion knitwear as well as for industrial and medical textiles around the world. Education and sample development are at the heart of Stoll's marketing efforts in America. "We look at this whole facility as a design tool-for sampling, education, and inspiration," explains Beth Hofer, senior manager of customer relations and educational resources for the American branch of the 139-year-old German knitting machine maker.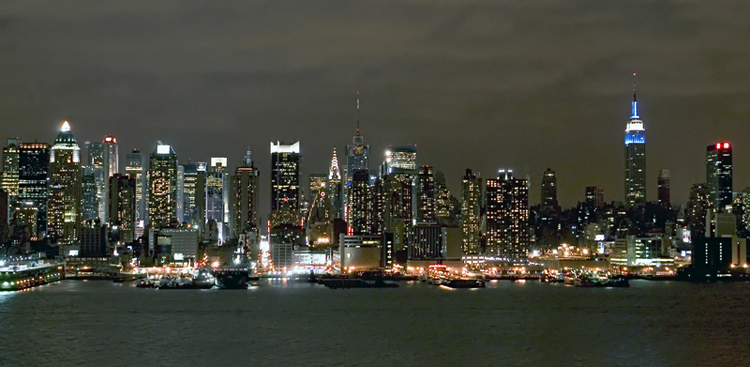 With 8 multi-gauge and 16 true-gauge machines, along with linking and steaming operations on site, Stoll offers fast-track sampling using yarns and tech packs supplied by the customer. These can range from 10 pieces for a runway collection to 100 pieces per size for a retail test run. Stoll can then send the electronic files to a global manufacturer for production on Stoll equipment, connecting the dots between New York's knitwear designers and manufacturing resources anywhere in the world.
Since its opening in April 2009, the facility has offered unique educational opportunities to students throughout the US. Evening seminars as well as an intense 2-day class utilize vintage flat machines to teach knitting hands-on. Upon completing the class, "they will know knitting: how a machine works, how yarns work, the various stitches, then full-fashion knitting and shaping," Beth Stofer affirms. "Because they do it by hand, it teaches respect." Promising students are invited to apply for a 3-month internship.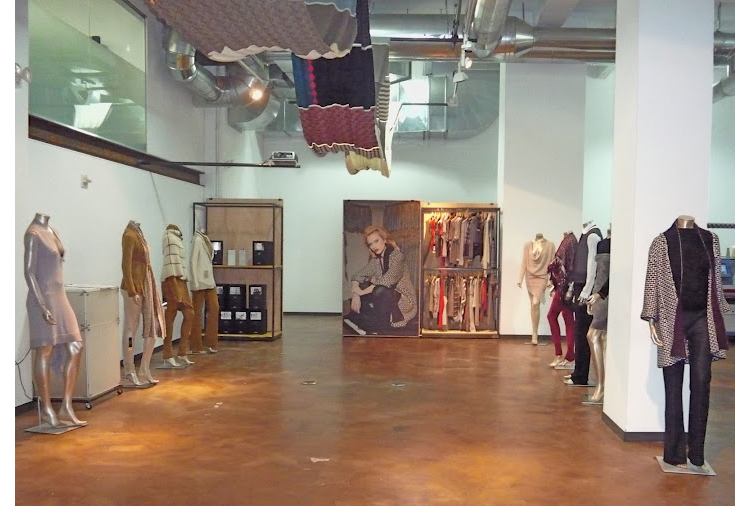 Also on site is an extensive archive of Stoll's seasonal trend garments, identified by stitch, gauge, yarn, and knitting time. Students, faculty, designers and corporations can visit and research, or log on to a virtual archive through a membership program; and Stoll's trend development books are available to customers or for purchase. Students and new designers also benefit from Stoll's ABC Stitch Reference, a swatched guide to knitting developed as a "tool of the trade" which is available for purchase.
Shima Seiki
At the New York design centre of Japan's Shima Seiki, located on Seventh Avenue, the team stimulates interest in the company's flat knitting and whole garment machinery with a sophisticated array of garments on display, along with R&D assistance and access to the company's library. Designers can meet with the team in New York to discuss development projects and place orders through Shima for high-end contract knitting with 50-piece minimums.
Sample knitting equipment is located in Shima's larger facility in nearby New Jersey, where designers and students can visit and "play on the machines." Garment designers who might be making their initial foray into knitwear are sometimes unfamiliar with the potential of Shima's whole garment knitting. "Whole garment is catching on because it's economically efficient as well as eco-friendly," explains sales consultant Lindsay Mann.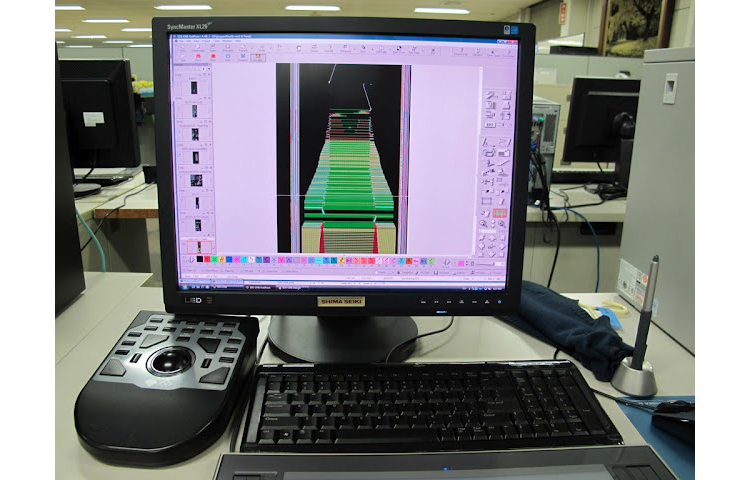 The Shima SDS-ONE APEX3 workstation is a tool helping to educate and enable designers to understand the development process from yarn forward through fabric formation, surface pattern and colour, pattern grading and marking. Shima recently donated 16 of these systems, along with three state-of-the-art knitting machines, to the Haute Technology Library at Drexel University, where students are taking an interdisciplinary approach to developing smart fabrics and wearable technology for the medical industry and other end uses. "There is a huge surge of interest in made-in-the-US technology," confirms Lindsay Mann.
The APEX software can scan in a metre of yarn and generate imagery for flat, seamless, and circular knitting as well as for woven structures capturing the physical and aesthetic characteristics of that yarn. "As a young designer, it is difficult to gain an idea of what yarns do," explains sales engineer Willem van Daal as he demonstrates the system in the New York office. "Educating designers is a difficult task, but it is critical," confirms Shima's US vice-president Matthew Llewellyn.
Knit Resource Center
At the nearby Knit Resource Center Ltd., the emphasis is on a very personal approach to "helping knitwear designers get what they need, when they need it," according to manager Carol Edwards. With five in-house designers and 26 flatbed knitting machines ranging from 2.5 to 18 gg on site, Carol and design director Isabel Archer work with well-known brands such as Ralph Lauren, Donna Karan, Calvin Klein and Oscar de la Renta, as well as with retail brands and private label manufacturers.
The team specializes in re-creating hand-knit vintage pieces for production on today's machines, supplying or sourcing yarns, and playing with washing and finishing techniques to execute the customer's ideas. The emphasis is on helping the designers interpret their ideas and create options.
The Knit Resource Center was started by Joe Katz in 1974, and sold to Stoll a few years back. It's run as a separate operation, coordinating with its parent company when electronic patterns and production are needed. A library of pattern swatches, developed since the company's inception, serves as further inspiration. Other services include linking and overlocking, and presentation boards.
Carol describes the KRC as "in the product development business. We enjoy all the fun, all the drama, and all of the creativity." The KRC also works with students from schools such as New York's Fashion Institute of Technology and Parsons School of Design, where Isabel also teaches; and some students employ the studio to execute their final projects. Student tours along with educational seminars for customers are offered as well.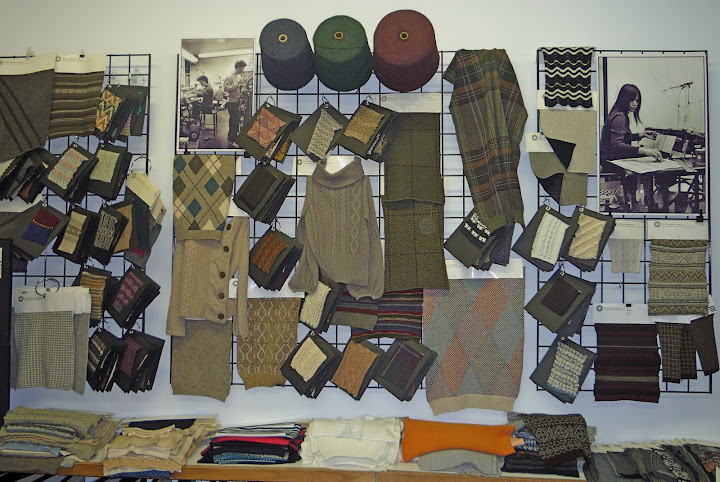 Knit Illustrated
Twenty year-old Knit Illustrated is another Manhattan design service. With four Shima flat machines from 12 to 16 gg, and ten hand flat machines, the company offers swatch development in high-end yarns such as cashmere and silk, along with and program development. Proto garments and samples are primarily made in China.
Through assisting designers of upscale and specialty brands in developing that critical first sample, promoting familiarity with the latest equipment and technology, and giving fashion students a hands-on introduction to the craft, these knitwear development studios are contributing to the continuation of a viable and creative part of New York's fashion business.