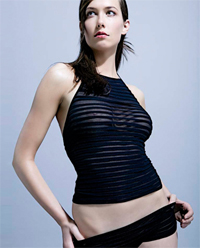 Seamless apparel specialist Tefron has announced the appointment of Ilan Gilboa as Executive Vice President for Operations and Customer Support. The company also announced the departure of Amit Tal as chief marketing officer, who has resigned and chosen to take a position with another company.
According to a statement released by the company, Mr. Gilboa brings to Tefron 14 years of experience in a variety of operational roles, from introducing shop floor control systems to senior management of multi-site, multi-country operations. His management experience includes six years at Tefron as manager of the Hitex and Tefron divisions. Most recently, Mr. Gilboa was VP for Global Operations of N-trig Company, a computer device company, where he had responsibility for the establishment and functioning of a wide supply chain for the company's worldwide operations.
Remarking on Mr. Gilboa's appointment, Tefron CEO Amit Meridor said, "In our 2009 fourth quarter announcement, we stated that our focus in 2010 would be to the improvement of our manufacturing processes to ensure strict quality control, shortened lead times, and on-time delivery. Ilan brings to Tefron the direct sector experience, supply chain experience and overall managerial experience to direct the rebuilding of our manufacturing activities to be more cost efficient and responsive to customer needs and time requirements
Commenting on the resignation of Amit Tal as chief marketing officer, CEO Amit Meridor said, "Amit Tal has been an outstanding contributor to Tefron for the past eight years, most notably having led the strategic development of our sports division. Tal has also been instrumental in the management of the intimate apparel division, as well as the development of Tefron's turnaround plan. We are very pleased that Tal will assist in the transition to new marketing leadership."
"In addition to these management changes," concluded CEO Meridor, "I can report to you the implementation of immediate plans to strengthen our marketing and sales organizations in North America with restructuring in both our Portland and NY sales offices. These changes to our North American operations, as well as Ilan Gilboa's appointment are an integral part of a worldwide effort in 2010 to focus on operations and customer service, so as to bring the most innovative products to the market.
This article is also appears in...