18th November 2016, Cannes
MarediModa 2016 confirms healthy condition of beachwear sector
The 15th edition of MarediModa, the international trade fair dedicated to the European underwear and beachwear textiles, concluded on 10 November 2016 at the Palais Des Festivals in Cannes, welcoming more than 2,900 buyers coming from France, Spain, UK, Germany and US.
On display were premium beachwear, underwear and athleisure collections exhibited by over 100 companies from all over Europe, organisers report.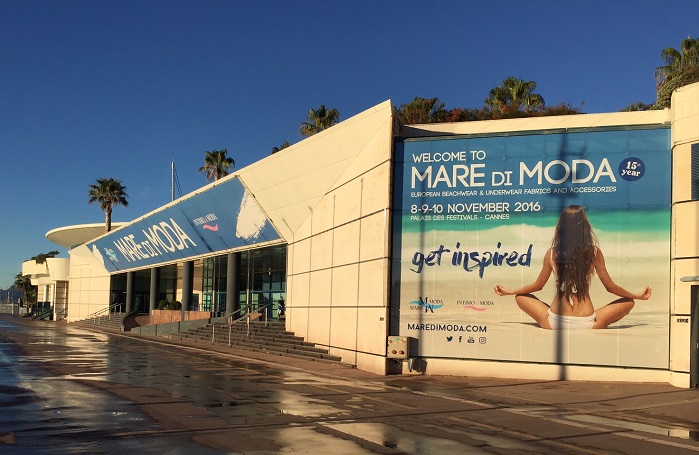 According to organisers, these positive data are depicting the healthy condition of the beachwear sector, which is feeling the slightly forth-coming re-shoring time, i.e. the renewed interest by many businesses in buying European quality fabrics. As a result, the dedicated supply of Italian and Euro-Med companies has been very much appreciated.
Qualified and rewarding supply
"We are very much happy with both the outcome and the general atmosphere of this fifteenth edition, which on the eve of the event already, looked like a not-to-be-missed appointment thanks to the never-seen-before number of exhibitors and collections as well as the wide schedule of unique events and seminars: from the extraordinary show on the 70-year history of the bikini up to David Shah's provocative statements with the Athleisure forum, through the trends forum developed by the collaboration of WGSN, Naba and David Shah," said Marco Borioli, President of MarediModa.
"More than ever before we have heard our visitors stating that MarediModa does not look like a fair but rather a family, and this is true; this is what we had in mind fifteen years ago, when we started and what we later established. MarediModa cannot be missed today by those who make beachwear, underwear and also athleisure and are seeking a qualified and rewarding supply".
The Link 2016
The scheduled events taking place as part of the MarediModa programme have been successfully acclaimed by the public, in particular, the contest award of The Link 2016, dedicated to the most talented fashion designers coming from famous European schools.
This year's winners are: Francesca Missaglia from the Istituto Moda Burgo in Milan, recognised in the Beachwear category, and Yuman He from the London College of Fashion in London, awarded in the category Underwear.
Once again, Invista with Lycra fibre brand renewed its partnership with MarediModa, confirming its leading role in innovation with an exclusive focus on athleisure.
This article is also appears in...