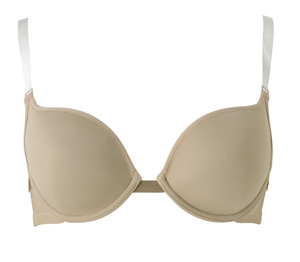 Leading UK lingerie retailer Marks & Spencer (M&S) has launched the high street's first ever carbon neutral bra – part of its new Autograph Leaves lingerie collection. As well as focussing on sustainable bra assembly, M&S will also be working with raw material suppliers such as lace producers to find sustainable manufacturing solutions for the future.
According to M&S, The Carbon Trust Footprinting Certification Company has calculated and independently certified the footprint of the entire Autograph Leaves collection, which includes four styles of bra, three knickers and a set of suspenders. The calculation takes into account each item's complete life cycle - from component manufacture to transportation and even the energy customers use washing and drying their underwear.
The carbon footprint of a typical Autograph Leaves bra is said to be around 2kg CO2e. M&S says the footprint varies depending on the style and size of the bra/underwear, as some garments involve more complex production or more raw materials. For example, says M&S, the footprint of a basic non padded bra is around 1.70 kgC02e compared to a larger push up bra at 2.20kgCO2e
M&S says it has purchased offsets equivalent to 1,440 tonnes CO2e through a carbon credit project run by Conservation Carbon Company. This is said to offset more than the current production run of the Autograph Leaves Collection.
The collection was manufactured at the M&S eco-model factory MAS Intimates in Thurulie, Sri Lanka. The innovative renewable energy features and reduced waste initiatives implemented at MAS Intimates are said to have helped reduce the carbon intensity of the energy used by an estimated 33%, compared to typical factory production.
Paschal Little, Head of Lingerie Technology at M&S said: "Nature is the inspiration behind Autograph Leaves so it's fitting that this range benefits the environment too. As the UK's lingerie market leader, we think it's right that we should lead the way in exploring new, more sustainable manufacturing options. As a result of this project we know raw material production, such as lace manufacture, is a major contributing factor to the bra's footprint, so we're now working with our suppliers to find better alternatives for the future."
The factory's local community is also said to be benefiting from this initiative. M&S has purchased offsets through a carbon credit project run by Conservation Carbon Company. Working in partnership with nine local farmers, M&S is planting over 6000 trees in the desolate land between the Kanneliya and Polgahakanda forest reserves.
Sri Lanka's forests are home to approximately 90% of the country's endemic species but are disappearing at a rate of 1.6% per year. To counter this 75% of the trees planted are native species, creating more natural habitats and enabling wildlife to move more easily between the two forests.
The project will also help tackle rural poverty in the region by improving the livelihood of the farmers involved. The other 25% of trees will be income generating varieties such as mango and lime trees that offer additional nutritional and financial security to the farmers and their families.
Under its extended Plan A commitments, M&S has pledged that each of its 2.7 billion individual products will have a Plan A attribute by 2020, with a target of 50% by 2015.
Mike Barry, Head of Sustainable Business at M&S said: "The complexity of a bra's supply chain makes it the ideal product to learn about the practicalities of carbon foot printing, as it contains 21 component parts from 12 different suppliers. We're already applying the lessons we've learned to other product areas and have taken an important step towards our goal of giving every single M&S product a Plan A attribute."
This article is also appears in...