9th September 2015, Ivrea
Matrix to exhibit latest electronic selection technology at ITMA 2015
Matrix, a leading supplier of electronic selections systems for knitting machinery and a partner for specially developed innovative solutions, will be exhibiting its latest developments and expertise at the upcoming ITMA 2015 exhibition for textile machinery that takes place from 12-19 November in Milan.
Since its establishment in 1988 MATRIX rapidly became one of Europe's leading advanced components manufacturers in several industry branches with four main divisions: Textile, Automotive, Pneumatic and Printing. Thanks to the high degree of innovation and quality, the company says, its products are conquering wider space for high-tech applications.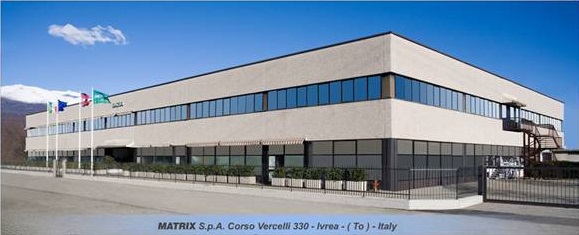 The company has also recently adopted a Quality Insurance System for its own operating activities, which is documented and certified according to ISO 9001:2000 standard.
Electromechanic selection boxes
In its Textile division the company develops selector boxes and other accessories that are the most important innovation in the branch of the electronic selection of knitting machines, according to the manufacturer.
In order to properly satisfy the market's requirements, Matrix has further extended its range of electromagnetic actuators for the jacquard selection on knitting and hosiery machines.
For sock-knitting machines and other textile machinery including weaving looms, Matrix offers a wide range of electromechanical selection boxes, characterised by high reliability and great dynamic performance, the company reports. The technology adopted by these actuators is said to ensure ultra-fast switching times and unsurpassed accuracy granting high mechanical strength and durability even in the worst working conditions. This, according to the company, translates into an extremely long and maintenance free operating life, with noticeable positive effects on productivity and service costs.
Piezoceramic technology
Advanced technology and high quality standards, supported by a strict co-operation with the important textile machinery manufacturers, also allow the company to offer the widest range of piezoceramic selection boxes on the market.
For both sock-knitting machines for men and women, stockings and pantyhose machines, underwear and lingerie machinery, warp machines, flat knitting and large diameter knitting machines, Matrix piezoceramic selection boxes are said to ensure the highest reliability and productivity levels.
The compactness, as well as the performance offered by Matrix innovative technology grant a remarkable power consumption reduction and a precision level never achieved before in textile applications, according to the company.
This article is also appears in...