As far as I know, Gladys Thompson's Patterns for Jerseys, Guernseys and Arans was the first book that published a thorough research into traditional knitting from the British Isles.
I remember reading how the author ventured through various villages across the Kingdom, finding women knitting incessantly in their homes, sometimes even in the dark.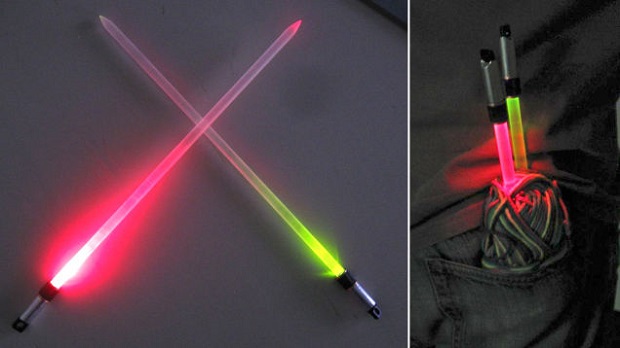 How they could perform such a task is still a mystery to me: I consider myself to be a good hand knitter but there is no way I could knit an Aran pattern in the dark.
It's a shame the Internet didn't exist in those days, and it's also a shame Star Wars hadn't come out yet, otherwise those poor ladies could have done with this invention.
I was browsing through instructables.com the other day and this tutorial really put a big smile on my face. I'm not a big Star Wars fan, but I could definitely do with a pair of light sabre needles for those long winter nights with lots of work and no light…there's only one problem…I'm terrible at DIY…any volunteers to make me a pair of needles?
I could knit you a scarf with them! If you want to follow Random_Canadian's tutorial on instructables.com and make me (or yourself) a couple of knitting sabres, you can follow this link.
May the knitting be with you!
www.instructables.com/id/Light-saber-knitting-needles
This article is also appears in...