Mayer & Cie, a leading circular knitting machine manufacturer, was represented at the latest IGATEX, Pakistan's most important textile industry fair, which took place from 26-29 April in Karachi, by its local representative Noon.
Previously held in Lahore, this year the fair took place in Karachi for the first time. The company's staff appreciated both the fair's move to Karachi and this year's edition in general, the company reports.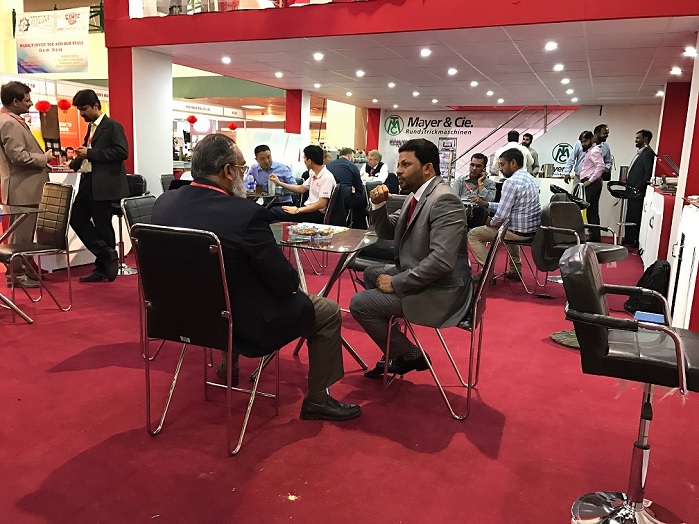 "Visitors were mostly decision makers, which always brings lot of satisfaction to the exhibitors. This year, numerous machines suppliers have physically displayed their machinery on their booth. It was a bit like ITMA," commented Nadeem Ul Haq, from Noon.
Pakistan's textile industry
The textile industry is one of Pakistan's most important industries. Because it is clearly export-focused, the country competes with its neighbouring countries India and Bangladesh. While they have reported a significant increase in textile and clothing exports, Pakistan's exports have declined, the company reports.
"International knitwear sales have remained almost flat, too. An incentive package is to boost the industry again. It comprises withdrawal and concessions on customs duty and sales tax on imports," the manufacturer explains.
International manufacturers of textile machinery such as Mayer & Cie. are very likely to profit from this initiative, as Pakistani imports in their sector are substantial already. In terms of circular knitting, single jersey machines are especially sought after, followed by interlock and jacquard machines.
Visitors
Mayer & Cie. refrained from displaying machines at IGATEX. The company presented itself via the Noon team, posters and the company logo. Their machines remained to be a topic of conversation nonetheless.
"Many clients approached us about the machines producing mattress covers, that is machines from the OVJA family. Visitors enquired about spinitsystems, too," said Nadeem Ul Haq. "The very well-organised fair definitely has a positive effect on the Pakistani textile industry." According to Nadeem, the only downside was the number of callers to their booth: "While we were very happy with the quality of our guests, we counted fewer visitors than we had expected."
This article is also appears in...