Mayer & Cie., a leading Germany based knitting machine manufacturer, was presented with a Top 100 award for its innovation management and successful innovation on 24 June.
The long-established company has been recognised for its spinitsystems spinning and knitting technology, which the company exhibited at the ITMA 2015 trade fair that took place in Milan last November.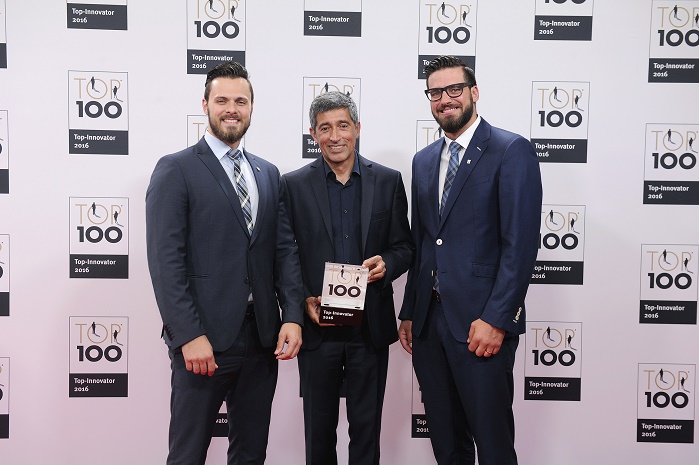 Top 100 mentor Ranga Yogeshwar presented the award on a Friday evening in Essen to Benjamin and Sebastian Mayer, representing the family that owns the firm. "We are delighted to have been named one of the Top 100 companies in Germany," said Sebastian Mayer, the Mayer & Cie. director in charge of corporate development. "This accolade confirms that we are indeed fulfilling our claim to be an innovation driver in the circular knitting machine sector."
Innovative technology
In recent years, spinitsystems technology has mostly topped the company's development department's agenda, Mayer & Cie. reports.
Mayer & Cie. unveiled the series production-ready machine, the Spinit 3.0 E, at the industry's leading trade fair in 2015. A spin-knit machine combines the spinning and the circular knitting processes where single jersey is manufactured not from yarn but from spinning mill rovings.
The Top 100 jury saw this innovative technology as proof of Mayer & Cie.'s unconventional approach. The jury was also impressed by the tenacity with which Mayer & Cie. pursues its innovation objectives.
Research and development
At Mayer & Cie. innovation has always been a part of how the company sees itself, according to Sebastian Mayer, a member of the fourth generation of Mayers to run the family firm. "Always a step ahead of the rest was the maxim of my grandfather Emil Mayer, who ran the company for about 40 years," he said.
To support its potential, the knitting machine manufacturer invests 5% to 6% of its annual sales revenue in research and development. Furthermore, about 7% of the firm's employees work in development and design. The company currently holds or has applied for more than 300 patents, and the spinitsystems technology alone accounts for about 50 national and international patent applications.
Mayer & Cie.
Mayer & Cie. is a leading international manufacturer of circular knitting machines. The company manufactures the entire range of machines required for making modern textiles. Fabrics for home textiles, sportswear, nightwear and swimwear, seat covers, underwear and technical uses are made on MCT knitting machines.
Founded in 1905, Mayer & Cie. generated sales of EUR 91 million in 2015 with about 330 employees, according to preliminary figures. In addition to its headquarters in Albstadt, Germany, and subsidiaries in Brazil, China and the Czech Republic, Mayer & Cie. is represented by sales partners in many countries.
Further reading
Mayer & Cie to launch spin-knit machine and other new developments at ITMA 2015
Interview with Benjamin Mayer, Managing Director of Mayer & Cie.
This article is also appears in...