24th November 2016, Albstadt
Mayer & Cie. sees good market prospects in Mexico
Mayer & Cie., a leading circular knitting machine manufacturer, has exhibited its latest Relanit 3.2 S single jersey machine at the Exintex exhibition, held in Puebla, Mexico, last month. Mexico, a veritable cotton stronghold, is a key market for the company.
According to the manufacturer, the country's textile industry is showing positive signs of growth, as it was evident from the Exintex trade show, which gained in volume and visitors. "In contrast to 2014, a lot more exhibitors participated in this year's edition of the fair. Both visitor frequency and quality of visitors exceeded our results in 2014," commented Horst Maier, MCT Sales Manager Latin America.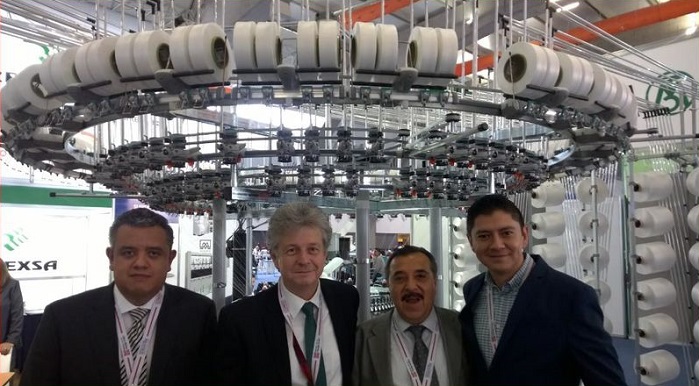 Just as in the past years, clients demonstrated an unabated interest in mechanical single jersey and 8-lock machines, the company reports. "Due to a strong domestic economy and existing import barriers on textiles, domestic demand remains strong. At the same time, prospects on export markets are good. Incoming orders from Mexico's most important trading partner, the US, continue to be at a high level," said Horst Maier.
Reliant 3.2 S
At the exhibition, Mayer & Cie. presented the Relanit 3.2 HS' sister model, the Relanit 3.2 S with a diameter of 30 inches and gauges up to E 28. This single jersey machine features all well-known advantages of relative technology, for instance gentle deflection of the yarn, low error rate and significant energy saving. Additionally, the Relanit 3.2 S comes at a very attractive price, the manufacturer reports.
"No wonder that the Relanit 3.2 S attracted both new and returning customers," said Horst Maier. "Being a specialist in cotton, this machine perfectly fits the Mexican market. Overall, the Relanit 3.2 S helped us to form several new business contacts."
Mayer & Cie.
Mayer & Cie. is a leading international manufacturer of circular knitting machines. The company manufactures the entire range of machines required for making modern textiles - fabrics for home textiles, sportswear, nightwear and swimwear, seat covers, underwear and technical uses are made on MCT knitting machines.
Founded in 1905, Mayer & Cie. generated sales of EUR 80 million in 2014 with about 300 employees, according to preliminary figures. In addition to its headquarters in Albstadt, Germany, and subsidiaries in Brazil, China and the Czech Republic, Mayer & Cie. is represented by sales partners in many countries.
This article is also appears in...