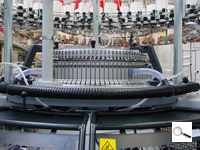 Leading manufacturer of circular knitting machines Mayer & Cie. attaches great importance to Asia in general, and to China in particular as vital emerging markets, as evidenced by the presence of a dedicated MCT Service Center in Shanghai and a subsidiary company in Hong Kong. The German company will be present two high-performance circular knitting machines which it says set new standards in the international arena, at Shanghaitex from 12-15 June.
For many fabric producers, extreme productivity and outstanding quality are key competitive attributes when it comes to beating the current recession and Mayer says its relative movement technology, a concept developed to the series stage and launched three decades ago, continues to represent the absolute standard in single jersey production. Over 8,000 Relanit circular knitting machines sold testify to its unrivalled position as the leading-edge single jersey technology, the company says. The relative movement of needles to sinkers halves the number of deflection points passed by the thread, placing it under substantially lower strain in the stitch-forming area. Mayer says this is fundamental to achieving higher machine speeds in continuous operation coupled with a minimal fault quota.
In Shanghai, Mayer & Cie. will be exhibiting the Relanit 3.2 II with a 34 inch diameter in gauge E 24, equipped with the unique MCT high-speed kit. The machine will be knitting on the exhibition stand at a speed of 40 rpm; a speed which Mayer says presents no problems whatever in continuous operation with this diameter. The Relanit 3.2 II is the ideal circular knitting machine for single jersey, 4-needle structures and single jersey plated, Mayer says.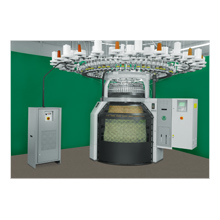 Another exhibit being featured by Mayer & Cie. at the show will be the OVJA 1.6 EE, a circular knitting machine for full jacquard structures and patterns. Featuring electronic single needle selection in the cylinder and dial cam, it is capable of knitting what the market demands, Mayer says. According to the company, the minimal resetting times due to electronic pattern resetting make even small batch sizes a viable proposition and on the other hand, tried and tested MCT electronics also guarantee trouble-free bulk production to an excellent standard of jacquard quality.
Mayer says that there is a whole raft of reasons which make the OVJA machine series, especially the OVJA 1.6 EE, a particular favourite among manufacturers of mattress fabrics. Demand from this sector motivated the company to exhibit the OVJA 1.6 EE in a 38 inch diameter and gauge E 20 as it is tailored specifically to the needs of mattress producers.
With double jersey jacquard in every conceivable structure and pattern with electronic individual needle selection in the cylinder and dial cam, the OVJA 1.6 EE offers all the right credentials for creative patterning and efficient knitting, says Mayer.
This article is also appears in...