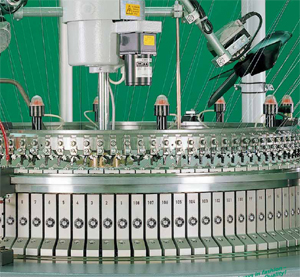 Leading German circular knitting machine builder Mayer & Cie. will show a new version of its 34 inch S4-3.2 II single jersey machine in a new 44 gauge format with 108 feeders at the forthcoming ShanghaiTex exhibition.
The S4-3.2 II machine offers high quality knitted fabrics in single jersey, in 2, 3 and 4 needle structures and in plated single jersey. The S4-3.2 II can also be configured to knit 3 thread fleece and includes high output at 39rpm with a 30 inch diameter. Diameters offered are 15 - 38 inch, meaning that machine is now available in Bodysize as well replacing former machine type MV4-3.2 II.
High quality - attractive price
According to Mayer & Cie., the S4-3.2 II is designed through and through for productivity, although the required needles and sinkers are standard knitting elements used the world over. The sinker cams are designed as single elements and one cam segment per feeder helps simplify the exchange of sinkers.
"The S4-3.2 II has everything it takes to produce top quality knit fabric in single jersey, in 2, 3 and 4 needle structures and in single jersey plated. It not only covers all the currently popular weight ranges in the clothing sector, but its application range can be further extended by resetting for three-thread fleece production," says Mayer & Cie. Sales Director, Wolfgang Muller.
In addition, Mayer and Cie. says the S4 3.2 II's versatility includes a high output of 39 rpm with a 30 inch diameter and the machine is attractively priced.
Flexibility plus productivity
Single jersey quality, with and without plating, with a high output of 3.2 feeders per inch is said to guarantee exceptional productivity with the S4-3.2 II. Up to 4 needle types for 3 needle positions each extend the range of possible constructions and scope for resetting to three-thread fleece production adds another dimension to the flexibility of the S4-3.2. The weight settings are performed using the central height adjustment facility and precision adjustment by means of vertical stitch forming.
Mayer & Cie. says the S4-3.2 II incorporates the easiest handling of all operating areas, from knitting head to fabric take-down. The machine is also said to be both durable and space saving. The machine's control display is also said to be clear and easy to understand for simplified handling for reduced operation errors.
Download Mayer & Cie. S4-3.2 II brochure
This article is also appears in...