Knitted goods manufacturers and machine producers were out in force at this year's edition of Meet the Manufacturer offering high quality sourcing options that could future proof brands in the uncertain post Brexit business environment.
Meet the Manufacturer's fourth edition on 24th and 25th May 2017 was the largest edition of the show to date with a surprisingly upbeat atmosphere despite Britain facing its most uncertain time economically since the world financial crisis in 2008. Founder of Meet the Manufacturer and Make it British, Kate Hills said: "We started with 11,000m2 and now we have 55,000m2". UKFT's Paul Alger said: "UK manufacturers are very professional and well organised and structured and because they are now working close to capacity they are becoming more selective of who they want to work with."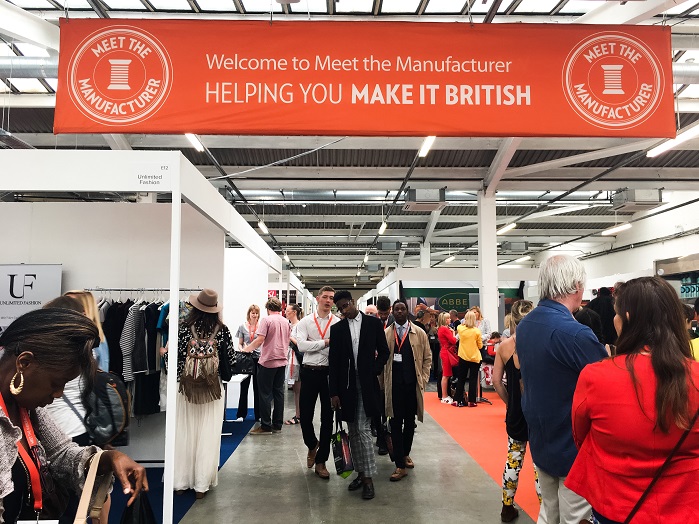 The UK knitting industry showed a significant presence even dominating day one's seminar schedule. Kate Hills said: "It is because the UK is so good at all things knitting, we are great at doing knitted jersey fabrics in the East Midlands, fully fashioned knitwear in Scotland and in London and there is the British Wool story." In terms of buyers she added that: "We have had a lot more international visitors, from Japan, Europe, Scandinavia, America, had a lot of visitors from museums, English Heritage, National Trust because it suits their ethos with the skills."
The exhibition included new elements including the Brand Hall which showcased British made brands to meet the demand for British made brands from retailers, This hall included hand Intarsia knitters Glenevan and Fair-Isle inspired knitwear brand We are Rushmore.
The cloud of Brexit and the upcoming election are not doing British manufacturing any favours at a time when there are still nerves about returning manufacturing to the UK which must be addressed. Meet the Manufacturer was quite bold about addressing some of the issues that concerned both manufacturers and buyers alike, key problems such as ethics in the industry, the still un-resolved skills shortage, responding to market and fashion trend changes, Brexit and the double-edged sword of the pound devaluation and subsequent fluctuation.
A re-shore bet?
Ved has been in the business for 30 years and seen production come and go in the UK, when he started out he supplied to the Arcadia and Burton Groups, then with offshoring they had to change to supplying small producers and start-ups, however, he said: "Last week we got our first order from an ASOS supplier so we are moving back into mainstream, we export to Ireland and Holland." Aristo Fabrics has also had interest from Patrick Grant's latest clothing business venture the Community Clothing Company."
Manufacturing Trend: A little and often
One of the continuing themes for UK manufacturing is being able to meet the demands of the new production models. Fast fashion, the trend for customising, bespoke and small luxury and designer brands are challenging the industry to respond with rapid design development, sampling and low volumes produced with shorter and short lead times. To this end MTM created the Enterprise Hall aimed at supporting start-up and business expansion particularly for brands who need to find flexible suppliers capable of low minimums and companies expert help on tap.
Kate Hills said that this new section was to meet a new demand. "They want something very specific for small units and sampling." Unmade talked about how collaborating with Johnston's of Elgin enabled them to make one garment to order and Shima Seki's stand was permanently mobbed with visitors keen to see their Apex 3 virtual sampling system. David Williams of Stoll GB said: "The key thing is that we need to work closer with the brands, the retailers and manufacturers need to come together."
Trend: 360 outfit buying
Although niche, for high net-worth business, like the idea of the "outfitter" where you can get the complete look is returning, Christopher Nieper of David Nieper who have developed their own nine machine knitting unit said: "If they can't get the cardigan then they don't want the trousers or the skirt." Guy Hills an emerging luxury menswear brand said: "We have just been talking to Harley and have placed an order. We have a woven collection with Donegal wool and accessorising with knitwear."
Wool you make it British?
Making UK viable in terms of vertical supply chains is a key story in terms of making the UK a preferred sourcing destination for knitting. A big part of this story is the UK's indigenous wool. British Wool recreated their "Sheepish Studio" in the "The Wool Room" - an exhibition innovative and creative - uses of wool in both woven but predominantly knitted interiors which British Wool's Bridgette Kelly said was a strong new trend for knitting. Just as Make it British and UKFT provide directories and sourcing advice Bridgette Kelly said they can guide brands and young designers around "this rabbit warren of the wool industry, they don't know how to find their way and it would be very easy to go away from it and we can put them in the right direction."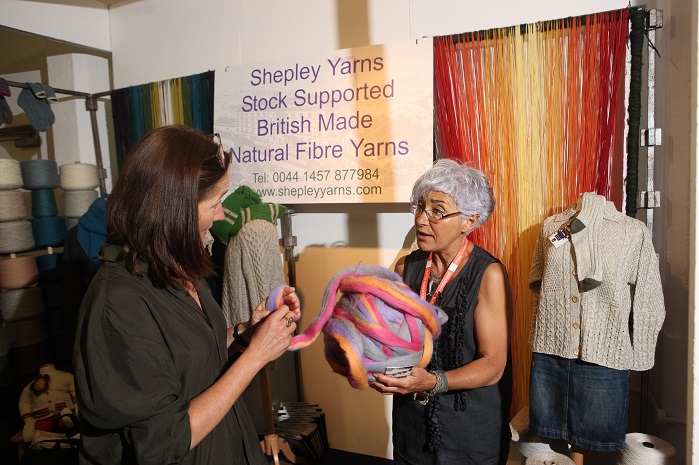 Making sense of the woolen warren are what Brigitte Kelly describes as "virtual manufacturers" such as RH Shepley, founded in 2002 in Saddleworth in Yorkshire, they don't own a mill but utilise the capabilities and capacities of third parties, this way they are able to keep a full colour chart of stock yarns as well as bespoke yarn orders.
Trend: Technical and sports for fashion and work to leisure clothing
Stoll GB's stand showcased not only the capabilities of wool, but also technical and sports knits including clothing for biker couriers that bridged the gaps between sports/technical and fashionable streetwear. Sportswear that was innovative and fashionably cool. David Williams of Stoll GB and the Knit Design Centre said that they had a very busy first day with 60 names (brands/designers) coming to the stand including ASOS. "I think sportswear has taken away a lot spend of away from the traditional fashion market, so the fashion companies are trying to take back some of the market," he said.
Sock it to them
Three sock manufacturers and other hosiers showed at MTM, standing out from the crowd was "The Bald-Headed Sock Seller" aka Martin Lowe of Roy Lowe and Sons Ltd who won the MTM Innovation Award last year. The company produces bulk across the range of socks, from Roys Boys fun fashion socks to Sock Mine which is the technical brand. "We are targeting at the revolutionary market," Martin Lowe said. Their flagship product is Grip Lock socks – stay up sock with own trade mark and patent. As manufacturer Roy Lowe returned to the UK three years ago.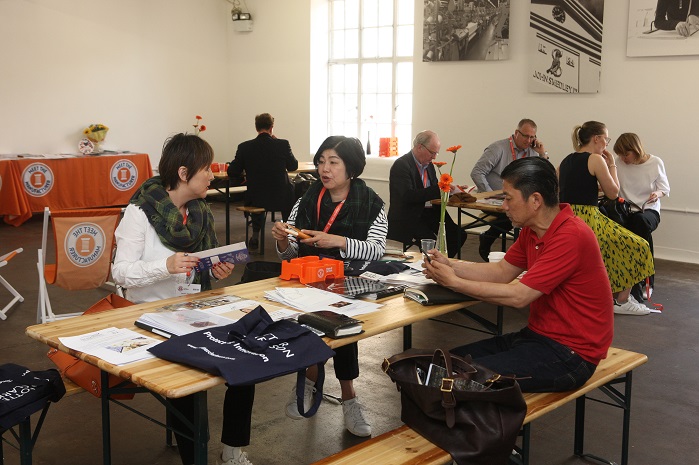 The company is a bulk manufacturer. "We've got just over 100 machines at the moment and we are working two shifts, 6am till 10am - we have got enough machines to be flexible." Although the credo is about quality, UK manufacturers are still on the back foot when it comes to cost. "it is still a challenge to get them past a pricing. I've got to pay my cleaner £15,500 minimum wage," Martin Lowe said.
H.M. Hosiery's Managing Director Harmail Mokha, remarked that there have been significant fluctuations in popularity regarding "Made in Britain". "Although we have been busy we find the Made in Britain, it is not quite the flavour 3 or 4 years ago."
Challenges to British Sock-makers
Mokha pointed to changes in fashion trends and consumer preferences such as the move from natural fibres and tailoring to sports and performance wear and "Athleisure" being a challenge to be met by industry. "It is not easy to respond with plants and machinery to respond to fashion, although we try and we offer the complete service, but having said all this, we are really busy and fully booked till November, but I am cautious of expanding because there are too many changes." He added: "We find that UK production with added value is where we can score and with medical features like compression."
Cottoning on
Vertical integration and building a national value chain was a big story at MTM. Raien Ved commented on how the show was helping build verticality and supply chains. "The last couple of days has shown a lot of interest in a vertical product," he said, adding that: "We can now buy Supima cotton spun in Manchester by English Fine cottons, it is as vertical as we can get in the UK."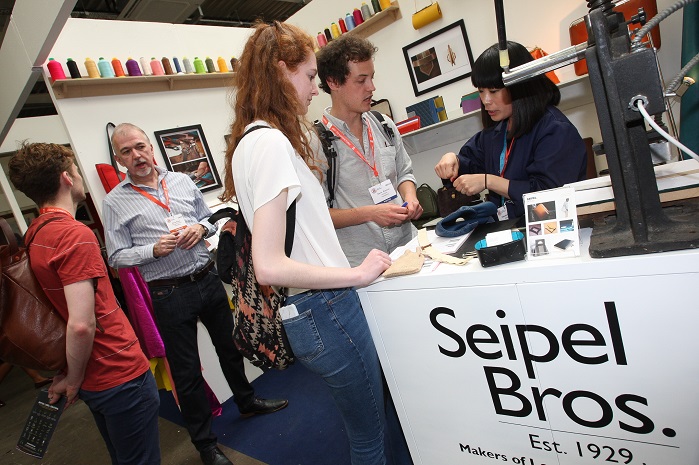 MTM has opened up an internal market for exhibitors to find each other and build UK only supply chains. Riverside Fabrics & Textiles are circular knitters and makers of high quality rugby shirts for the Japanese, German and British schools markets. Their owner Roy Powley said "[currently] we buy our dyed yarns from Germany as we have not had the option." Having access to more spinners is vital for his business, "because people have asked - is it entirely made in England."
Rise of the Machines
As well as manufacturers selling to manufacturers, Kate Hills said: "We have more machines than ever, Shima Seiki, Stoll, heat transfer printing, embroidery," adding that: "It is a great networking event and they sell machines [to exhibitors]. There has been a strong presence of Leicestershire producers including knitters and an up-turn in machinery buying. Kate Hills remarked that: "That was also helped with regional growth fund and a lot of that has gone on in machinery, and so UK manufacturers have had grants to buy machinery so it has been a good market for machinery."
Further information