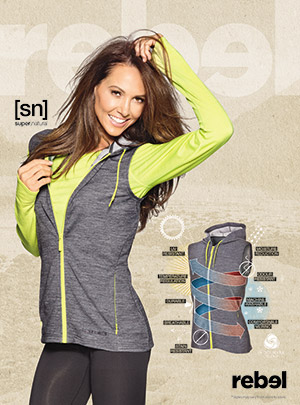 Merino wool, the Woolmark logo and Australia's leading sporting retailer Rebel have announced that Australian Merino wool can now be found at over 90 Rebel sports stores nationwide.
The fabric used in the new Super Natural Australian Merino sports collection for both men and women has been created using the latest knitting technology and is a 50/50 fine Merino wool/polyester blend.
Natural fibre
The fine quality of the fabrics is said to give the wearer next-to-skin comfort, durability and ease of care.
Rebel's marketing general manager Rob Kain said using the natural fibre is part of the ongoing innovation of the Rebel range: "The Merino fibre is a winner as it offers both performance and comfort, no matter the exercise or the season. Merino is synonymous with Australia and the addition of a range featuring natural fibre offers Rebel a unique point of difference and underlines our commitment to offer customers the most diverse and progressive range of sporting apparel".
Lars Ulvesund, manager of sports and outdoor with Australian Wool Innovation (AWI), a not-for-profit company owned by over 27,000 woolgrowers, added it was ideal to have such a significant Australian sports retailer now involved with the natural fibre.
"Over the last few years we have seen Merino gaining ground in sports apparel in Europe and US. The global sports brands have taken Merino to their hearts, recognising what a highly functional fibre it is. In addition, the increasing interest for natural products with great provenance and performance has made Merino wool the premium fibre in this market. It is very rewarding to see this in Australia with such a high profile and well-regarded retailer like Rebel."
Rebel
Starting as a single store in Sydney suburb of Bankstown in 1985, Rebel has grown to become an extensive network of more than 90 stores located in most parts of Australia.
Australia's leading sporting and leisure goods retailer, Rebel claims to offer customers an incomparable range of the biggest brands and latest products.
Focusing on the healthy lifestyle, the company provides customers with guaranteed quality products.
Woolmark Company
The Woolmark brand, owned by AWI, works throughout the global supply chain – from woolgrowers through to retailers.
The company's objective is to improve the profitability, international competitiveness and sustainability of the Australian wool industry as well as to increase demand and market access for Australian wool.
The Woolmark Licensing Program ensures that any product bearing the Woolmark logo meets strict wool content, quality and performance criteria based on the exacting demands of today's customers.
Merino wool
The younger generation, born in an era of 'disposable' fashion, appear to have little knowledge about the benefits of natural fibre, according to AWI.
Merino wool is recognised for the features such as stability, durability, softness and is a luxury to the tailoring industry. AWI describes its precious commodity as a 100 per cent natural renewable fibre source.
This article is also appears in...