19th November 2015, Milan
Meryl for Knit premium yarns launched at ITMA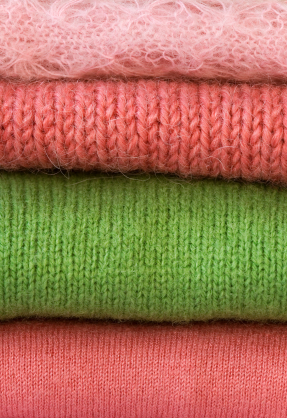 Meryl, Nylstar's luxury textile brand, has presented a new exclusive range of Meryl yarns specifically selected and designed for knitwear at the ITMA trade fair that concluded in Milan this week.
A selection of chunky yarns Meryl for Knit was developed to help manufacturers obtain, what Nylstar refers to as, voluptuous and indulgent knitwear pieces that combine sleek luxury with a focus on comfort and functionality.
Advantages
According to the company, garments made with Meryl for Knit are more stable and resistant to laundering due to the specific properties of Meryl polyamide that are said to provide better fixation to the fabric dimensions.
The newly developed Meryl for Knit is also said to be a guarantee of the maximum quality and excellent hand feel, with no added chemicals, to satisfy the fashion industry's highest standards.
The product has a variety of applications, ranging from pants, tops and chunky knit dresses for the Autumn/ Winter season, to tank tops and cropped tops with tube midi-skirts for the Spring/Summer collection, the company reports.
Meryl for Knit yarn selection
Meryl Hydrogen Tricot is a premium fibre with an irresistible peach touch. Thanks to its special production process, Meryl Hydrogen is said to provide skin with an exclusive hydration feeling and great breathability.
According to the company, its Meryl Sense Tricot is made with the finest filaments ever produced and offers maximum standards of comfort. This premium yarn provides garments with an amazingly light and cool handle, ideal for the most delicate collection designs.
Finally, Meryl Nateo Tricot is said to be the perfect combination of easy-care and cotton look and feel. Its natural appearance and comfortable touch with the low water consumption rates on its production process, make Meryl Nateo Tricot more favourable than cotton.
Main properties
Certified by Meryl Lab, Meryl for Knit yarns are said to offer an excellent comfort due to its inherent stretchability. They will return to their original state when bent or stretched, ensuring garments retain their shape during wear and laundering.
Meryl for Knit yarns use Meryl EcoDye technology, a zero water, zero energy and zero waste dyeing process, producing deep and permanent colours sustainably.
Meryl is renowned for producing the finest yarns. Meryl for Knit yarns have superior handle and superb drape. Delicate, light and resistant at the same time, yarns are also said to also result in garments that avoid pilling effects without giving up its incredible touch and natural look.
This article is also appears in...