16th August 2010, Olgiate Olona
Montex stenter solves viscose jersey problems for Italian finisher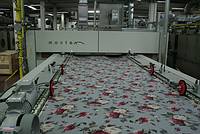 Italian finisher Stamperia Valeri has taken delivery of its first Montex stenter to help overcome weft yarn stretch and dimensional stability problems it has been experiencing with older stenters when working with viscose jersey fabrics.
Founded in 1991 as a 'bleach and wash', print, dye and finishing specialist, Stamperi Valeri had relied solely on two old stenters for its finishing operations. However, when the volume of viscose jersey fabrics the company processed increased, it took the decision to invest in a new stenter in order to handle the new lighter weights. Subsequently, the new Montex 6500 stenter which was said to be described by an employee as 'belissimo' was installed earlier this year.
According to Production Manager Mr Allegrini the company had experienced stretch and dimensional stability difficulties with the older stenter. "We were also having off grain problems with the light and delicate jersey viscous fabrics," Mr Allegrini said, adding: "Since the installation was completed earlier this year, these problems seem to have been resolved with the new Montex and although early days, everything is looking very good."
Stamperia Valeri works with a variety of fabrics including cotton and cotton mixes, silks and viscose but the new Montex stenter is being used particularly for viscose jersey and especially in the lighter weight range of 80-120 grammes per linear metre.
The new 6 chamber Montex line also features a Pleva Straightening Unit at the stenter infeed. Virtually all of the jersey viscous fabrics are passed through the Montex up to three times. "The first time after washing to dry and stabilise the fabric ready for dyeing," said Mr Allegrini, "Thereafter, a second pass is made following the dyeing process and frequently, a third pass to ensure a 'softer hand' feel."
As a result, the Olgiate Olona-based finishing department is working two shifts daily, with a single shift by the dyeing department to complete between 30,000 - 50,000 metres per day, five days a week. On completion of its final finishing process, the fabrics, in 80 - 100 m rolls are returned to Valeri's parent company, Gallus for distribution to customers throughout Italy, France, UK, Spain and Germany for make-up into ladies fashion wear.
Energy savings
The Montex stenters are equipped with an integrated heat recovery system, fitted as standard and comprising a compact air-to-air heat exchanger and are said to ensure up to 30% energy savings; using the exhaust gases to pre-heat the incoming fresh air entering the stenter. The Montex line also features the latest electrical and electronic components and systems to further minimise energy consumption, even in standby mode.
This article is also appears in...