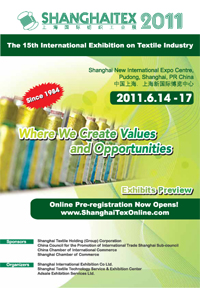 In the run up to the 15th International Exhibition on Textile Industry (ShanghaiTex 2011), which will be held at Shanghai New International Expo Centre, Pudong, Shanghai from 14-17 June 2011, organisers have announced that more than 1000 exhibitors from 18 countries and regions will participate with a total exhibition area of 92,000 square metres.
Exhibitors from Austria, Bangladesh, France, German, Hong Kong SAR, India, Italy, Japan, Korea, Pakistan, PR China, Singapore, Switzerland, Thailand, Taiwan, Turkey, United Kingdom and USA will show their wares in Shanghai.
While encouraging responses are said to have been received from worldwide visitors, the organizer says it has pre-registered record-breaking numbers of visitors from 70 countries and regions. The top 10 visiting countries are said to be India, Pakistan, Bangladesh, Indonesia, Turkey, Thailand, UAE, United States, Sri Lanka, and Vietnam.
Among the pre-registered visitors, it is not difficult to find large scale well known textile enterprises from different parts of the world. For example, Crescent Textile Mills (Pakistan), Maruthi Clothing Company (India), Brandix Lanka (Sri Lanka), The Thai Silk (Thailand), Sumiya Cottage(Bangladesh), P&G (U.S.A), Asahi Kasei Fibers (Japan), H&M (Hong Kong), Texwood & Apple (Hong Kong), Li & Fung(Hong Kong), Guess Asia (Hong Kong) and many more have pre-registered.
Special Features at ShanghaiTex 2011
At this year's Shanghaitex a series of new additional activities will be held at the exhibition. Key exhibitors such as Stoll, Karl Mayer, Santoni, Aotu, Cixing, Chemtax and Shima Seiki will use their machines' end products to run a fashion show.
Textile testing equipment manufacturer Uster, will run a seminar discussing the topic - 'How innovation deals with the Chinese spinning mill's challenges,' while Fong's will hold a press conference onsite to announce their latest developments.
Besides contributing to the fashion show, Stoll, the oldest company in the field of flat knitting machines and one of the few manufacturers producing its own electronic parts, will showcase a series of classic knitting machines from 1906 to 2009.
This article is also appears in...