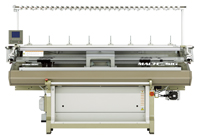 The unstoppable switch from hand operated machines (hand flats) to computerized flat knitting machines in mainland China's knitwear factories, has helped leading Japanese machine builder Shima Seiki to lift sales of its computerized flat knitting machines by 22.9% in the third quarter of 2010.
The company's key, market of China has seen a shift from manually operated (hand flat) machines to computerised flat knitting machines on increasingly important factors such as rising labour costs and an ageing knitwear industry work force in China. Growing capital investment in Turkey, Italy, Brazil and emerging countries in Asia have also helped bring aggregate sales of flat knitting machines at Shima to ¥25, 552 million, up 22.9% quarter on quarter.
Also the recovery in demand for clothing helped the production of knitwear products grow in major knitwear producing areas of the world, prompting the recovery of capital investment in computerized flat knitting machines.
Brisk sales of SDS One design systems amounted to ¥1,173 million, up 34.7% quarter on quarter. Glove and sock knitting machine sales grew in emerging Asian countries with sales recovering to ¥1,205 million, up 604.5% quarter on quarter.
Total sales for the nine months ended 31 December 2010, rose to ¥30,996 million, up 24.9%. On the earnings front, operating income increased to ¥4,458 million, compared with a ¥1,382 million in the same period in the previous year, as a result of the improved ratio in gross profit to net sales attributable to the higher production volume and cost cutting activities and lower selling, general and administrative expenses obtained from companywide expense reduction initiatives.
Meanwhile, ordinary loss for the quarter was ¥356 million, compared with ¥1,586 million in the previous year, impacted by the large exchange losses arising from the rapid appreciation of the Japanese Yen.
This article is also appears in...