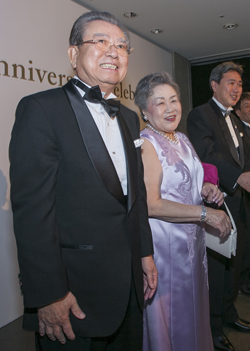 Mrs. Kazuyo Shima, beloved wife of Dr. Masahiro Shima, President of Shima Seiki Mfg., Ltd., passed away at age 75 on 6th May 2013.
Apart from her dedicated support of her husband's work, Mrs. Shima was also known for her role as President of Wajima Kosan Ltd., a Wakayama, Japan-based firm involved in various enterprises in real estate, insurance, food services and knitwear manufacturing and sales.
Wajima Kosan is known for its pioneering endeavor in operating Factory Boutique Shima, the first commercially successful factory boutique outfit, which utilized Shima Seiki's Wholegarment knitting technology to produce order-made one-of-a-kind knitwear directly to consumers.
She is survived by her husband, four children and six grandchildren.
A memorial service will be held in her honor in Wakayama on Wednesday, 5th June 2013 at Wakayama Big Whale at 1:00 p.m.
Memorial Details
Name: Kazuyo Shima
Date of birth: 15th September 1937
Date of decease: 6th May 2013 (age: 75)
Memorial service:
Date: Wednesday, 5th June 2013
Time: 1:00 p.m.
Venue: Wakayama Big Whale, 2-1-1 Tebira, Wakayama, 640-8319 JAPAN
Tel: +81-(0)73-433-0035
Principal mourner: Masahiro Shima, husband
This article is also appears in...