23rd May 2014, Albstadt & Shanghai
myGrozBeckert App relaunches
Exactly three years after the launch of the first Groz-Beckert textiles industry app myGrozBeckert, the German company will introduce a completely redesigned version at ITMA ASIA+CITME 2014, with a new modern design with user friendly navigation, which is now available for Android devices.
Groz-Beckert brought out its first app myGrozBeckert at ITMA Barcelona 2011 offering in-depth knowledge along the textile value chain and information about Groz-Beckert as well as having various useful tools and calculation aids in the app's so-called Toolbox.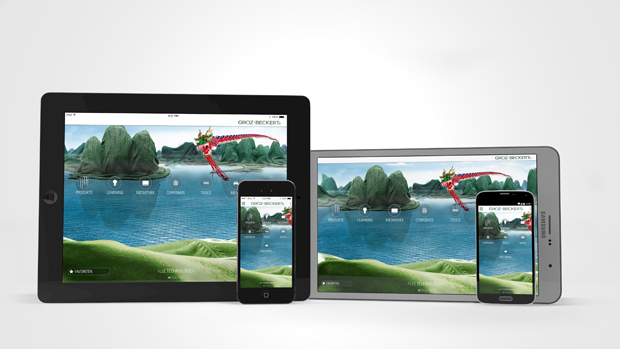 At this year's ITMA ASIA + CITME in Shanghai the company is introducing the newly designed app myGrozBeckert where the most obvious change affects the design - the textile motifs already well known from the Groz-Beckert website have now found their way into the app.
In addition, Groz-Beckert says, it has given priority to customer benefits. The new app also provides a user friendly navigation structure with simplified intuitive user guidance, the company adds. Also, the use of pictograms eases operation and orientation significantly, so that the user quickly reaches the information and tools they need. In addition, each user can set the app individually according to their interests.
myGrozBeckert has also been extended with new functions and content. One example is the full text indexed search in all areas of the app and there is a completely new information portal. It summarizes all updates of the app as well as providing news from the textiles industry. An overview of the Groz-Beckert product portfolio and the current trade fair appearances has also been added.
MyGrozBeckert is available in German, English and Chinese and with the relaunch the app is now available for all smart phones and tablets with the operating systems iOS and Android. From the first day of the ITMA ASIA + CITME exhibition, 16 June 2014, the version of the app can be downloaded for free in the Google Play Store or Apple App Store.
Groz-Beckert is the world's leading provider of industrial machine needles, precision parts and fine tools as well as systems and services for the production and joining of textile fabrics. Its products and services support the fields of knitting, weaving, felting, tufting and sewing. Founded in 1852 the company today employs nearly 8,000 people and has a turnover of around €570 million. Groz-Beckert operates with agencies, production and distribution subsidiaries in more than 150 countries around the world.
This article is also appears in...