21st April 2010, Migdal Ha'Emek
Nautilus chooses Nilit yarns for eco performance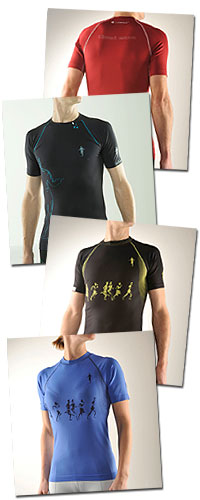 Nylon 6.6 manufacturer Nilit has collaborated with leading sportswear maker Nautilus to use Nilit's Ecocare and Aquarius yarns in the company's thoni mara Green Fee running shirt collection. The knitted fabrics used in the shirts are said to be environmentally friendly whilst boosting runners' performance.
Nilit EcoCare yarns are key components of the knitted fabric created especially for the Green Fee shirts, which are designed for superior performance and comfort while being kind to the environment. Nilit EcoCare is made of recycled polymer which Nilit says provides excellent colour depth and uniform dye ability. The yarn is also designed to wick away moisture.
Nilit says that the unique properties of EcoCare combined with thoni mara's environmentally friendly and fair Green Fee manufacturing processes, create outstanding runners' shirts that are highly functional and fashionable as well as fair and sustainable.
"Nilit EcoCare has proven to be ideal yarns for thoni mara Green Fee runners' shirts," said Christian Schwab, thoni mara's CEO. "We have exacting standards for every aspect of our products and Nilit's yarns fully meet our requirements for colour, durability, moisture management and environmental friendliness."
The premium collection with Nilit Aquarius was recently named as a finalist in the prestigious Brand New Awards at the ISPO sportswear show, held in February. Nilit says the collection garnered a great deal of attention at the show with visitors interested in its unique combination of high-performance and sustainable production.
Mr.Gilad Frenkel, Marketing and Sales Manager at Nilit commented: "We are proud to have contributed to thoni mara's success at the ISPO show, in the Brand New Awards and, most importantly, in the market place."
This article is also appears in...