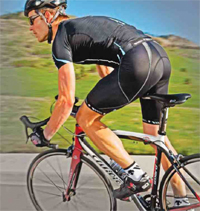 US brand Descente is once again showing its pioneering spirit in developing performance bike wear for serious cyclists. The brand's summer 2010 Avanti outfit uses a new high-tech fabric engineered by Swiss knit fabric specialist Eschler which delivers additional comfort benefits to riders.
Descente has been known for its top performance sporting apparel since it was founded in 1953 and for its new Avanti jersey, bib and shorts, the brand utilizes Eschler's technical 'Flash' fabric, a complex double layer knit featuring polyester on the inside and polyamide on the outside, which is said to deliver outstanding moisture management (it 'dries in a flash') and excellent cooling properties. The polyamide outer offers high abrasion and pilling resistance.
Descente's Avanti styles are designed for hot rides on steaming asphalt and the double-layered knit also utilizes Schoeller Technologies coldblack technology, to reduce heat absorbency in dark coloured textiles. Coldblack is said to cool up to 5°C and guarantee a high level of UV- protection. In addition Flash also employs Schoeller Technologies' coldblack, which protects the cyclist and keeps him cool on days when the temperatures goes from hot to hotter. Coldblack reduces heat absorbency in dark coloured textiles, cooling up to 5°C, and guarantees a high level of UV-protection.
Christian Eschler AG is a family owned business, based in Bühler, Switzerland, involved in the development of both warp and weft knitted fabrics. The company is managed by the third Eschler generation and specialises in sportswear, work wear, technical textiles and lingerie. Eschler committed itself early to an environmentally friendly production cycle by becoming a bluesign system partner (www.bluesign.com ). The independent bluesign standard meets strict requirements regarding sustainability, health and safety as well as resource efficiency.
This article is also appears in...