This edition of Interfilière was all about new collaborations, with a new format and closer alliance between the lingerie swimwear show with the Interfilière made for an exciting new dynamic.
There was a real focus on innovation and technology with stands showing experimental work from St Martins School of art, with students demonstrating new bio-materials, and even a French underwear brand called Spartan explaining their men's briefs with silver fibre to shield the wearer's delicate parts from mobile phone radiation.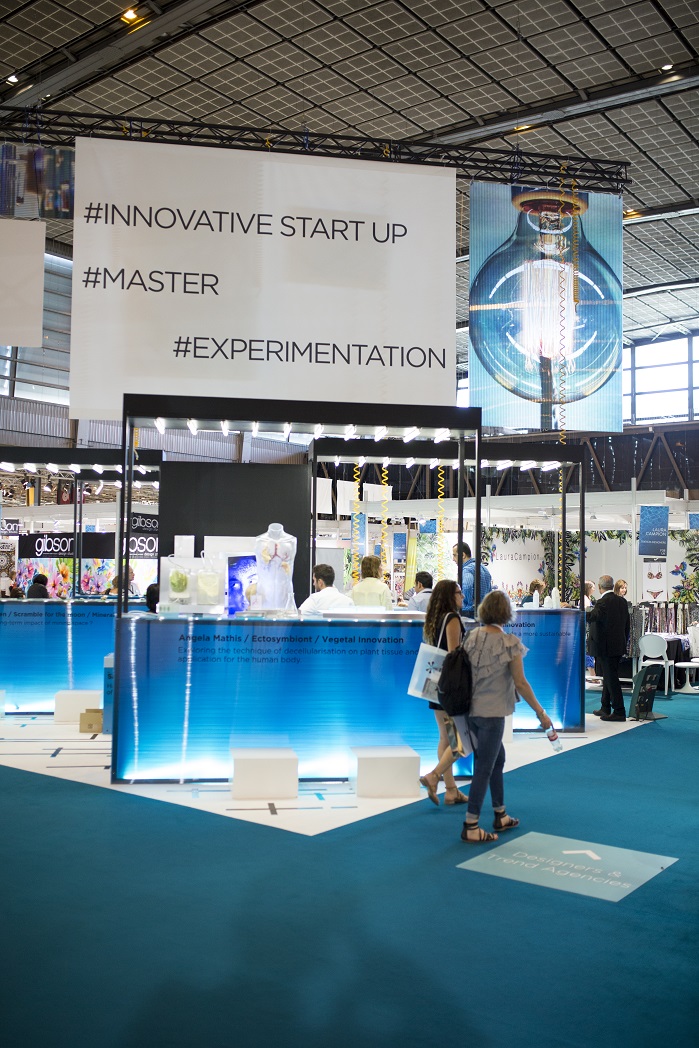 The big new comers were the Columbians with over 24 swimwear brands showing at Mode City, and a conference. Columbians are coming out from the Brazilian shadow with bold brands. Interestingly, leading brand Maaji, which is a lifestyle brand now experimenting with active wear, said that they sourced all their swimwear fabrics in Columbia.
Multi-sensory, full on print
Print was a huge story, with a special exhibition dedicated to print technologies, including 3D printing that can create innovative solutions. Dutch start-up brand Mesh demonstrated customisable, bespoke bras using scanning, 3D printing to prototype bras for customers.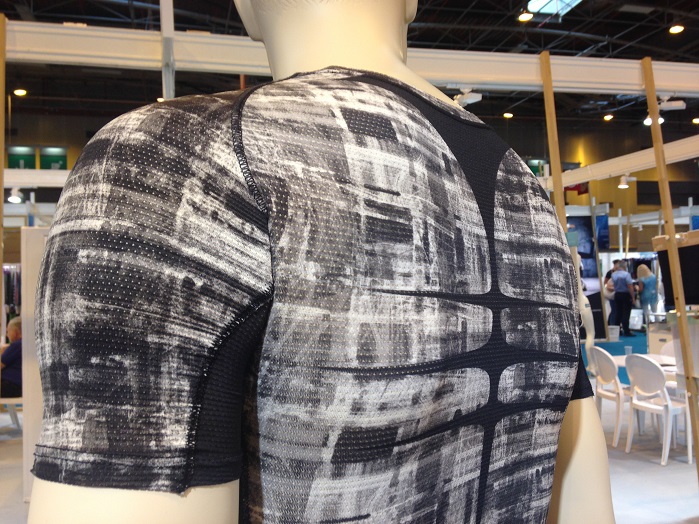 Surface pattern designers were showing out in force. British designers "See Creatures" reported that they had a lot of interest from small niche independent swimwear brands looking for designs to set them apart from the competition. See Creatures founder, Dan Walters described the overall print trend at the moment as being "full on print" prints were also texturally very sensuous.
The problems of dye penetration in stretch fabrics is being resolved, an end to the white lines when you stretch swimwear and sports fabrics. New exhibitor Seiren, from Japan, who work with Nike, created their own inkjet print system called Visiotec to address this issue. They're also using burn-out/devorée techniques and have created embossing that survives 100x laundry, not just 40.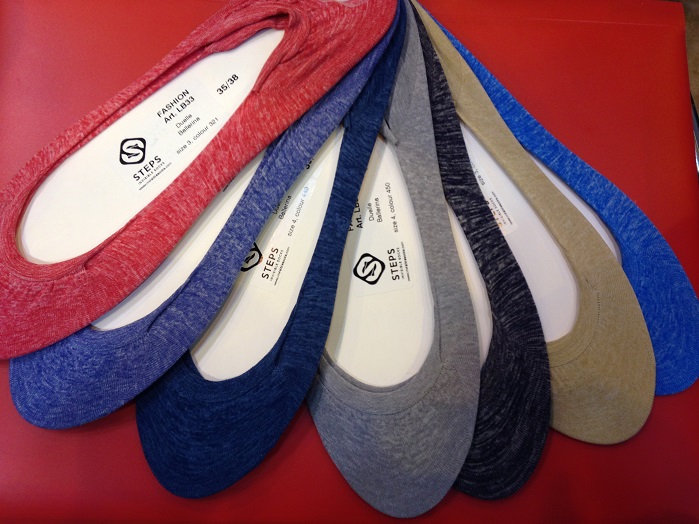 Much to celebrate, partnerships get the spotlight
A strong theme in this show was the linkage of fibres and yarns to the fabrics and the branding and greater presence in the market of fibres and yarns. Korea's Creora, American Lycra, Japanese Roica and Israel's Sensil were all out in force to show off their specialist fibres and support their partner fabric producers. Fibres are no longer the quiet supporting act, but now trying to be much more part of the main event. These partnerships have spawned some interesting stories:
Fresh approach
Korean Elastane and functional fibre producer Creora celebrated their 25th anniversary with a champagne reception. Sofileta has partnered Creora for 15 years evolving solutions for sportswear and stretch fabrics. Creora Fresh is their latest product creating in-yarn chemically bonded deodorising fabrics which Dominique Heuillard of Sofileta said: "had a good reception with the sports client, in both polyester and polyamide, particular for the base layers in skiing, particularly for sports that require a lot of body coverage this is a good innovation."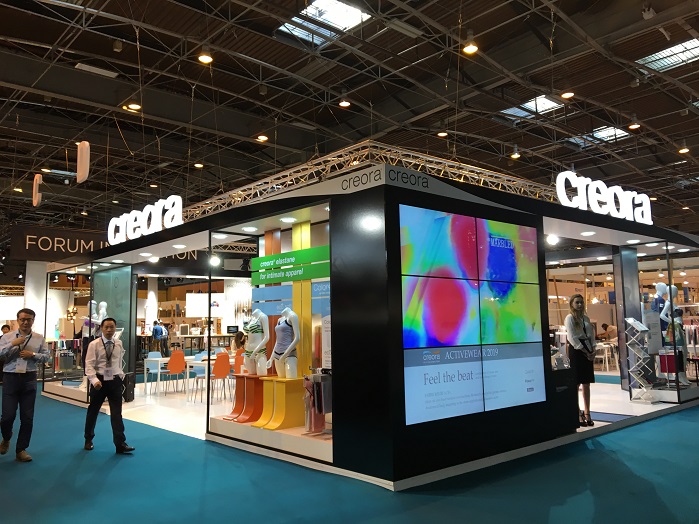 Fibre to fashion collaborations
Collaborations were a big story throughout the value chain. Asahi Kasei and Wolford have been collaborating to improve the luxury hosiery line's product range with the "Salad Collection of hosiery" made with Roica's Eco Smart Family of premium stretch fibres supporting Wolford's Gold Certified Cradle to Cradle standards. This means that the garment has an end of life certification that it can break down naturally without polluting the environment with harmful materials according to the Hohentein Environmental Compatibility Certification. The tights will be in shops for AW 18-19. Roica is also working with lace manufacturer Iluna to bring added value to ranges by luxury lingerie brand Aubade.
The Ideal Bra
The Willy Hermann/Invista partnership has now created the "Casual Bra" project. Bralettes for smaller cup sizes and wire-free bras for bigger cup-sizes, as well as performance fabrics for sports bras have been major focuses for Willy Hermann. Using differing percentages of Lycra has been part of the answer, with percentages as high as 48% Lycra for the natural support ranges.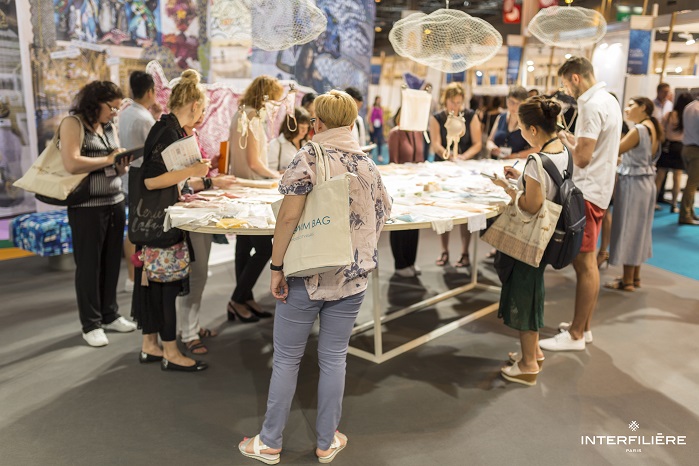 Big topics raised at this edition of the Interfilière included:
End of fashion
"There is no fashion no only problems solving," said Martin Hermann, of Willy Hermann Superfine. This is a bold and watershed statement for the fabric industry. "We have stopped working in seasonal thinking and now we are working in topics that we think are suitable for the market, we never say that this is a summer fabric or a winter fabric as we say that when you look at our range it is all fine so it is laid down in topics." Regarding colours, this is set by the customer, as they have their own dye house. He said: "We try to find nice colours to suit the order, so it is full customisation."
Sustainability and responsibility
Talking with different textile manufacturers, it was apparent that the issue of green, sustainable and responsible production is now imperative – there was a real sense of urgency but also of opportunity, Dominique Heuillard of Sofileta said. "Bio textiles can really transform the textile industry." He added that "the Swedes, the Germans have transformed their products to be responsible, they are same textiles, with the same perfomability but they are greener."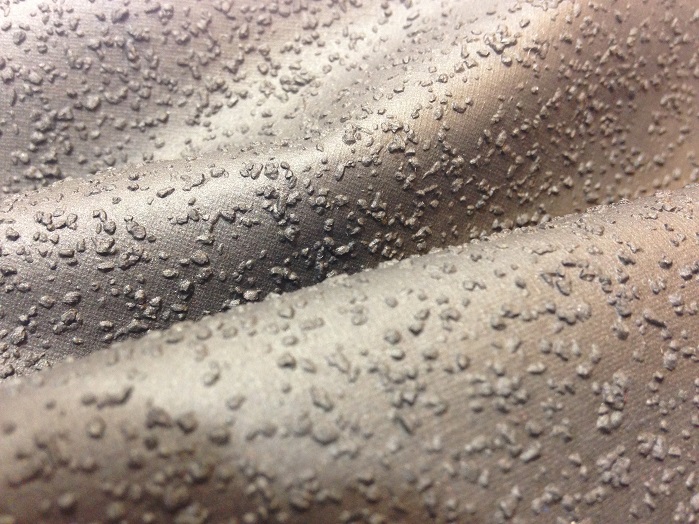 Camilla Carrara, spokesperson for Portuguese textile firm Tintex, said their Ecotech range is "made from pre-consumer clippings, it is pre-consumer waste, so it is a virgin material and you can trace the products. The fabrics are fine and elaborate," sourced from Marchi & Fildi in Biella, Italy. She said they are using really special fibres and materials to create something more precious.
Natural performance
Asahi Kesi Corporation's Cupro, a cotton derived synthetic, supported by performance fibre brand Roica, is one example of optimising natural fibres.
Turkish based cotton specialist Sanko's Marketing Sales Manager Eser Ogucu Khan said: "We have a lot of modal, micromodal, bamboo, and Tencel. Umorfil which is from fish scales, so it has a collagen effect so it improves your skin whilst you sleep." Importantly, she described why they were getting into activewear. "We want to introduce natural fibres, with some performance. We are not claiming you can go to the Olympics, but we can provide everyday comfort with still some performance."
Comfort is non-negotiable
The pressure is on to make all garments comfortable, including corsetry, and shape wear is taking note of this with the use of control panels and using fabrics, fibres and design to create shape wear that supports, moulds, contours without constriction and excessive compression. Easy to apply, wear and wash garments add value to the wardrobe.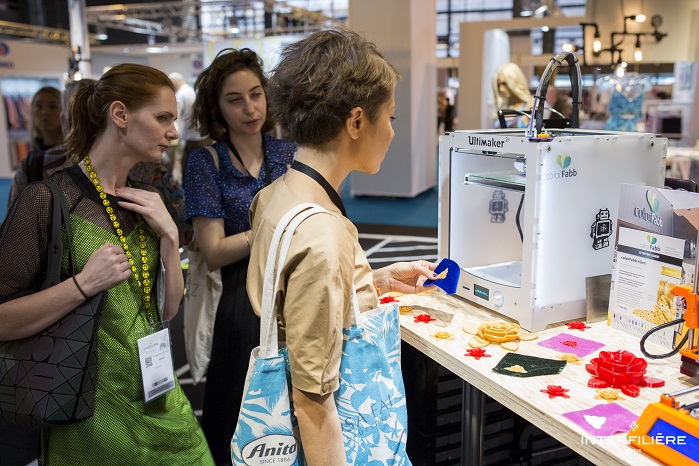 Athleisure is now normal, welcome Work Leisure
Athleisure is here to stay and the new wave is Work Leisure. Work Leisure engages with professional's 360 lifestyle, where there is a need for clothes that can be worn to run or bike to work and then head to a meeting. Work clothes are becoming more casual and demands for specialist fibres is growing, with a savvy consumer with money to spend. Comfort, performance and good design are essential to this trend, making sports clothes integrate into a working wardrobe.
Fabric trends
In terms of colour and fabric trends, there were the usual forecasts for colours in lingerie, split between the more romantic and the more adventurous for 2019.
Dreamy Romance: soft nude and pastel tones, including soft blues, peaches, with a chalky finish, lace both as trim and a main fabric is important.
Ghostlike Lightness: 'barely there' lightness in fabrics from transparent voiles to superfines. Sofileta are producing a nanofabric of 60gsm only beaten by Willy Herman's fabric weighing in at a feather light 50gsm.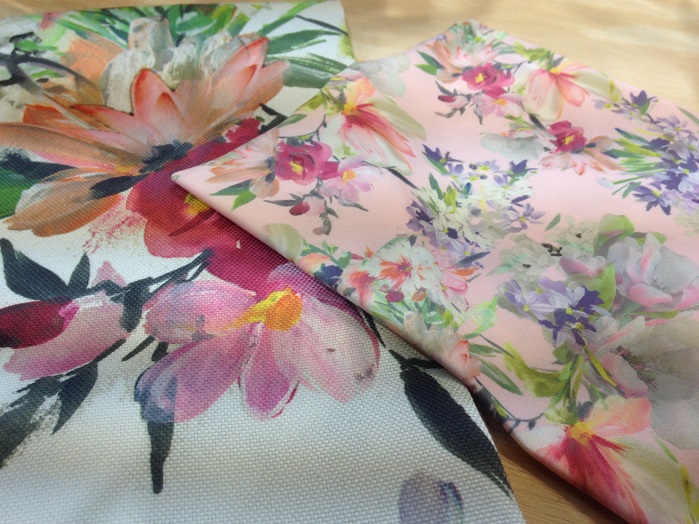 Natural and Nomadic: not just the usual blend of ethnic prints and naturals, but, as mentioned before, adding performance to natural fibres to enable movement.
Florals that break the mould: full, colourful florals and also bronzed autumnal flora including golden and bronzed leaves and even wild woodland mushrooms.
More than texture and accessories: Bishchoff lead the way in this over-the-top playful trend of 3D fabrics, fishnets adorned with notions, bobbles, and ribbons, stand out lace florals and embroidery. Ribbons, zippers and other notions were also very expressionistic and much more creative than before.
Elastic extravaganza: Elastic trips seem to be having a bit of a moment, no longer the supporting act, elastic knitters were showing out in force with lacy edging, intricate visual designs that put elastic centre stage, a big leap forward for the elastic trim industry.