Knitwear designers on the London and international catwalks have been breaking away from the fine knits that tend to define luxury knitwear and are again experimenting with textured and more three dimensional design.
There are four key trends that emerged on the AW17 runway shows that the knitwear design industry should take notice of:
Soft-armour
This trend could be seen in the oversized knitwear pieces and outwear in numerous runway shows, notably those of British designers Christopher Raeburn, JW Anderson, upmarket high street chain Joseph and British classic knitwear company John Smedley. Shape was key in all these collections, broad rounded shoulders, strong forms, with tailoring, thicker materials and yarns which gave a sense of soft armour against the winter elements and the uncertainties of our increasingly complex and conflicted world.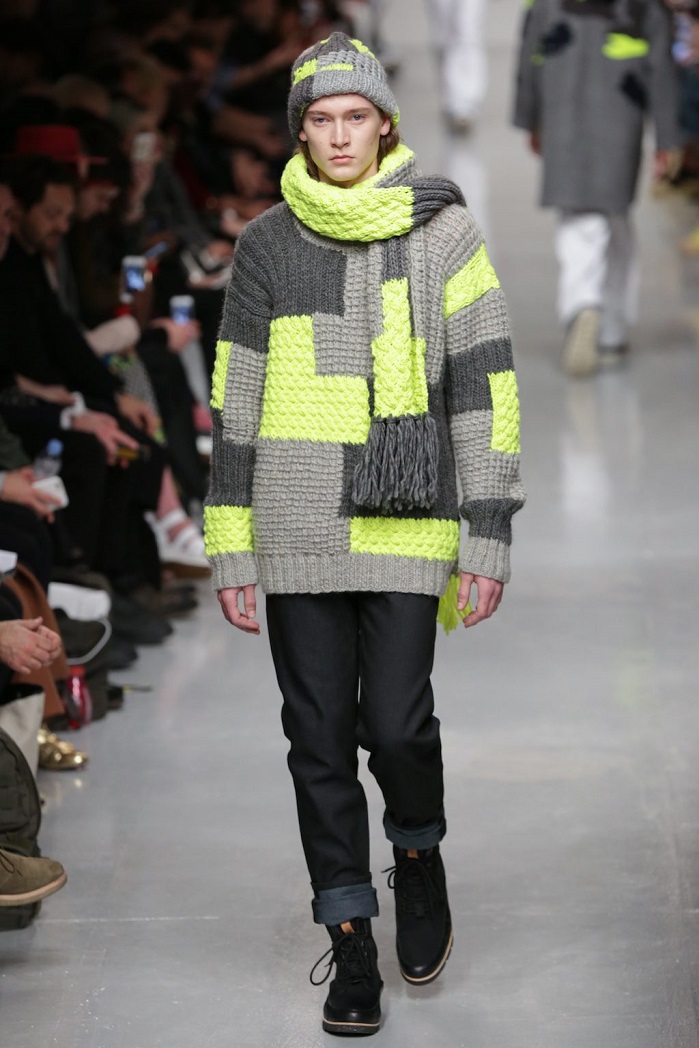 JW Anderson and Smedley exaggerated classic forms, Anderson created giant roll neck jumpers as show pieces, but Smedley engaged with the need for comfort and the love of big comfy jumpers and cardigans. Where JW Anderson's jumpers were very structured, Smedley's engages with a very long trend seen across the clothing industry i.e. protection and comfort something the lingerie industry has embraced.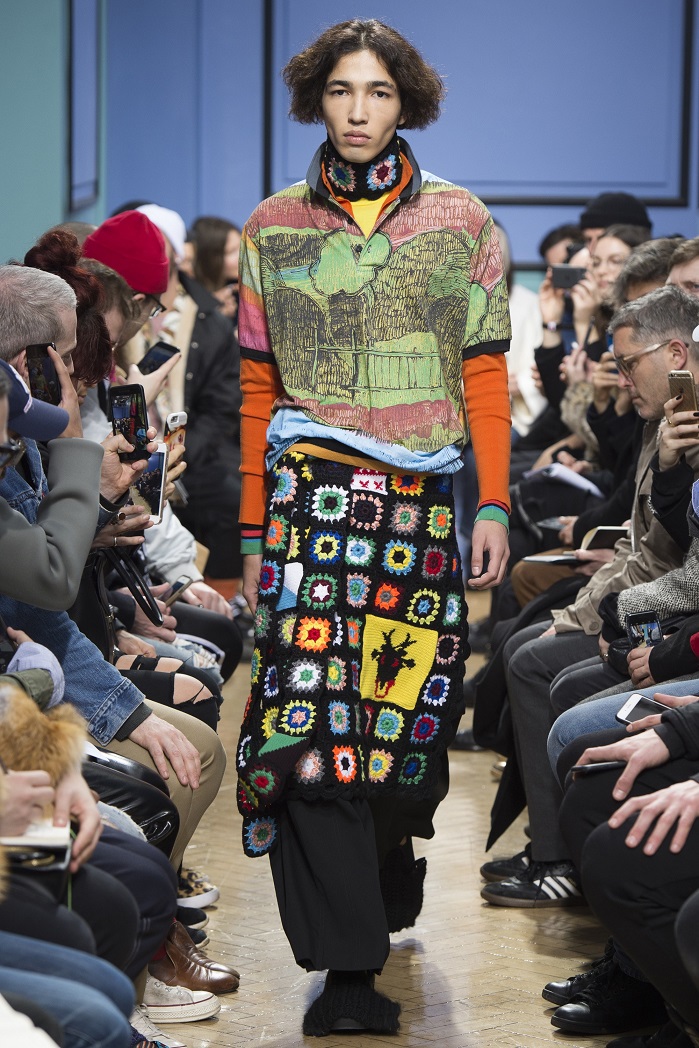 In previous year's coverage of the Interfiliere the issue of feeling comforted has safe has been a recurring theme. Marrying this idea in a fashion context is a challenge, but worth exploring. As the past year of global politics has shown we live in the most uncertain of times and what we wear underpins who we are and who we want to appear to be in the world. Comfort by stealth and clever design may well be important for some time to come. Oversized clothes are about shielding the body and creating an exterior shield to reshape the body from the outside to ward against a sea of troubles. This is a big shift in design after years of neatly tailored clothes that hugged, reformed and supported the body.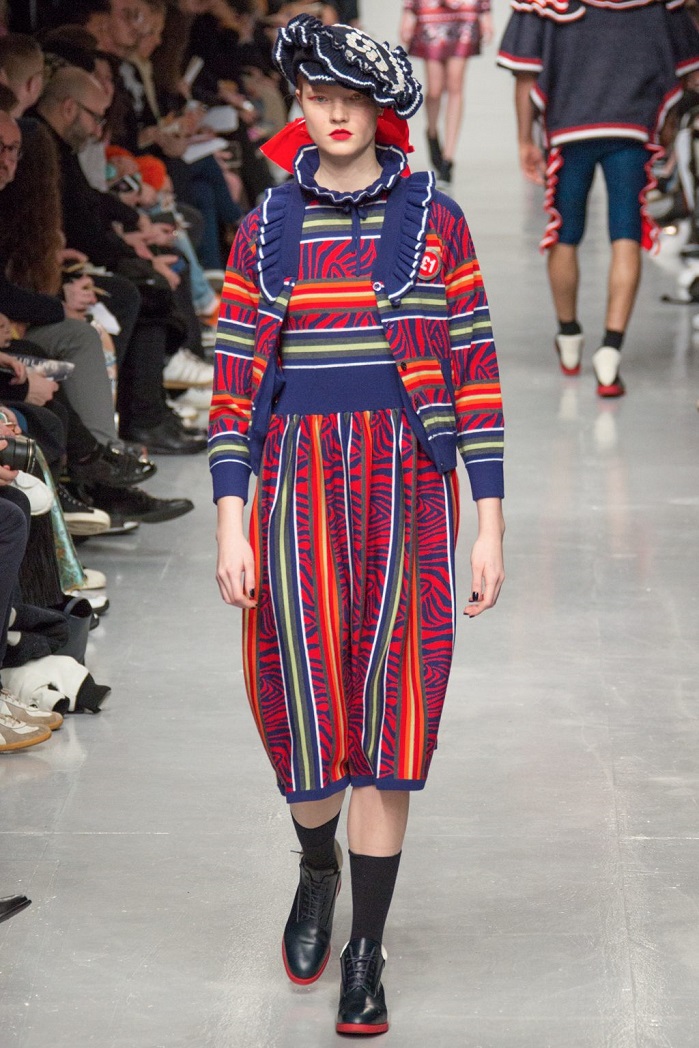 Super-Bright Wonky-Geometry
For the wider market this is probably the easiest trend to replicate and more marketable than the other major shifts in design direction. Use of bright and acid colours against darker plainer grounds in striking asymmetric-geometric patterns and the second is all about texture and more three dimensional uses of knit stitches. Despite knitwear's high value on the global market and cardigans and sweaters being clothing stapes, knitwear has remained the Cinderella of the fashion market and often an afterthought in a designer's collection.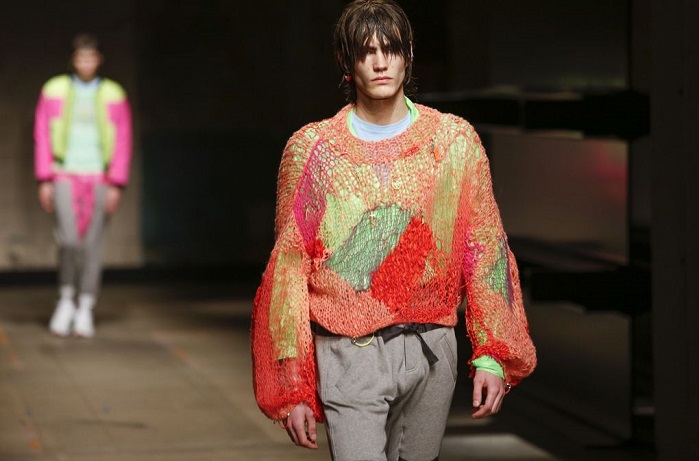 Avant Garde knitwear design label Sibling and support for design innovation in knitwear by both Woolmark and Campaign for Wool has brought knitwear to the fore. Sibling's runway knitwear this season was not the big "art show" that the label has previously shown, but a much more commercially focused collection with just a few unusual thrills and frills, again a sign of a fashion label responding to more uncertain times. The super bright trend lets the colours and visual pattern do the talking, however, the TOPMAN runway show, played with both visual design and texture with spider-web knits.
Patchwork Mix and Match
Knitwear mixed with other materials or faux shirt collars, cuffs and tails have been around for some time. Seeing knitwear as being beyond just knitwear continues to move forward. Of note are the crotchet sleeves on coats by JW Anderson, and patches on the chests of his giant mega-jumpers. This development was also seen by the upper-mid market high street brand Joseph on their London Fashion Week Runway.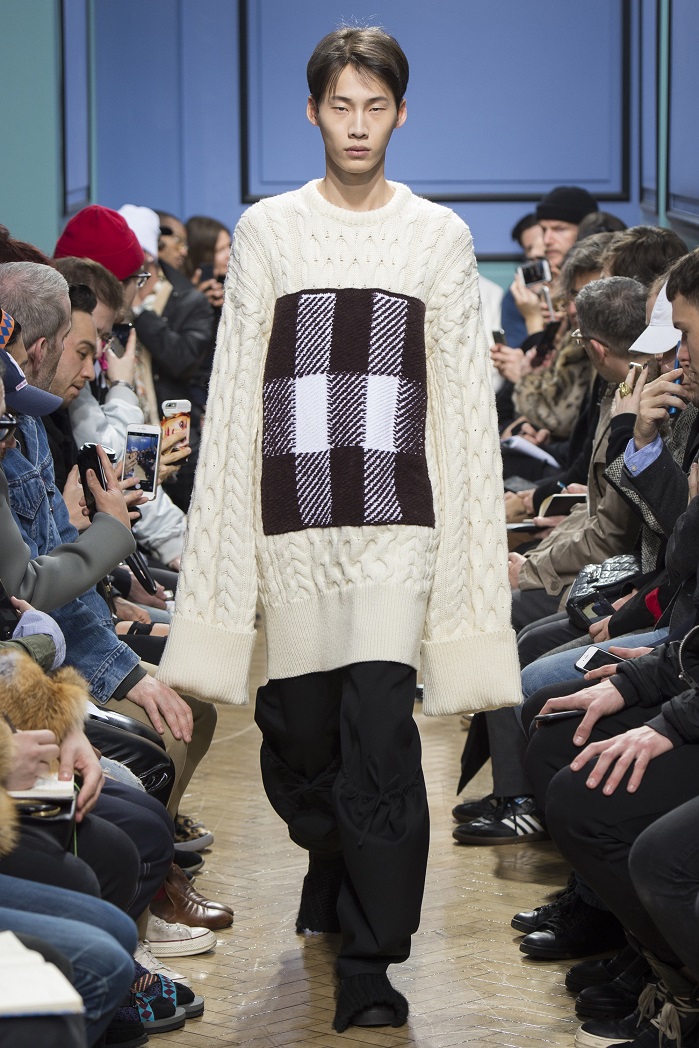 Details, Details, Details
Sibling although markedly understated after their previous years runway shows filled with super-sized knits, demonstrated the use of knitwear as a whole garment. knitted dresses were knitted dresses not "Jumper-dresses", waist bands nipped in knitted shape, frills and trims gave a very 1940s feminine look that takes knitwear out of the snuggly comfort-zone of the soft-armour trend.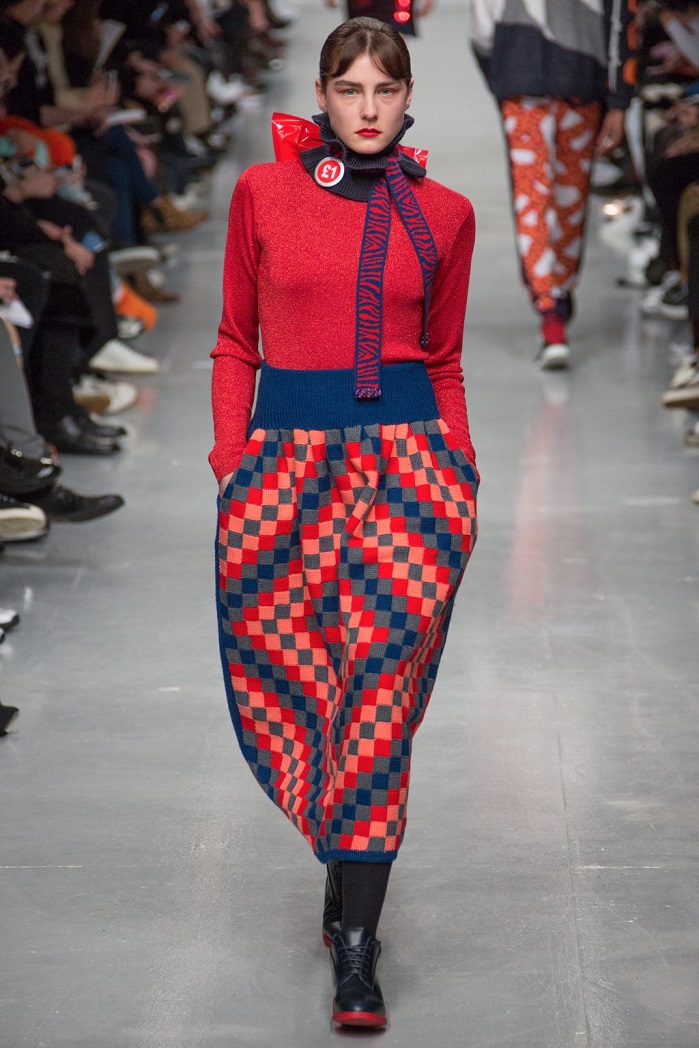 The Third Dimension
Christopher Raeburn who has been well supported by Woolmark and collaborations with companies such as Johnston's of Elgin has taken a step away from the easy to wear fine knits and simple use of intarsia techniques as seen in previous collections to create a much bolder collection of knits that follow the two trends of geometric use of colour and 3D knit stitch and form.
Head Designer at the Derbyshire based, British knitwear company, John Smedley, Pip Jenkins said: "I would say I've seen consumers don't want to buy such flat garments anymore, they want something different. Either through volume in the silhouette or 3D stitch, so yes I would see this becoming a longer trend as machinery develops and technology moves on to make this easier to produce for years to come."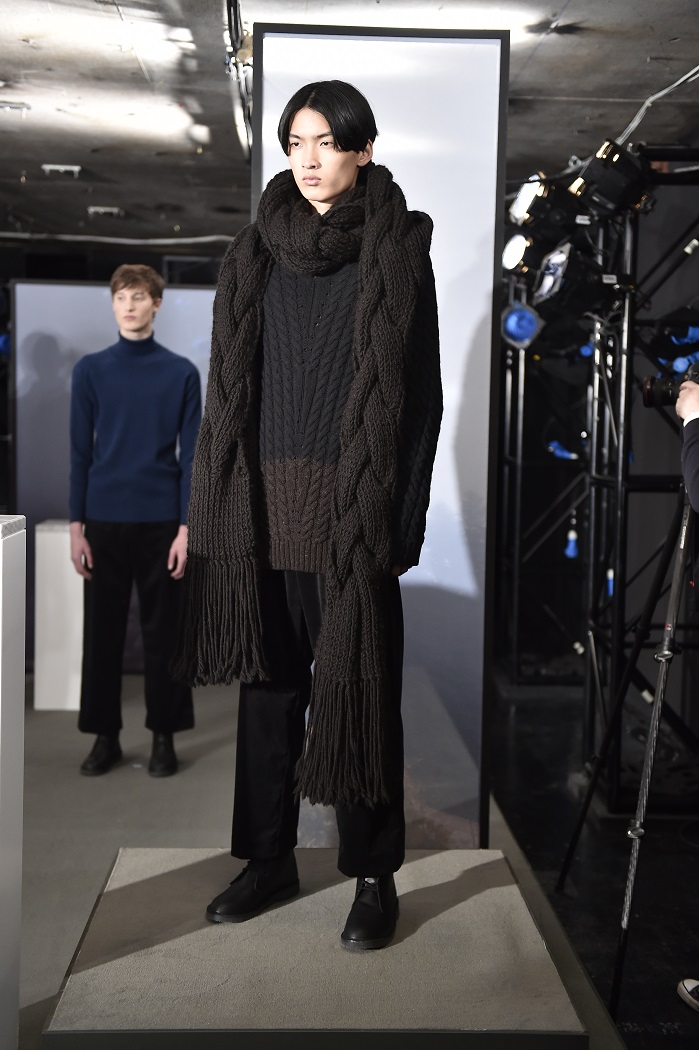 John Smedley are renowned for producing super fine classic knitwear, mainly in merino, however, their last collection which was premiered at London Fashion Week Men showed a brand new design story for the company and a radical move away from their flat fine knits. Pip Jenkins said: "We wanted to create a chunky bespoke hand knitted feel this season." The collection is entirely made in the UK by hand, she said that "the challenge as with all British manufacturing was to find the right craftsman willing to take on such a bespoke process, with the giant cable scarf in particularly took over 100 hours to hand knit to create the over sized effect in the British black sheep blend unique to John Smedley." This does make these garments a luxury item for the higher end of the market, but the new approach design direction seems to be paying dividends for the company, Jenkins says: "With the re-launch of the women's collection in SS16: Spectrum, we started on the journey to create a more textural collection that can be layered and styled together giving a more contemporary feel and luxury aspect. From this point we have developed pushing the stitch and textures within men's and women's and also introduced a very successful honeycomb unisex collection. Which to-date is one of best selling products all year round just offered in classic shades."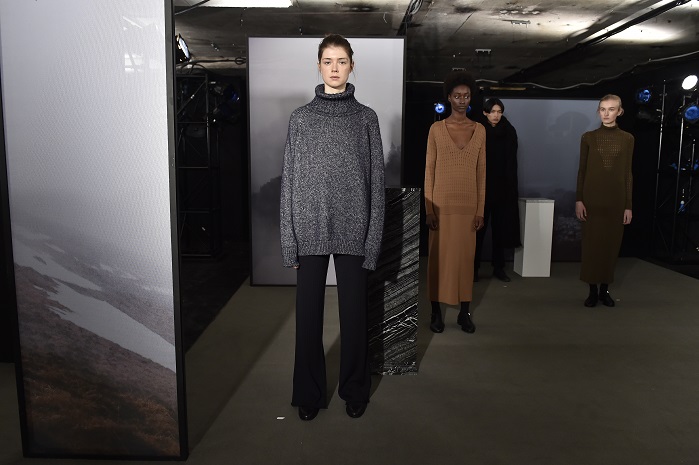 The demand for hand-knit has been helping to develop businesses such as London based Wool and the Gang who work with Peruvian hand-knitters and also sell "knit-kits" bringing craft and fashion together. Margaret Howell a company that prides itself on using British crafts showed an acid yellow Gansey sweater on this year's London Fashion Week Mens' runway, but as beautiful as hand-knit is, creating statement pieces and special purchases even for the well heeled.
What the wider industry needs to engage with is mechanised means of creating innovative pieces in short runs to create the special ranges of key stand-out items that customers want in order to define their own look. Increasingly the widening of ranges has diluted an industry that once had clearly defined seasons and distinct direction in trends. However, for the top of the industry new methods of rapid development and the ability to produce short runs have been established by UK based company Unmade who along with their own brand umd.com and collaborations with Farfetch, Johnston's of Elgin and Christopher Raeburn have harnessed the power of knitting machines and computerised design software to produce high quality knitwear quickly. The only limitation has been that their work is predominantly visual pattern rather than three dimensional knit stitch patterns, whether they can also involve the trend of three dimensional knit stitches such as classic cabling and combinations of other stitches remains to be seen, however after four years of business winning a multitude of awards including the British Fashion Council Futures Award Digital Coalition 2016 it may be just a matter of time before Unmade develop solutions to this issue.
This article is also appears in...