Textiles and clothing producer Athesis SRL, has patented Dry Heat, a new innovative technology for the manufacture of technical clothing, which is said to combine Aquafil's Dryarn and elastomer with outstanding results.
Dry Heat technology has been developed in collaboration with the makers of Dryarn, the lightest microfibre, the company reports.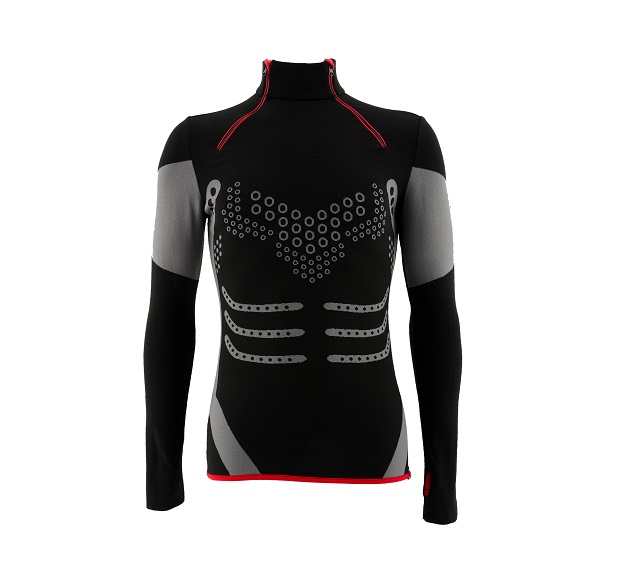 Dryarn in high percentages is mixed with elastomer, a material known for its great elasticity, ease of use and functionality. The new material makes it possible to produce high-performance technical garments for the casual wear market, the company says.
Thermal insulation capacity
The research and development department at Dryarn worked closely with Athesis to provide the company with a product suitable for the new Dry Heat production technology.
According to the manufacturer, the thermal insulation capacity of Dry Heat clothing is unique. It claims that the technology creates a breathable barrier, designed to insulate the wearer from the outside temperature and at the same time transport perspiration towards the outside of the garment.
Garments with these characteristics are therefore said to be ideal for all outdoor sports activities even under extreme conditions. Dry Heat is available in a range of gauges and is said to offer great potential for graphic design.
Stable fabric
Dry Heat has been very successful in developing the full potential of Dryarn, the company reports. It is said to be an insulating, breathable, non-allergic, antibacterial fibre, ideal for technical clothing.
Combining Dry Heat and Dryarn is said to produce a stable fabric, not subject to shrinking, stretching and sagging. It does not absorb moisture, dries quickly and provides high standards of comfort.
Sustainability
Today, fashion houses and sportswear makers are very conscious of environmental issues when designing and producing their collections and Dryarn, , is said to be the perfect partner.
The yarn is coloured at source with solid additives and there is therefore none of the highly polluting process wastes usually associated with dyeing, the company says. Dryarn does not stain and can be cleaned without using toxic soaps or solvents.
Lhotse
The men's Lothse roll-neck jumper pictured combines the characteristics of the fabric with a high-performance design to create a technical garment said to be suitable for the most extreme climatic conditions and the toughest uses. A special feature is the neck opening with two oblique zips. The high percentage of Dryarn ensures that this is a breathable garment that also provides very good insulation.
The double oblique zip allows the wearer to bend the neck easily and facilitates rapid body cooling during intensive training sessions. The extra-long arms and the thumbholes provide increased protection even when the arms are stretched. The back section is also longer to ensure total protection. This sports garment can be worn as a single layer or worn over a base layer from the Dry Heat range, depending on the climate conditions.
This article is also appears in...