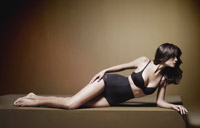 Invista, owner of the Lycra fibre brand and one of the world's largest integrated producers of fibres and polymers, is unveiling a new platform for the changing needs of shapewear at this weekend's Paris Mode City 2010.
Invista will be showcasing Lycra beauty fabric, a new concept focused on helping the industry address the needs of the rapidly evolving shapewear market. Invista says that fundamental global consumer research and studies of shaping garments and fabrics have revealed unique opportunities for growth and increased consumer satisfaction. Invista found that nearly all women (93%)* show interest in garments with shaping attributes, many of whom are new to shapewear and are looking for new functionalities. Dedicated to leading intimate apparel with cutting-edge innovations that respond to consumer needs, Invista has introduced "The Science of Shaping" platform to help the industry develop fabrics and garments that bring a new level of performance and comfort to these shapewear consumers.
The right fabric for the right garment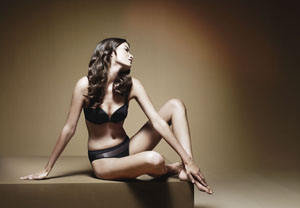 Lycra beauty fabrics are designed to improve the effectiveness of shapewear and to expand the options available to women. Invista says consumers are looking for the secret advantages of more shaping, more comfort and more style that ultimately lead to more confidence. Lycra beauty fabrics provide the scientific foundation for essential shapewear versatility, ranging from firm control to featherweight smoothing and from understated elegance to high fashion style. To identify optimum fabrics, Invista says it has created 'rigorous, multivariable metrics' that define a fabric's shaping performance and comfort across a wide array of fabric and garment styles.
The Lycra beauty fabric collection is segmented into four categories, Smoothing, Sensual Curves, Sculpt and Control to match diverse garment needs, depending on the priority of the garment brand's aesthetic, functionality and overt or subtle shaping design.
The Science of Shaping
According to Invista, the groundbreaking science behind Lycra beauty fabric as a new performance and comfort standard has been validated by correlating fabric ratings with garment ratings during wear, both objective and subjective. For this research, the company says that over 100 fabrics and 50 commercial garments were analysed with its latest garment engineering technology to establish the predictive fabric ratings and performance standards.
To ensure that Lycra beauty fabrics relate to improved garment performance, identical prototype garments made with similar fabrics that ranked differently against these new standards were assessed against several criteria, including degree of shaping as well as comfort during wear.
Invista says the garments were tested by placing force transducers between a fit model's body surface and key areas of the shapewear garment allowing Invista to measure the shaping force at rest as well as quantify the change in force (resistance) during body movement. This measured resistance to body movement was then correlated with the model assessment of comfort in motion.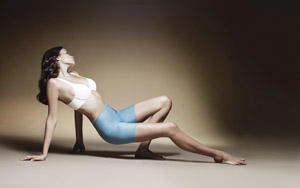 Invista says it also used state-of-the-art 3D body scanning technology to measure the degree of shaping on a live fit model across several body locations and the results demonstrated that the fabrics qualifying for Lycra beauty fabric standards were more effective in both shaping and comfort in wear than fabrics that did not meet the standards.
Nicolas Banyols, Global Marketing Director of Innerwear at Invista Apparel comments, "We are delighted to showcase our latest innovation in intimate apparel at Paris Mode City. At Invista, we believe that it is vital to open new frontiers and find new ways to appeal to the consumer. We are confident that the Lycra beauty fabric platform will initiate the development of more excellent fabrics and more creative garments to address the changing needs of this dynamic shapewear market. Invista is committed to providing solutions for our customers and consumers alike and shapewear made with Lycra beauty fabrics will bring new value to brands, retailers and wearers with unprecedented comfort, fit and shaping."
Knowing the consumer
Based on its global shapewear study*, Invista says it identified that consumers want more comfort, better fit, improved shaping performance and more emotional satisfaction from the category. Headline statistics include the following:
- 95% of women aged 18-49 believe it is important for shapewear to fit well
- 94% of women aged 18-49 believe it is important for shapewear to be comfortable
- There is a significant opportunity to improve on satisfaction ratings for these and other critical parameters, which rank markedly below typical industry satisfaction levels.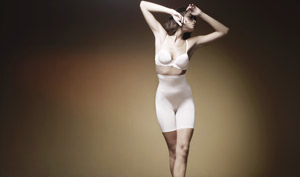 Further results will be shared, including insights from the research conducted about the branding benefits of Lycra beauty fabrics, at Paris Mode City across the weekend.
Dedicated to supporting its value chain, Invista is pleased to announce that there has been a very positive response to Lycra beauty fabric, from brands and mills alike. Demonstrating its commitment, Invista will be showcasing garments from the following partner brands: Bali, Gemma, La Perla, Ritratti, Spanx, Triumph, Wacoal America and Wacoal Taiwan. Concept garments from Bogart International Ltd., Regina Miracle International Ltd. and Studio 183 are also being created for the launch.
Invista says leading worldwide partner mills have developed fabrics, demonstrating their technical prowess in achieving shaping and comfort simultaneously. The inaugural Lycra beauty fabrics collection consists of fabrics from Boos Textile Elastics, Brugnoli, Carvico, Charming Fabrics, Dogi Fabrics (Jiangsu) Co., Ltd, Dogi International Fabrics S.A., DOGIEFA, EFA, Elastic, Eurojersey, Jersey Lomellina, Liebaert, McMurray Fabrics, Pacific Textiles, Penn Textile Solutions, Piave Maitex, Protela, Rosset & Cia, Ruey Tay, Salotex, Sayoart, Shinyoung Textile, SunCo Warp Knit, Sunikorn Knitters, Textile Prestige Public Company Limited andWilly Hermann – Superfine.
On the Invista stand at the Mode City show, the entire 150 square metres will be dedicated to the new innovation. Mannequins and live models will be used to showcase Lycra beauty fabric in garments and there will be a chance for visitors to be the first to see garments made with Lycra beauty fabric from key brands.
* Source: Strategic Insights. Global Consumer Shapewear Study 2009. 1,133 female participants from US, Brazil, France, Italy, Germany and UK)