4th September 2012, Mönchengladbach
New heavy duty chain from Monforts
Monforts, a world leader in the manufacture of textile finishing machinery including stenters, has launched new generation of vertically guided stenter chains called Hercules-V, following market requests, which complements the range of Monforts chains.
Hercules-V is said to be particularly suited for knitted fabrics and has been designed for heavier weight knitted, non-woven and technical textile applications. The chain features extremely sturdy construction in grey cast iron with reinforced chain track.
Operating with transverse forces up to 1500 N/m and running speeds up to 100 m/min, the Hercules-V stenter chain operates at temperatures up to 260ºC.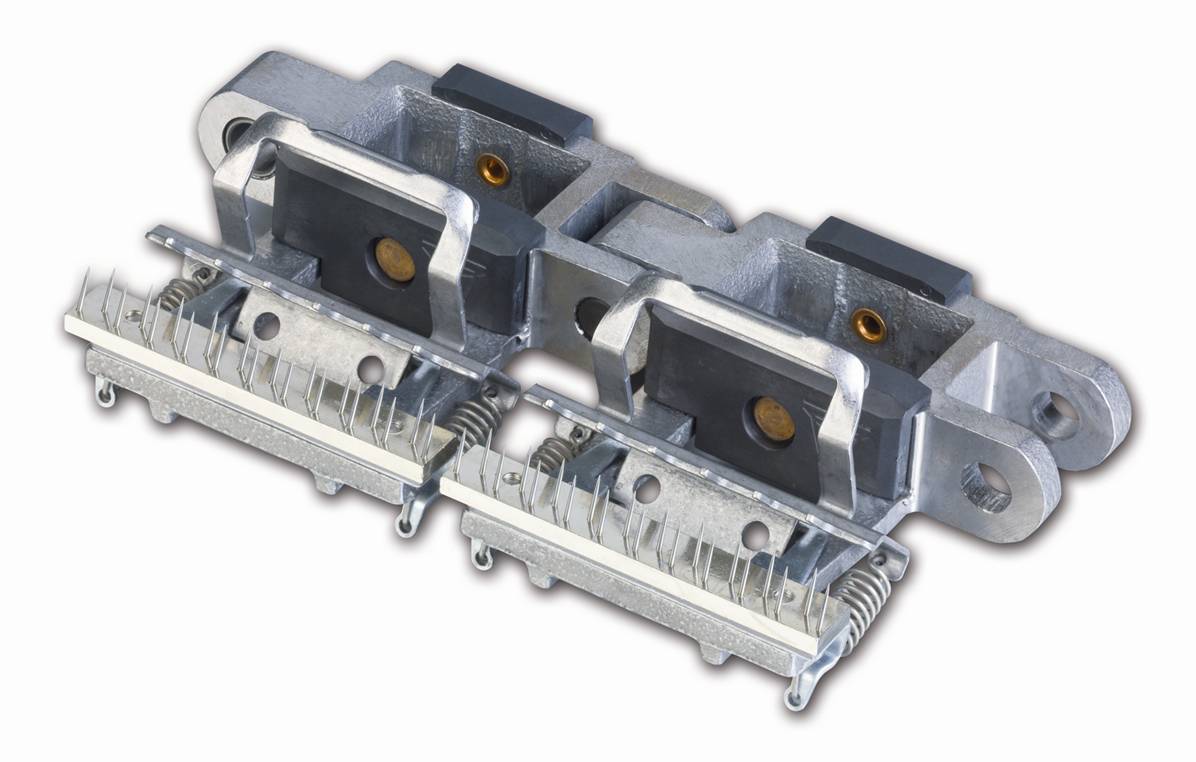 Featuring a maintenance-free design, the new chain offers extremely long device life of the slide blocks. Depinning protection flaps are optionally available.
In June this year Hong Kong-listed Fong's Industries Co. Ltd. (Fong's) announced that it had acquired a 100% stake in Monforts from German based company L. Possehl Co. & GmbH (Possehl).
Monforts is based in the western German city of Mönchengladbach and the acquisition includes Monforts' Austrian subsidiary Montex-Maschinenfabrik GmbH with its machine production site in St. Stefan.
The 50% stake in the Monforts Fong's Textile Machinery Co. Ltd. (Monfongs), the jointly controlled entity between Fong's and Monforts Group, was also part of the transaction. In addition, Possehl agreed to subscribe in a 9.9% stake in a Fong's subsidiary, which directly holds Monforts and Monfongs.
Through their joint venture Monfongs, which was established in 1998, Monforts and Fong's have already built up a strong and successful partnership. A further milestone in their cooperation is the soon to be inaugurated 'textile machine factory of the future' planned in the Chinese city of Zhongshan.
Mr. Roland Hampel, Managing Director of Monforts, said at the time of the announcement:
"Today's announcement intensifies our long-standing cooperation with Fong's and opens up new opportunities for Monforts. Innovation stands at the core of our daily work and we look forward to strategically developing new business areas for our customers with our trusted and successful partners in China. "
One of the main areas of future business that the heads of both companies emphasised is that of technical textiles, which offers even more specialised and tailor made machinery solutions for its customers.
Monforts holds a subsidiary company in Austria, the Montex-Maschinenfabrik GmbH with a production site in St. Stefan. Including employees in Austria, Monforts employs 160 staff and holds a large number of patents.
This article is also appears in...