23rd January 2012, Camden, NJ
New line of novelty compression socks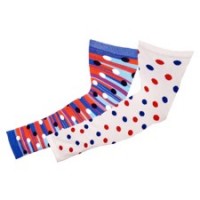 US based sock and hosiery manufacturer Standard Merchandising Co. has introduced a novel line of sports compression socks and compression arm sleeves in 'wild patterns and colours', which the company says are just like the novelty sports socks it has become known for. Compression socks are now popular in wide variety of sports training activities and especially for runners.
However there is more to this product line than pleasing aesthetics. The novelty sports compression socks feature ergonomic/graduated compression, anatomically shaped left and right foot, power compression fabric, ankle support, and calf muscle support. The socks are made with turned welt top, padded heel, strategically padded sole areas and padded toe.
"Standard Merchandising started the trend of novelty athletic socks and is the leading American producer of novelty athletic socks through its Red Lion brand. The entire line of Red Lion knitted socks and most of its accessories are manufactured in the U.S," the company said in a statement.
The company says Red Lion has been shaking up the sports sock industry using not only bright colours, but fun patterns like tiger prints, camouflage, monkeys, flames and anything that can be imagined. Some of the Red Lion novelty sports socks choices include tie dye, space dye, animal/animal prints, geometric shapes (dots, stars, checkerboards, diamonds, etc.), stripes, flowers, peace signs, and Argyles.
According to the company, Red Lion is creating another fashion statement with its new line of compression socks. In addition to its traditional style black or white sports compression socks, it now offers novelty sports compression socks in wild patterns and colours just like its sports socks.
"Red Lion has set the fashion tone for fun fashion and fitness. In addition to all the other styles and colours we already offer, future styles and colours of compression socks will include tie dye, and neon colours," Standard Manufacturing Co. owner, Lee Tarnoff said.
"Red Lion's high tech compression products are circular knit on state-of-the-art knitting machines using only top quality yarns. They provide the perfect level of compression to energize a body's limbs before, during, and after all athletic activities," the company said.
Arm sleeves
Red Lion compression arm sleeves are said to fit like a second skin and are popular in many sports. According to the company, football players wear them, basketball players wear one on their shooting arm and cyclists wear them. Just like Red Lion compression socks, the compression arm sleeves come in funky designs and fun colours.
Red Lion's high tech compression arm sleeves are said to provide additional arm support and help to keep arms warm during both competitions and workouts and they can be used before, during, and after activities to improve muscle efficiency.
Standard Merchandising says the sleeves feature an ergonomic tapered fit, stabilized arm support, improved muscle efficiency, added warmth, seamless circular knit, power compression fabric, anti-fatigue, wrist and elbow support, and graduated compression which aids in recovery and helps prevent injury.
"All of Red Lion athletic socks are 'Made in the USA' at Standard Merchandising Co.'s own knitting mill in Pennsylvania. No other outside contractors are used in the manufacturing of Red Lion athletic socks," Standard Merchandising says.
This article is also appears in...