23rd October 2012, Brescia
New Nagata option for broad rib and links socks
Japanese machine builder Nagata Seiki launched a new double cylinder single feed broad rib and links-links sock knitting machine at September's FIMAST show in Brescia Italy.
Nagata's D-100 machine, which is available in 3", 4" and 4.5" diameters, has a range of new features which were demonstrated on two D-100 machines on show at the company's booth.
Nagata says it researched and revised the whole mechanism of the cylinder drive section and as a result, energy conservation has been achieved by installing a small-sized servo-motor. The D-100's electromagnetic valve system and piping have also been revised and this has made it possible to operate the cams with a small-sized electromagnetic valves.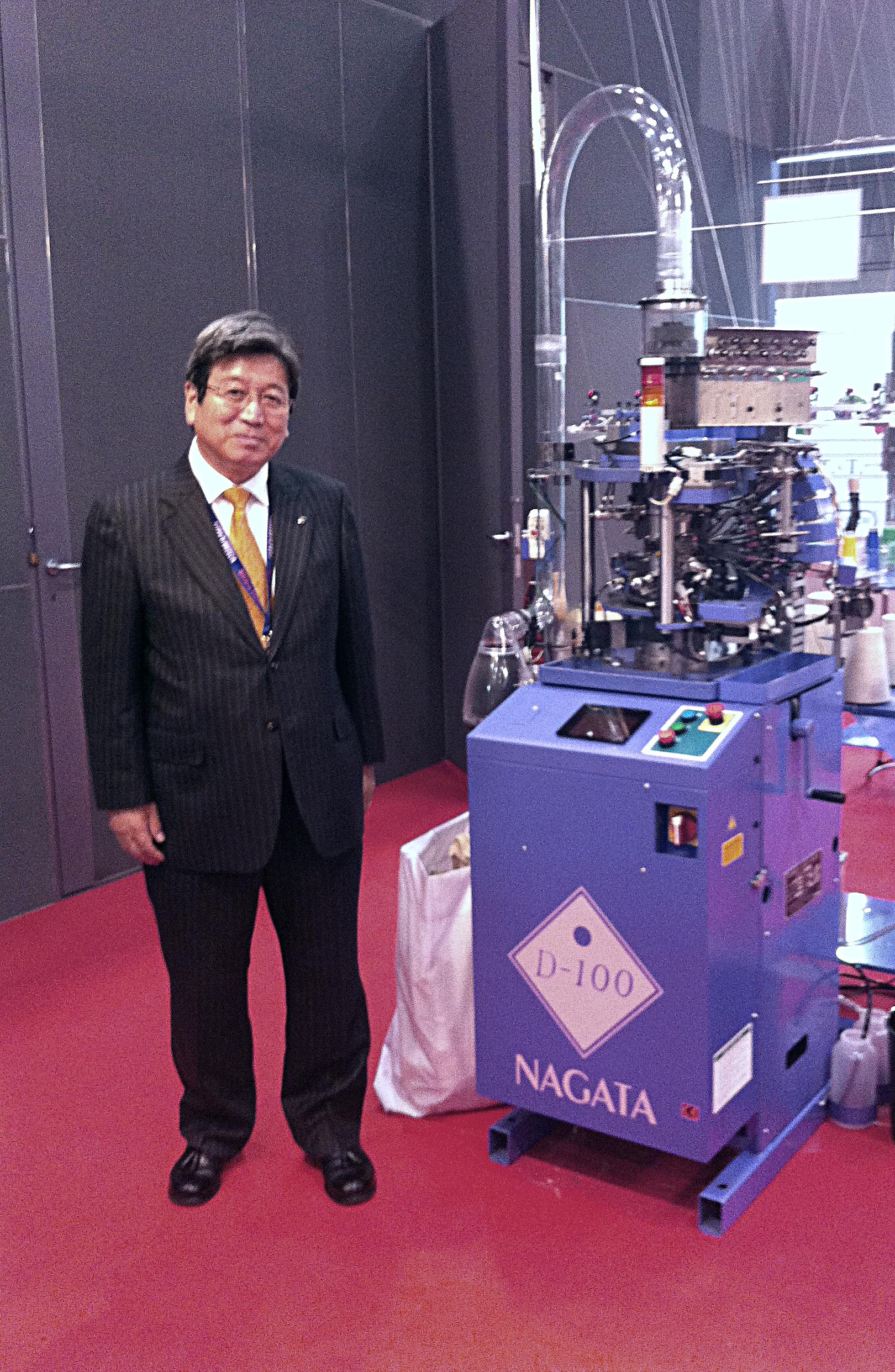 The D-100's high visibility colour LCD and touch control panel now make it possible to change and save data simply onboard and Nagata says that load and save data can be performed by USB memory smoothly.
Fine adjustments
Fine adjustments in stitch quality can be made via a pulse motor and partial stitch is operated via air cylinders (as an option) to control knitting data for adjustments to the balance of stitches to allow pearl knitting and side pattern.
Via the D-100's data system you can now control heel and toe knitting, allowing you to increase and decrease the number of needles of 'high heel' and 'wide heel' up to 1/20 number of needles without rearrangement of the sliders (24 gauge – 50 gauge specification).
Compared with Nagata's previous model, the D-211, consumption of compressed air is said to be reduced by around 50%. The D-100 also has a smaller footprint and is designed to be lighter to significantly improve mechanical energy.
"We believe that it will be a significant contribution to reduce the product cost for the user," Nagata's Sales Director Mac Kawaguchi says. "Moreover, single feed format brings superior operation and maintenance."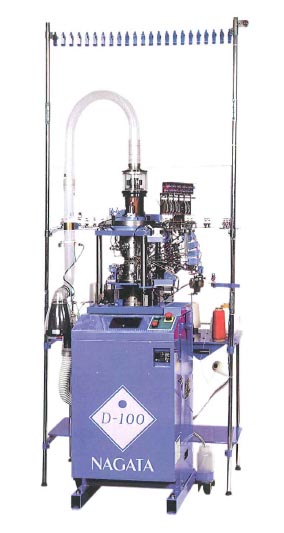 The D-100 runs at a maximum speed of 380 rpm in rib knitting and 300 rpm in links knitting and is available in the following formats:
3.5" diameter – 104-240 needles, 24-50 gauge
4" diameter – 120-240 needles, 24-50 gauge
4.5" diameter – 72-100 needles, 6 gauge
110th anniversary
Nagata's knitting machinery business unit is celebrating its 110th anniversary this year which it says it has reached by both retaining its customers' trust and by the strength of the technologies it has introduced. To meet its clients' satisfaction and gain their trust, Nagata says it focuses on productivity up-grades, labour saving technologies and space saving.
"General features of Nagata Seiki machines are improved productivity, improved flexibility, improved operation, improved efficiency and full support," Mr Kawaguchi said.
Nagata, which currently employs 200 people, reports that business, is quite good with the former Soviet Union countries and South America currently being its best markets.
Download Nagata Seiki's D-100 single feed double cylinder machine catalogue
This article is also appears in...