Flat Knitting
New online 3D knit education programs from Fabdesigns
We cover the how, the why, the costs, that all have a big impact on not only the look and content of your products, but also the ROI
26th August 2020
Knitting Industry
| California, USA
© Fabdesigns.
California based Fabdesigns has launched a series of 3D knitting education programmes. "We cover the how, the why, the costs, the tricks & best practice tips. All have a big impact on not only the look and content of your products, but also the ROI. Designing and creating 3D knit products has never been more popular. But no one teaches the technology in detail, not even the machine builders," the company said, in a communication earlier today.
Fabdesigns asks the following questions of interested parties:
- Many designers, engineers, brands, and companies have no idea where to start. Are you an apparel designer with so many great ideas for sustainability, but you're not sure if the machines can make any of them?
- You want to buy machines to on-shore your products, but you don't know which one?
- Did a salesman tell you knitting machines are just like the 3D printers, you bought a machine, and just figured out they're not?
- Can't find any place to learn without taking take months or years off from your job to go back to college? And, it turns out even colleges don't have the details you need to truly innovate?
- If you answered yes to any of the above questions, then join us.
In its 'Learning with Leaders' education Program, Fabdesigns has four tracks: Technology; Materials; Stitches; and Design.
"We cover the how, the why, the costs, that all have a big impact on not only the look and content of your products, but also the ROI," the company says.
"We've spent decades developing cutting edge 3D knitted products for major companies, reimagining the machinery, innovating parts and materials, and teaching these new technologies to major brands, individuals and engineers around the world. Chances are you're wearing, driving, sitting on, or playing with something that we've touched."
Fabdesigns says its names are on more than 120 patents for:
- Revolutionizing 3D knitted Footwear, Next Gen 3D Footwear, Game Changing Sporting Goods, 3D Medical Devices & Bracing, Advanced Aerospace Composites, Innovative 3D Automotive & Vehicle Structures, Ligamental Supported Sportswear, Reinvigorating the Knitting industry with a combination feeder, Smart Textile Device for Embedding Multiple Wires and Conductives.
"Learn from the people who've succeeded over and over, know what they're doing, keep your secrets, and can really help you find the answers you're looking for," Fabdesigns urges.
Watch the Fabdesigns video to learn more…
Who will benefit from these classes:
- Students of apparel design, textile instructors and professors, professional apparel designers, professional knit designers, knitters and factory personnel, knit technicians, new knitting machine owners, apparel manufacturers, apparel and footwear brands, industrial designers, 3D print (additive manufacturing), anyone who wants to know more about sustainable manufacturing
"In October 2016, Fabdesigns, Inc. launched an on-site open house 3-Day learning event, quarterly classes, and private classes as a training and education platform to provide educational information and best practices for global 2D and 3D knit manufacturing companies. We continue to build on this initial program with new on-line courses for both those new to the knitted textile industry and those more seasoned," the company concludes.
Self-serve on-line classes are exclusively via this link - http://fabdesigns-knits-8826.thinkific.com/.
Interactive, online weekly classes are through Moodle. Email Fabdesigns, Inc. for more information and Moodle schedules: [email protected].
Find out more at www.fabdesigns.com.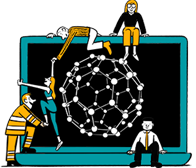 Business intelligence for the fibre, textiles and apparel industries: technologies, innovations, markets, investments, trade policy, sourcing, strategy...
Find out more