Messe Frankfurt's leading technical textiles show Techtextil, once again highlighted the opportunities available to manufacturers of knitted products last week in Atlanta, Georgia, when Techtextil North America was held alongside the sewn products show Texprocess Americas and the JEC Americas composites event.
Organisers said that the combined Techtextil/Texprocess exhibitions alone enjoyed a 13% growth in square footage this year with a total of 519 exhibitors, and over 7000 visitors pre-registered.
Increase in demand for traceability
Our US correspondent Debra Cobb reports that Glen Raven Technical Fabrics (GRTF) has added knitted Hi-Vis and Hi-Vis Anti-Stat modacrylic blends to its GlenGuard FR fabric line. "In general, we are seeing an increased demand for the traceability and peace-of-mind afforded by US-sourced FR materials," commented Rich Lippert, marketing director at GRTF.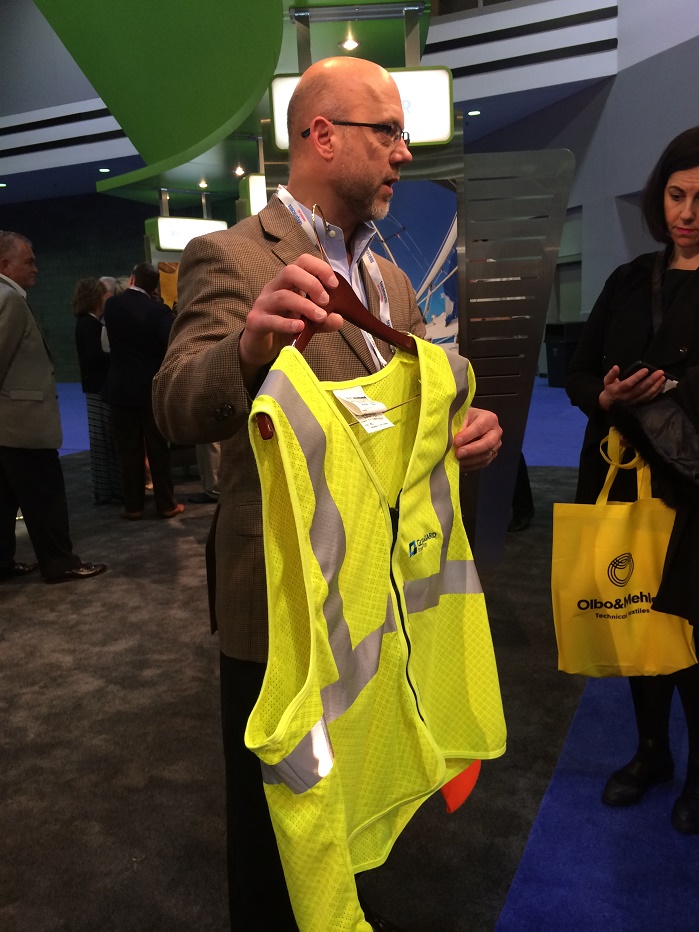 Debra also reports that knitters of traditional apparel fabrics, such as Coville, Minnesota Mills, and Draper Knitting, were in agreement. "Our biggest market segment is fire service," concurred Dave Wedge, technical fabrics product manager for Draper.
You can read Debra's full show report here – Techtextil/Texprocess N.A. Highlights New Opportunities for US Textile Industry .
Leading flat knitting machine manufacturers present in Atlanta
Opportunities in technical textiles markets for knitted goods manufacturers was also evidenced by the presence of some of the world's leading manufacturers of knitting machines. Germany's Stoll and Japan's Shima Seiki are now regular exhibitors at Techtextil in Frankfurt and in the USA.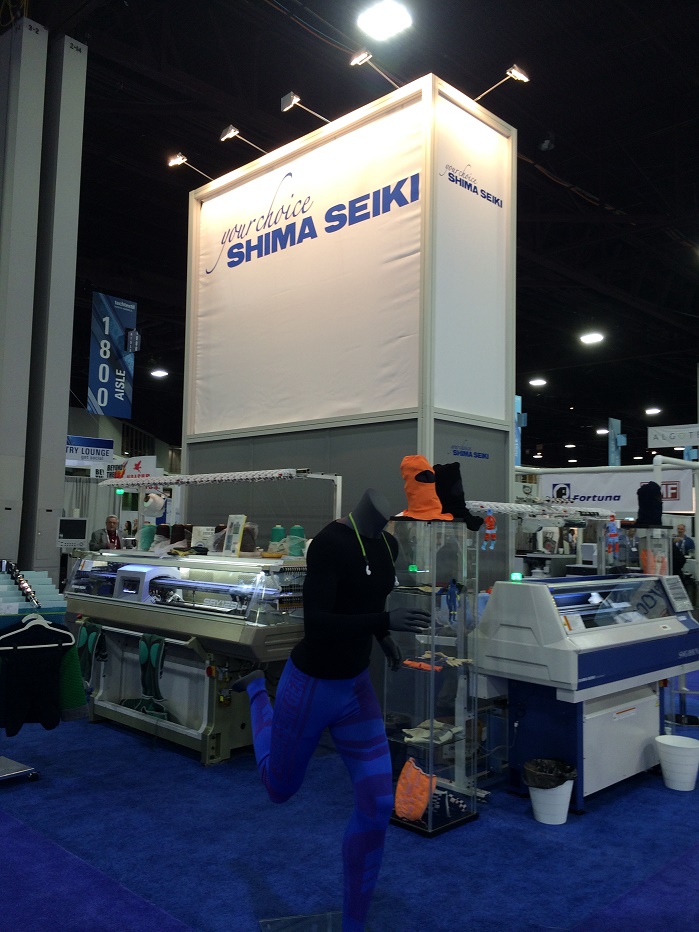 The huge global success of flat knitted footwear in recent years, and in particular Nike's low carbon footprint Flyknit technology is driving interest in flat knitting technology as a modern 'additive manufacturing' technology capable of producing bespoke 3D knitted products on demand. The technology is even sometimes wrongly referred to as '3D printing of textiles'.
Stoll
Stoll's commitment to technical textiles is both long and well documented. The company has had a dedicated team for technical textiles for many years and has reaped the dividends in recent years with many machines being sold into footwear and other non-apparel markets.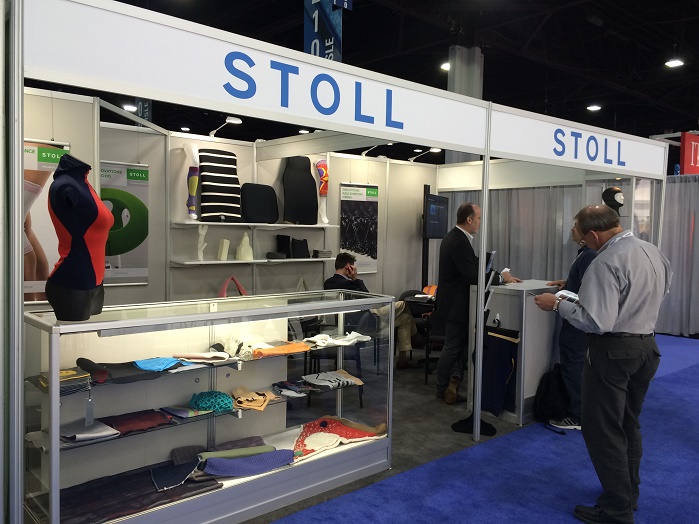 Stoll offers a range of machines for the production of technical textiles and has many machines running worldwide producing 3D fabrics in an extremely wide range of materials.
Last year at the Techtextil show in Frankfurt, the company presented its brand new Stoll ADF 32 W multi gauge E 7.2 machine with its integrated presser inlay system for weft reinforced fabrics. This time in Atlanta, the company demonstrated samples for various applications, including medical soft goods, sports items, wire fabrics, composites, upholstery fabrics and protective apparel.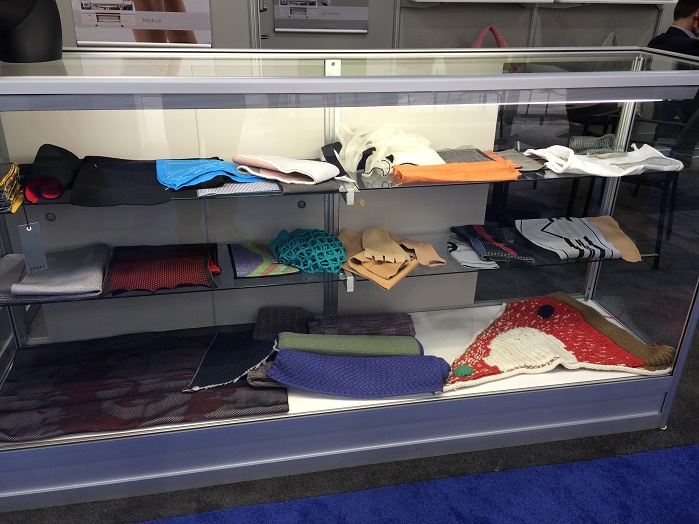 Stoll's Martin Legner, a technical textiles specialist, was on hand in Atlanta to discuss solutions with existing and new customers. Talking to Knitting Industry early on day two of Techtextil NA, Martin confirmed that: "The first day of the show was quite busy and we made a lot of new contacts. We also expect today and tomorrow to be good."
Shima Seiki
Shima Seiki also had a strong presence at the Atlanta show, exhibiting two of its latest technology flat knitting machines and APEX3 design system for technical textiles applications.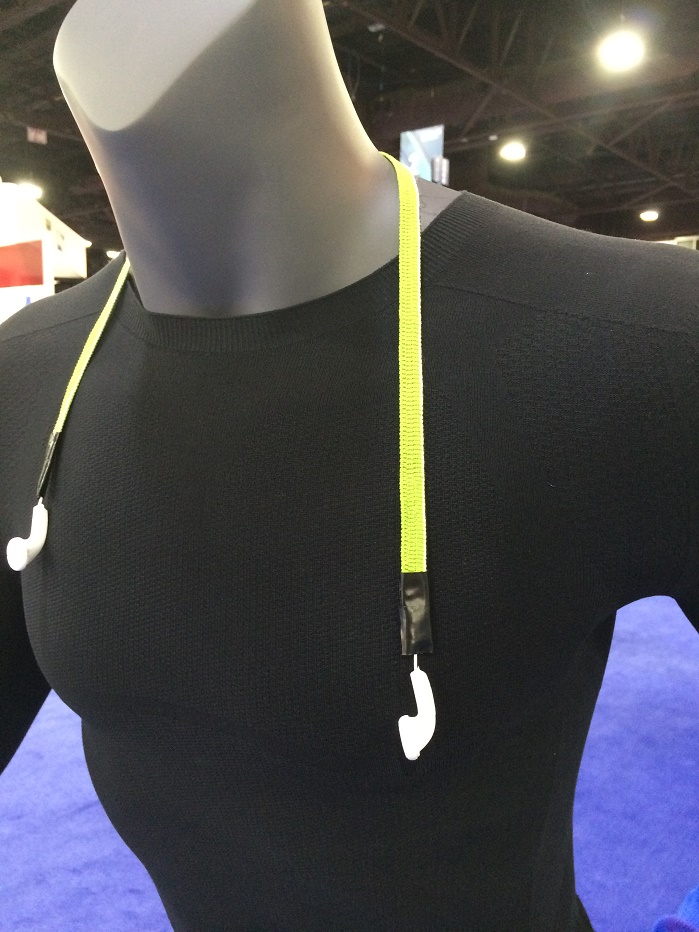 The company showed its weft insertion SRY123LP machine in 10 gauge, which can produce fabrics and 3D knitted objects which can have woven textiles attributes. The machine on show was producing an integrally knitted one-piece seat cover, incorporating fastenings and spacer structures for seat comfort.
Also on show from the high-tech Japanese manufacturer was the SWG091N2 machine in 15 gauge. This is a 'mini' machine from the company's Wholegarment range, which knits complete garments or other objects seamlessly. The machine was producing a miniature Wholegarment but in technical textiles fields it is aimed at footwear, gloves, medical products, smart wearables and other small 3D technical products.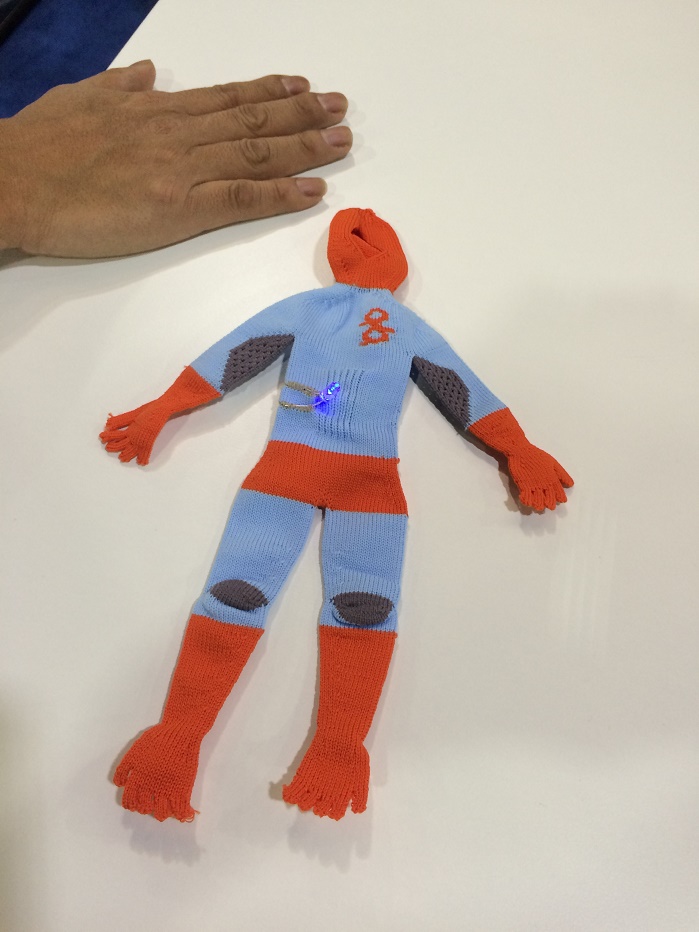 Speaking at the show, Shima Seiki's Takaki Sakashita said: "The show has been good so far with good interest in our advanced flat knitting technology."
Vangaurd Pai Lung
Representing the circular knitting machine builders was US based Vanguard Pai Lung. The Monroe, North Carolina based company is known for its high performance single and double jersey machines for apparel but it also manufactures machines for knitted technical fabrics.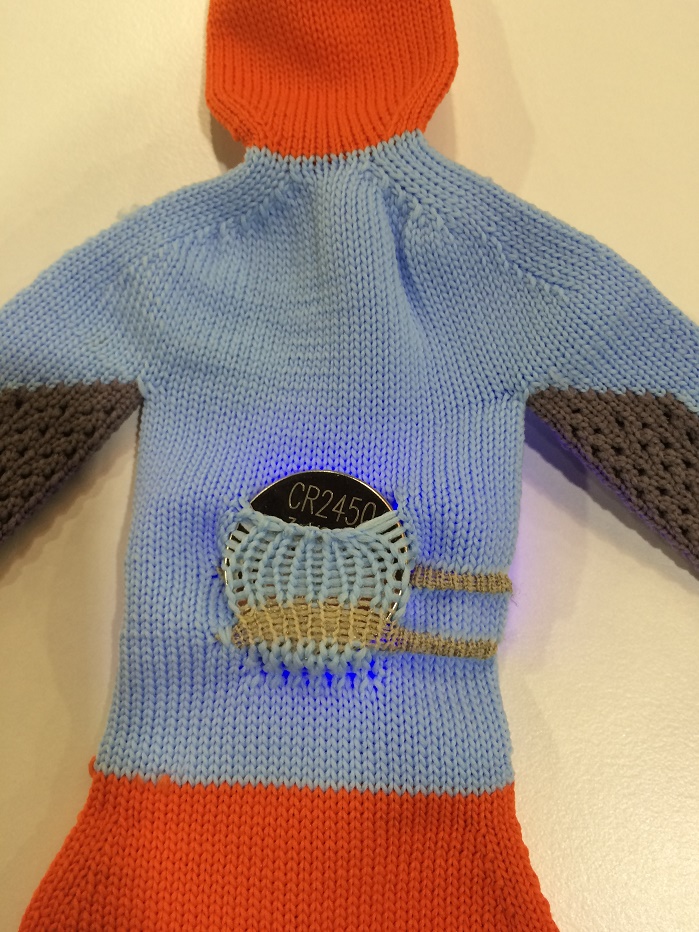 For one hundred years, Vanguard Pai Lung's innovations in speed, precision and quality have set the pace for circular knitting machines. The company also provides OEM parts, expert technical services and fabric design consultation throughout North, Central and South America.
Fabric scope includes, but is not limited to, T-shirts, Fleece wear, sportswear, casual wear, industrial fabrics, medical fabrics and packaging fabrics.