Beyond the world of outerwear and protective gear, cold weather performance also requires base and mid-layers that have evolved to be much more than "long-johns" or "thermals." At the ISPO Munich trade fair, held February 3 – 6, some of the newest concepts in cold weather knitwear were on display, offering innovative takes on composition, construction, and technology.
Although growth in the outdoor industry has slowed, the number of market participants has increased, according to ISPO. A four percent increase in the show's attendance over 2012 bears this out: some 81,000 visitors and 2,481 exhibitors participated this year.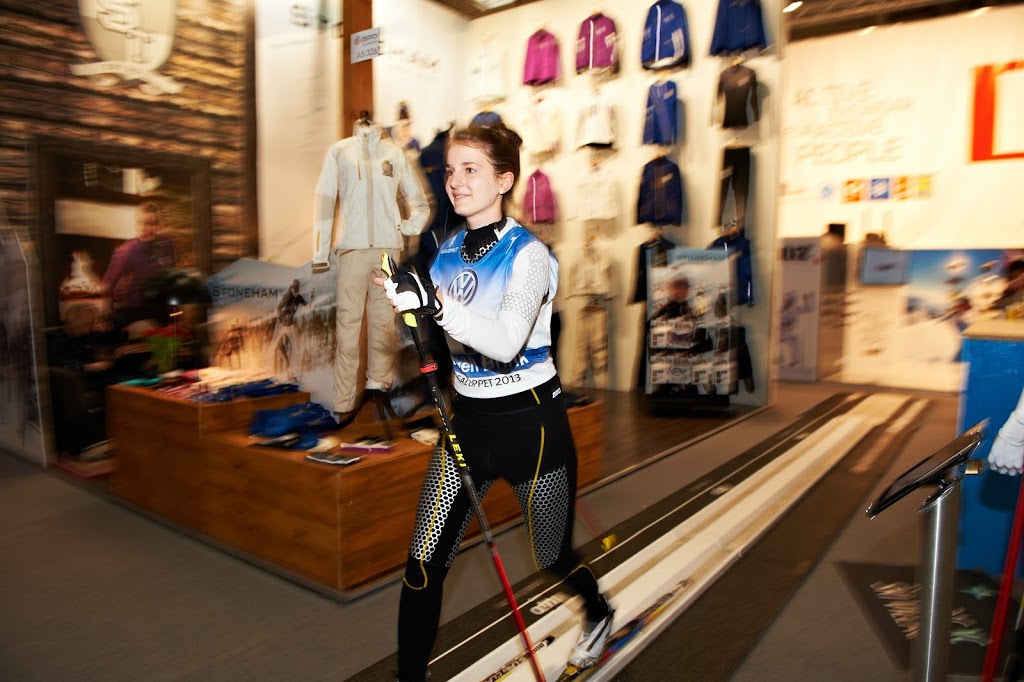 In addition, a number of non-industry-related companies have entered the outdoor business, along with global sporting goods brands such as Nike and Adidas, increasing the pressure on existing brands to innovate and expand their markets. ISPO's Healthstyle program and one-day Health Forum focused on the market potential and trends of the sports and healthcare market as an option.
Combined functions
Winter base layers have evolved over the past two decades from single and double knits using synthetic fibres to today's wave of seamless Merino wool and technically efficient combinations of natural and synthetic fibres, developed primarily to keep us warm and transport moisture. But with the advent of compression, body mapping, taping, and even bonding, base layers now combine functions such as heat regulation, targeted muscle support, and joint stabilisation. The addition of today's smart fibres creates the potential for next-to-skin garments that offer health benefits as well.
For Alpine sport, Merino wool is now a strong contender, from purists such as Icebreaker and Smartwool, or in blends and dual constructions. A new base layer range from Patagonia is made of Merino wool with Capilene polyester, while Mizuno has added Merino to its Breath Thermo line, where it is blended with an enhanced hollow synthetic fibre, increasing thermal insulation and wicking.
Introducing the Monsie
Houdini's Airborn SilkMerino™ is not only warm, but provides moisture vapour transmission, anti-static and anti-bacterial properties—naturally. For snowboarders, Mons Royale has created the Monsie, a Merino wool onesie.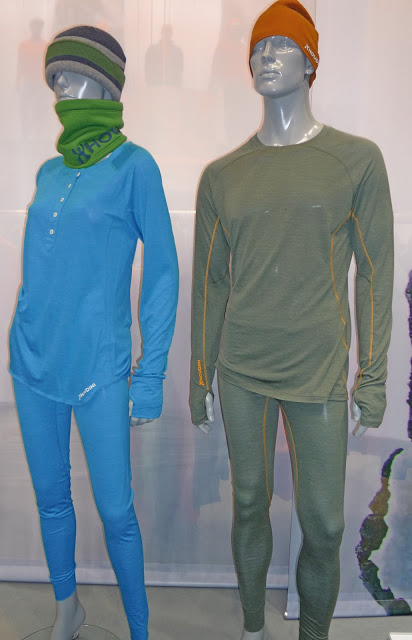 Seamless knitting
Seamless knitting is becoming the go-to technology for base layer and performance garments. Löffler offers its Transtex Warm Seamless underwear with polypropylene on the inside and wool or TENCEL® on the outside, which pulls the moisture through to the surface. Falke's seamless, ergonomically-designed Skiing Wool Tec garments are a blend of Merino and polyamide.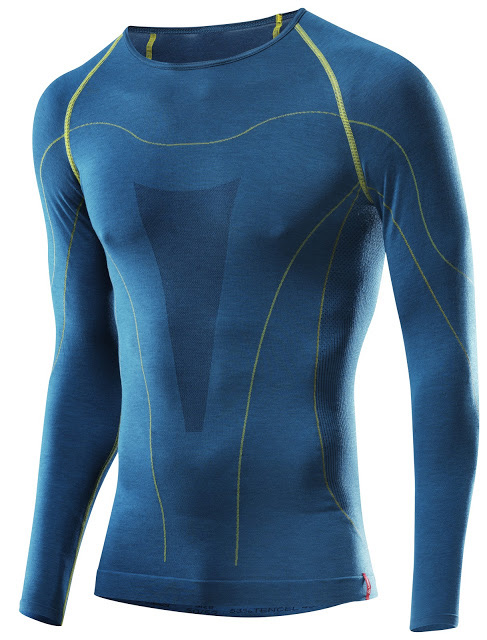 Santoni, maker of electronic knitting machines, featured a number of innovative knitted sports garments at the fair made with their Mec-Mor CMP circular knit equipment, capable of knitting full-width elastomeric garment panels with striping, jacquard, or rib designs. A raschel seamless compression tight of wool and elastane, knit using Santoni's warp knitting machines for seamless garments, generated strong interest at the booth.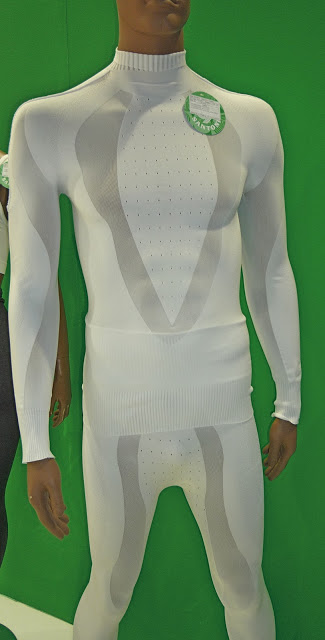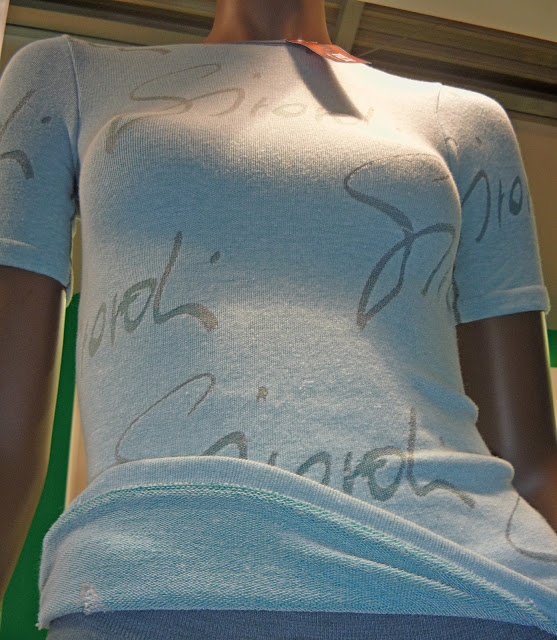 A full range of seamless knit garments for sport, compression, and posture, developed jointly by Cifra and Tefron, included both warp and weft knit technologies. Cifra's DOUBLESKIN® line of seamless compression garments is knit with Emana® polyamide, with bio-ceramic minerals in the polymer that are said to reflect the body's infrared rays resulting in improved blood circulation and cell metabolism.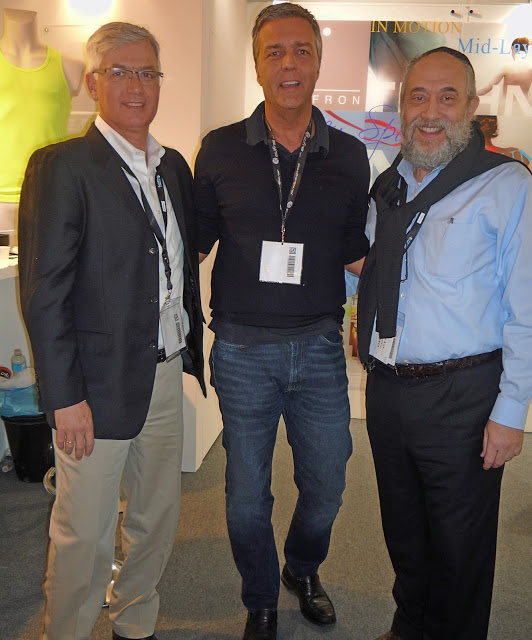 New ideas in compression
Ideas about compression, however, are changing. While compression garments are said to improve performance by enhancing blood flow, decreasing lactic acid, and reducing recovery times, tight-fitting synthetic/elastane garments can be uncomfortable and offer unsatisfactory moisture management or thermal benefits.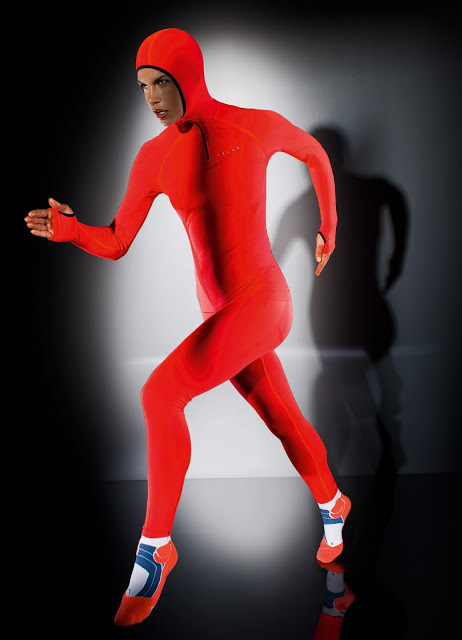 The market segment is developing new concepts such as ergonomic design, partially integrated compression, and combined functions. For example, Falke's Running Athletic seamless light compression garments combine a push-pull moisture management technology with body mapping and targeted thermal insulation via 3-D air cushions. Skins has added thermal insulation to their warp-knit compression garments via a hollow-core polyamide fibre that stores air inside the filaments.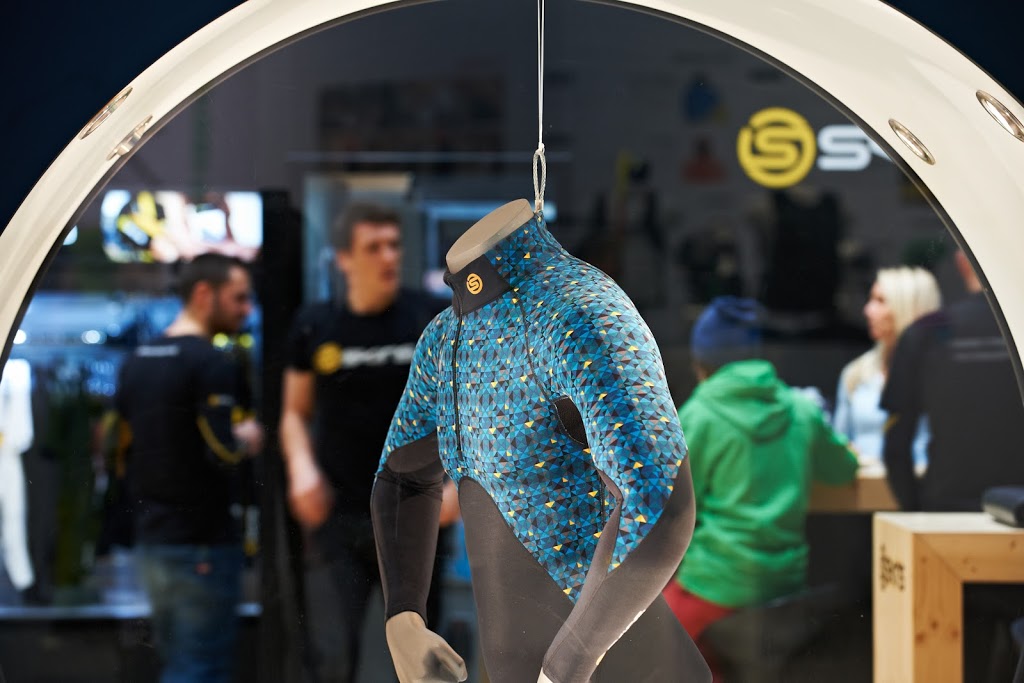 At X-Bionic, a patented partial compression system is engineered for the support of specific muscles and connective tissue, including the asymmetric requirements of sports such as golf. The company's 3-D knitting structure also provides thermal regulation by trapping a thin film of sweat in its channels, which cools the body. New products include the Effekor™ line of compression garments for women, with Cohesion Wrap Technology to support weaker female connective tissue; and Precuperation™, a line of partially-compressive sleep garments said to help regenerate the body's biophysiological system during sleep.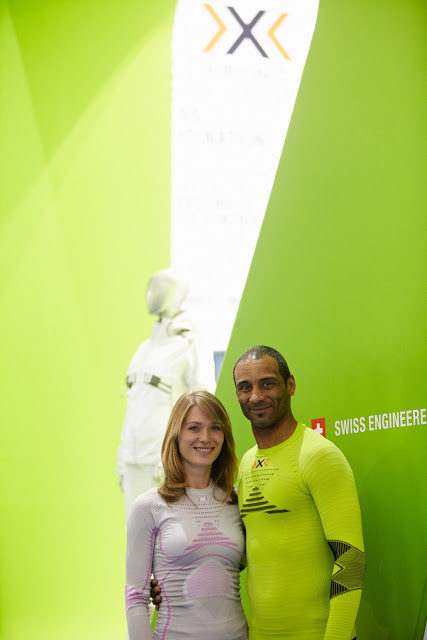 Odlo has developed their Muscle Force base layer collection using three different constructions, offering muscle support as well as quick drying and thermo-regulation functions. The zoned muscle support is created by a patented bonded three-layer construction with high expansion force and elastic recovery, made possible with a net of silicone placed between the inner and outer layer.
A thin polyester/wrapped elastane knit, brushed inside, offers light insulation and moisture management. A double knit fabric which embeds a high amount of air offers additional insulation and warmth where needed. The garment fit is compressive only in the muscle support zones, and is comfortably loose in the torso area.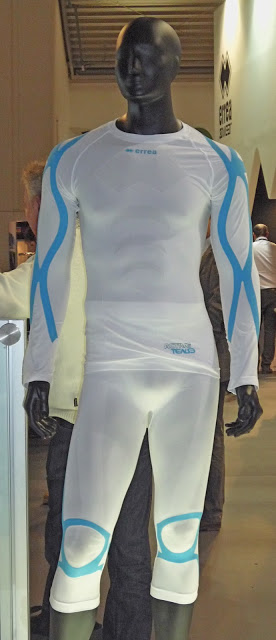 Kinesio-taping
Kinesio-taping, using thermoplastic polyurethane tapes and films to create a supportive "exoskeleton," is a growing trend. At VSKIN™, "power lines" made of shape memory polymer tape change shape and compression level as body temperature rises, while power lines containing thermal storage microcapsules help maintain body temperature. Performance brands such as CW-X and Mizuno's Biogear range are also making use of bonding and taping to place web or mesh panels around the lower abdomen or back to support posture, or at the knee joint for reinforcement.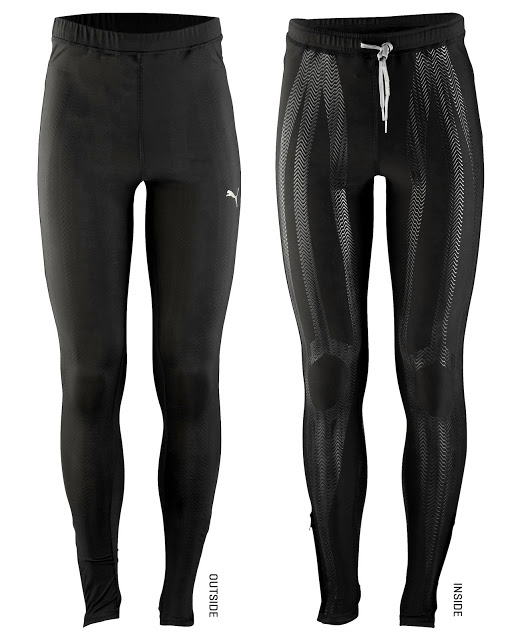 Another trend is the use of abrasion-resistant panels using Kevlar or ceramic buds to add a layer of protection to tight-fitting garments. X-Bionic has adopted Schoeller's ceraspace™ technology to reinforce its new cycling shorts.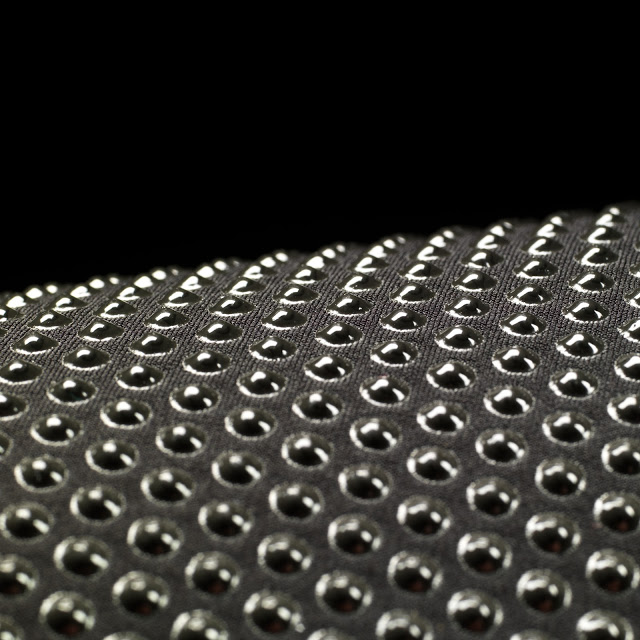 Warm and colourful hats, socks, and accessories included traditional woollen hand knits, functional compression socks such as those at X-Bionic and CEP; insulated knee protectors at Houdini, and reflective headbands at Craft. Spyder's Velden hat and Röjk's whimsical ski socks are knit from PrimaLoft insulating yarn.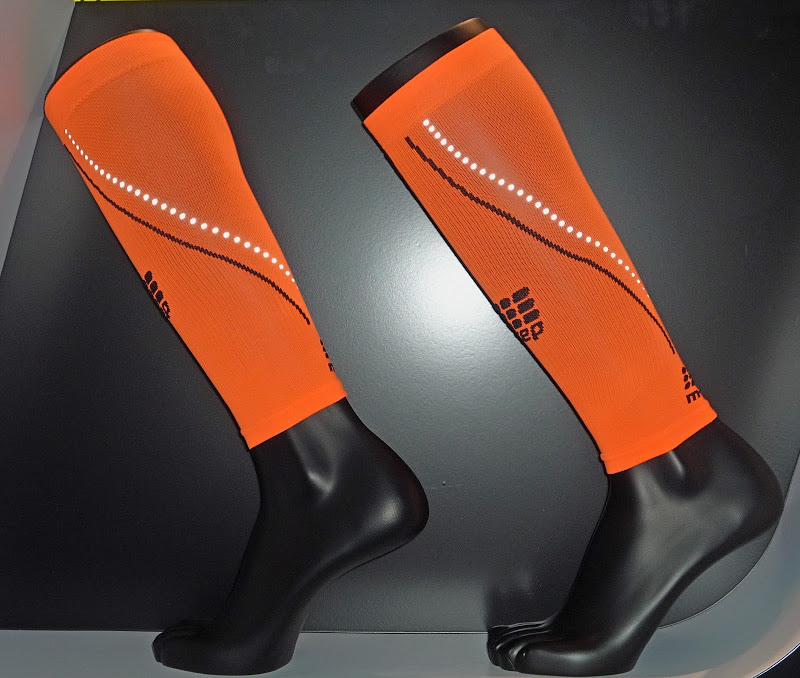 With the myriad of new fabrics and technologies being developed for compression, Invista has developed a set of standards for LYCRA® SPORT ENERGY fabrics which have been tested and assessed for shape retention, compression level, comfort, and overall consumer preference by Progressive Sports Technologies in the UK. Invista has also developed standards for LYCRA® SPORT and LYCRA® SPORT BEAUTY fabrics, a number of which were on display at ISPO's Textrends Forum.
According to Huw Williams, global head of Invista's Specialty Fibres Business, "Customers are beginning to get frustrated with the length of the recession, and we are seeing a trend back to innovation and a desire to upgrade. Our LYCRA® Sport platform is about putting together innovation and partnerships to create value."