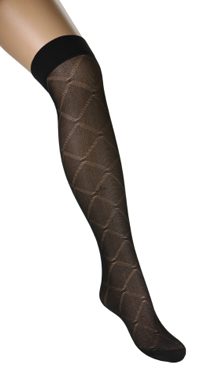 Bluestar Silicones is launching a new line of TCS 7560 and TCS 7561 Silbione products designed for the elastic band market for lingerie and medical applications such as support stockings and medical equipment. These two new silicone elastomers are said to have excellent 'anti-slip' and non-compression properties, helping improve wearer comfort.
For more than twenty years, manufacturers of self-fixing stockings or 'hold-ups' have applied transparent silicone technology, which is adhesive and 'anti-slip' for elastic bands and lace. The same technology is also used for other lingerie items, braces and bra cups for example.
Bluestar Silicones syas its is going further with a new range of platinum polyaddition bi-component products, Silbione TCS 7560 and TCS 7561, based on its expertise in LSR technologies (Liquid Silicone Rubber) and its experience in the medical device field.
The innovative technology is said to be able to offer new solutions to the paramedical market for support stockings and prostheses. According to Bluestar, Silbione TCS 7560 provides elasticity, less compression for the wearer and is perfectly harmless to the skin. The company says that Silbione TCS 7561 is even more flexible, with a very low compression thus reducing skin compression and friction, bringing the wearer greater comfort and confidence, for new sensations and enhanced pleasure.
From a coating process point of view, the new range offers flexibility and higher productivity, allowing production output to be increased substantially, Bluestar adds.
Created in 2007 with China National BlueStar Corporation's acquisition of Rhodia Silicones, Bluestar Silicones is a global supplier of silicones with a turnover of €600 million and manufacturing sites in all regions of the world. Bluestar Silicones is one of the world's leading manufacturers of completely integrated silicones. With 180 researchers throughout the world and over 50 years' experience in silicones, Bluestar Silicones offers a complete range of silicone products in the fields of release coatings, specialty elastomers, health products, specialty fluids, emulsions and resins.
This article is also appears in...