23rd October 2017, Obertshausen
New upgrade for Karl Mayer's webshop
The number of visible components that are available to order using the state-of-the-art Karl Mayer Webshop Spare Parts B2B platform has been almost doubled as a result of the latest webshop upgrade. Just under 3,000 items are now available to order. The platform has been available from Karl Mayer since ITMA 2015, and has been continuously improved and revised since then.
The webshop now also offers two additional functions, which simplify the day-to-day ordering process. One new feature is that the weight and volume of the ordered parts are displayed, which provides the customer with important shipping information.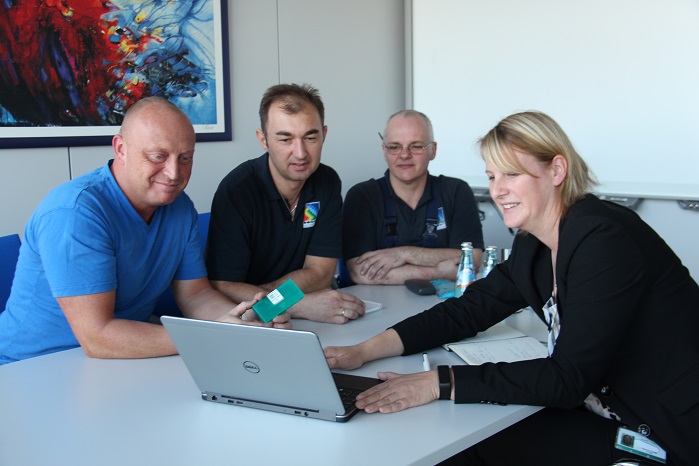 It is now also possible to print out a pre-order list with details that are relevant to the decision-making process, such as the number and price of all the items, before placing an order. Supervisors can use this document as a basis for approving the order, for example.
New features
The next extended function concerns the linking of the Webshop Spare Parts with the Karl Mayer Check Parts app. As before, this digital link enables the authenticity of the spare parts to be verified and, if required, a new order can be placed in the Webshop for the item that has just been selected.
The Sales Manager, Marion Högg, is certain that these new features will extend the scope of the Webshop Spare Parts even further. Karl Mayer already generates more than 10% of its turnover through its spare parts business via this modern and innovative online platform, according to the manufacturer.
Digitising processing sequences
Marion Högg is always keen to know what customers like about the Webshop Spare Parts and what they would like to see, and she does this by keeping in direct contact with clients. In August 2017, she visited Georg+Otto Friedrich, a specialist in warp-knitted textiles, to get some feedback. The company, which has more than 65 years of experience in the sector, has been ordering via the Webshop Spare Parts since November 2016.
"We are aiming to digitise many of the processing sequences in our company, and have tried out the webshop," said Walery Albert, Production Manager. He was impressed by the self-explanatory menu navigation system and layout. The pictures in particular – which are extremely sharp and clear – are useful for identifying and ordering spare parts, especially for older machines whose designations are no longer current, he says.
Walery Albert and his team now order a range of products online from Karl Mayer, from guide units, sinkers and tongues to threading hooks and oil filters, including wearing and standard parts. The possibility of ordering pattern discs via the webshop is also being used enthusiastically. "It is much easier to place an order now. The information is automatically checked by the program after the data has been input, and the pattern discs can be ordered directly. We are really impressed," commented Mr Albert.
This article is also appears in...