Flat Knitting
Nike Flyknit a seamlessly knitted running shoe!
Sportswear and sports shoe giant Nike Inc. has announced the launch of a revolutionary new running shoe which uses state-of-the-art integral knitting techniques to create a one piece upper which is virtually seamless. The Nike Flyknit upper is engineered for precision fit and aims to create the feeling of a second skin for runners. Oregon based Nike holds a number of patents which cover the knitting of one piece trainer uppers using both warp and weft knitting (fl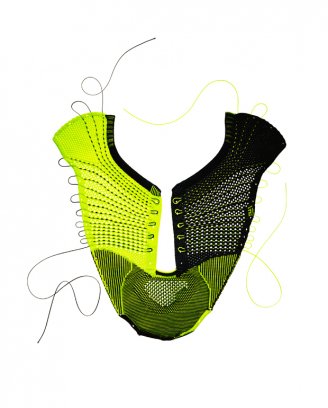 22nd February 2012
Knitting Industry
| Portland, OR
Oregon based Nike holds a number of patents which cover the knitting of one piece trainer uppers using both warp and weft knitting (flat and circular knitting technologies). In the case of warp and circular knitting, two dimensionally knitted shoe upper panels are knitted side by side and are later cut from the fabric and seamed before being attached to other shoe components.
From the images (see right and below) released by Nike with its press release last night, flat knitting appears to be the technology used here. The upper appears to have completely closed selvedges and would have been released from the flat knitting machine in one ready to use piece. In what is an absolutely ingenious piece of knitting, the Nike Flyknit upper uses a complex combination of modern flat knitting techniques to create a two dimensional component with built in support which can easily be manipulated into a three dimensional upper for attachment to a sole unit.
Exploiting potential
The upper appears to use a combination of flechage (short row knitting), intarsia, jacquard, tuck stitches and stitch transfer techniques to impart shape and function, and employs a binding-off technique to close the selvedges. What appear to be braids are inserted to provide loops for lacing as well support at the sides of the shoe. The Flyknit is one of the best examples of commercial exploitation of the potential of flat knitting to date.
According to Nike, the Flyknit revolutionizes running by rethinking shoe construction from the ground up, informed by athlete insights and employing a new proprietary technology.
"Yarns and fabric variations are precisely engineered only where they are needed for a featherweight, formfitting and virtually seamless upper. With all the structure and support knitted in, the Nike Flyknit Racer's upper and tongue weigh just 34 grams (1.2 ounces)," Nike said in a press release.
The whole shoe weighs a mere 160g (5.6 ounces) for a size 9, 19% lighter than the Nike Zoom Streak 3, a shoe worn by first, second and third place athletes in the men's marathon at the 2011 World Championships.
Nike has also created an everyday running shoe, the Nike Flyknit Trainer+, which at 220 grams or 7.7 ounces aims to bring the weight and fit benefits of Nike Flyknit to runners of all levels.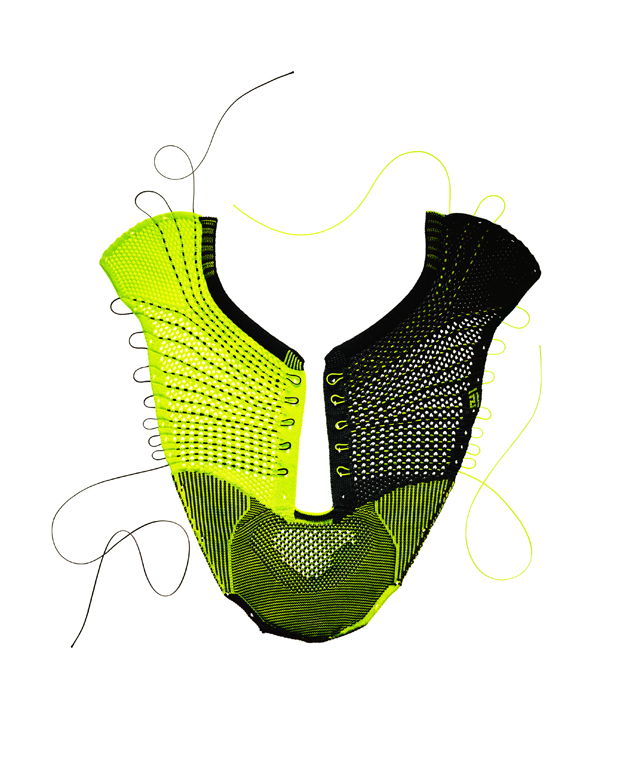 Environmental benefit
An additional environmentally sustainable benefit to Nike Flyknit is that it reduces waste because the one-piece upper does not use the multiple materials and material cuts used in traditional sports footwear manufacture.
"Nike Flyknit is truly a minimalist design with maximum return," the company said, adding:
"The inspiration for Nike Flyknit was born from the common runner feedback, craving a shoe with the qualities of a sock: a snug fit that goes virtually unnoticed to the wearer. But all the features that make a sock desirable have proven to make them a bad choice for a running upper. An inherently dynamic material like yarn generally has no structure or durability."
Four year mission
Nike embarked on a four-year mission of micro-engineering static properties into pliable materials. It required teams of programmers, engineers and designers to create the proprietary technology needed to create the knitted upper.
The next steps were to map out where the specific yarn and knitted structures were needed. Applying 40 years of knowledge from working with runners, Nike says it refined the precise placement of support, flexibility and breathability - all in one layer.
"The result is precision engineering in its purest form, performance on display. Every element has a purpose: resulting in one of the lightest, best fitting running shoes NIKE has ever made," Nike explained.
Top athletes to wear Flyknit Racer
Nike says the Flyknit Racer is the marathon shoe that the world's best runners, including those from Kenya, Great Britain, Russia and the US will wear in this spring's marathons and in London this summer.
The Nike Flyknit and Nike Flyknit Trainer+ will be available for all runners this coming July.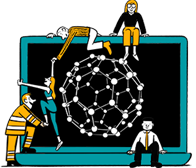 Business intelligence for the fibre, textiles and apparel industries: technologies, innovations, markets, investments, trade policy, sourcing, strategy...
Find out more