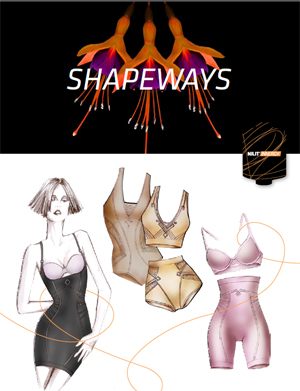 Nilit revealed its new trend concepts for bodywear and activewear for Spring-Summer 2014 yesterday, which will be published in its forthcoming biannual Bodyfashion Trendbook. This season's fashion concepts will reflect bold and optimistic creativity, replacing the 'play it safe' industry attitude of the recent past.
In Spring-Summer 2014, Nilit predicts that as the fashion world begins to recover from the economic recession, will regain its courage and break through with innovative ideas and new, original designs.
New fashion trends will combine the virtual with the physical: heritage and traditional are mixed with futuristic and fantasy; romanticism becomes neo-retro by combining old and new; floral motifs merge into pixelated, digital flowers; and ethnic, handmade crafts transform into neo-primitive with Photoshop-like effects. In addition, Nilit foresees a shift away from looks that are over-obvious or too-closely matched.
Equally important, nonconventional technologies, including a wide variety of unique, manmade special effect yarns, will lead mainstream apparel markets, Nilit says - yarn developments that at first were dedicated to a specific function, such as sportswear, shapewear or hosiery, will become part of everyday wear.
"Supporting these fashion trends is the unique and diverse line of Nilit specialty nylon 6.6 yarns. These innovative products allow fashion designers to expand their creativity and enhance the performance of the garments while expressing the latest fashion concepts," the Israeli company says.
"Our recent nylon 6.6 innovations have opened up many possibilities for advanced functionality and fresh design in almost every apparel segment," said Michal Ron Gavish, Global Marketing Manager, at Nilit.
"The Nilit Spring-Summer 2014 Trendbook provides manufacturers with just a taste of these new directions, and we look forward to seeing the concepts translated into real products that consumers will love wearing."
The Nilit Trendbook defines six major trends in bodywear and activewear for Summer-Spring 2014 and highlights the yarn innovations most suited to them. The trends are describes as follows by Nilit:
Shapeways
Nilit Breeze. Today's shapers are a fashion statement. No longer hidden, these garments are designed to embrace the body, and lift and support appearance (and confidence). Nilit Breeze, with its unique cooling effect and extra soft feel, allows attractive, lightweight shapers that are comfortable, sexy and pleasant to wear.
Treasure
Nilit Britex. Classic lingerie gains a dramatic, glamorous and luxurious look, enriched with delicate motifs. For bright and smooth mid-tone colours, Nilit Britex yarn is plated with Spandex-covered Nilit Colorwise.
Lollipop
Nilit Softex, Nilit Pastelle and Nilit Colorwise. With the call for floral prints and gentle geometric stripes, chevrons and dots in soft, ice-cream shades, these Nilit yarns are perfect for this season's sweet colour palette.
Cool Action
Nilit Breeze. Innovative sportswear which provides style, comfort and sophisticated performance properties is in increasing demand. Nilit Breeze, with its unique cooling touch, keeps the garments soft, light and caressing – perfect for functional yet fashionable, ergonomically designed sportswear.
Nirvana
Nilit EcoCare, Nilit Arafelle and Nilit Duelle. The lifestyle trends of yoga, Pilates and meditation are reflected in garments characterized by recycled yarns and matte, easy-draping fabrics. Nilit Arafelle and Duelle are used to create mélange effects and natural-looking fabrics designed in loose fitting garments. Nilit EcoCare, made from recycled yarns, also supports this trend.
Extreme
Nilit Aquarius, Nilit Colorwise and Nilit Pastelle. Born from all types of extreme, competitive sports, this trend displays eye-catching and aggressive designs. The colour palette is intense rainbow hues, mixed in bold combinations, with black panels and fluorescent strokes. The materials are synthetic, tight fitting, wet-look fabrics.
Nilit produces nylon 6.6 and microfiber yarns in a broad selection of dtex and filament counts, lustre levels, and types of cross-sections. Nilit's high-quality yarns are used for knitwear, woven wear and spandex covering applications for the production of fashionable and functional leg wear, bodywear, intimate apparel and activewear. Nilit is a privately owned company with headquarters in Israel. It works closely with its international customer base from offices in Italy, the United States, Germany, France, Latin America, Asia Pacific, and Suzhou, China.
Download Nilit's bodyfashion & activewear directions for SS 2014 flyer