15th June 2011, Migdal Ha'emek
Nilit launches Innergy well being yarn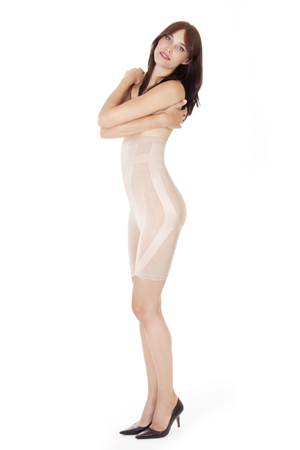 Leading Israeli manufacturer of nylon 6.6 yarns Nilit, has announced it will present its new Innergy fibre, which creates Far Infrared Ray (FIR) emissions, at the upcoming Interfilière 2011 show.
According to Nilit, garments made with Nilit Innergy yarns invigorate the body and increase feelings of well-being. A nylon 6.6 fiber, Nilit Innergy has a built-in, naturally occurring mineral additive that creates Far Infrared Ray (FIR) emissions.
"The gentle heat emitted by the fibers energizes the body and helps to reduce the appearance of cellulite. This makes Nilit Innergy perfect for shapers, hosiery and lingerie. Also, Nilit Innergy , is ideal for apparel applications, like medical socks, gloves and sportswear, where stimulation via body heating could be beneficial to the wearer," the company says.
At the show, Nilit will also showcase the Nilit BodyFashion Trendbook for Spring- Summer 2013. Interfilière, the leading international trade fair for lingerie and beachwear fabrics, is set to take place July 9-11, 2011 in the Paris Expo, Port de Versailles, France. Also on display will be Nilit's new trends collection: BodyFashion Trendbook for Spring-Summr 2013. This year's collection focuses on the world of bodywear and activewear and offers a range of technologically advanced yarns that have been engineered to provide enhanced comfort and performance.
Underlying message of innovation and creativity
In addition to Nilit Innergy, numerous other Nilit yarns will be displayed at the Interfilière show, together showcasing the broad range of Nilit's nylon 6.6-based offering. They include: innovative Nilit EcoCare, which Nilit claims is the only recycled nylon 6.6 yarn with deep, uniform color; Nilit Colorwise, Nilit Pastelle, Nilit Duelle and Nilit Arafelle, which yield distinctly colorful effects in one regular dye process; Nilit Britex yarns, which have a high luster and are soft to the touch and drape well; and, Nilit Aquarius yarns with their moisture-wicking properties.
"Innovation is a top priority at Nilit and Nilit Innergy yarns represent the best of our technological and creative capabilities," commented Alon Weiser, R&D and Technical Service Manager at Nilit. "Interfilière offers us a chance to show to the public our unique and diverse product range. We look forward to showing visitors why Nilit is considered the leader in nylon 6.6."
Nilit Ltd. produces nylon 6.6 and microfiber yarns in a broad selection of dtex and filament counts, luster levels, and types of cross-sections. Nilit's yarns are used for knitwear, wovenwear and spandex covering applications for the production of fashionable and functional legwear, bodywear, intimate apparel and activewear. Nilit Ltd. is a privately owned company with headquarters in Israel. It works closely with its international customer base from offices in Italy, the United States, Germany, France, Latin America, Asia Pacific, and Suzhou, China.
This article is also appears in...