30th July 2009, Migdal Ha'emek, Israel
Nilit to exhibit EcoCare at Interfiliere
Nilit, a global leader in the production of nylon 6.6, will be exhibiting its newest innovative fibre, Nilit EcoCare, at Interfilière 2009. Nilit says EcoCare is the only recycled nylon 6.6 with deep, uniform colour.
Nilit is taking an 84 square metre booth at this year's show, which takes place 5-7 September at the Paris Expo in France. Interfilière is a leading trade fair for lingerie and beachwear fabrics and this year marks the 11th time Nilit has participated.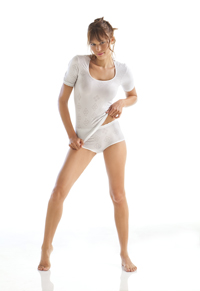 "We look forward to introducing our Nilit EcoCare fibre to the international marketplace at this year's Interfiliere," says Oded Breier, Nilit's Marketing & Sales Manager. "This is the first recycled fibre that retains the properties of our virgin fibres and gives excellent colour depth and uniformity in the regular dye process."
"The Company's recycled yarns reflect our long-standing consideration for the environment and our reputation as an innovator in yarn engineering and production," Breier explains. Nilit EcoCare nylon 6.6 yarns are certified by Scientific Certification Systems (SCS) for minimum 89% recycled content.
At the Show, Nilit will preview its Spring/Summer 2011 Trendbook for body fashion and active sports. The book, which features collections designed and conceived by Nilit Fashion consultant Ilana Joselowitz, takes its theme from 'A society seeking ways to live a better life in a new mood sparked by a quest for meaning'.
The 44-page book expands this theme in collections as varied as 'mystic legends', 'art nouveau', 'wicked ways', and 'savanna lands'. EcoCare and other Nilit high-performance fibres will be shown at the Nilit booth via intimate apparel, legwear and activewear products from the latest trends collection.
This article is also appears in...