23rd September 2014, Paris
Nino Cerruti presents Texprint 2014 Awards
The Texprint awards were presented by renowned Italian designer Nino Cerruti at Premiere Vision on 17 September in Paris. The prestigious prizes were awarded to the exceptional British-trained textile design graduates selected to exhibit under the auspices of Texprint at Indigo/Première Vision.
"The world is full of crazy artists – but we are industrial designers," commented Nino Cerruti. "We must be artists and designers. The creative and imagination skills need to translate back into clothing and real applications. It is so pleasing to see that the next generation of designers selected to exhibit at Texprint 2014 understand the commercial imperatives that underpin successful design."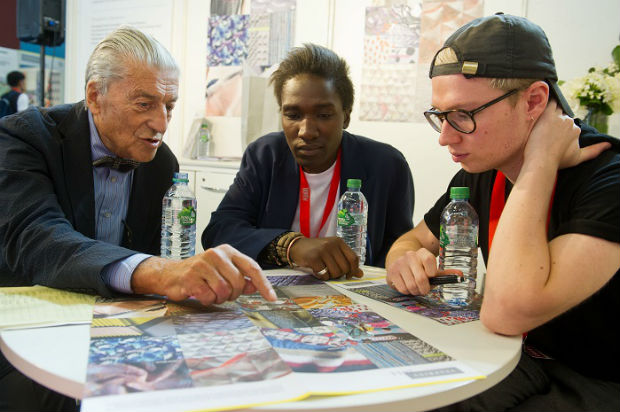 Eminent representatives from the worlds of fashion, interiors, specialist textiles and retailing selected four talented graduates from British universities for prizes in the Colour, Pattern, Space and Body categories. Twenty four designers were in contention for the Texprint prizes, as well as The Woolmark Company Texprint Award and the Miroglio Texprint Award for Digital Innovation.
Texprint Awards 2014
The Texprint prizes were awarded to the following designers:
Colour, for the most innovative use of colour, was awarded to Charlotte Beevor, who studied Printed Textiles and Surface Pattern Design at Leeds College of Art. Her large scale paintings have created a positive influence on various environments.
Pattern, for the most creative pattern, was presented to Jane Zhang, who completed an MA in Printed Textiles at the Royal College of Art. Her work was acknowledged as a finalist in 2013 Sacred Stitches Waddesdon Manor; 2012 Design Against Fur competition finalist, British Fashion Council and London Fashion Week.
Space, for the best fabric design for interiors, was awarded to Georgia Fisher, who completed an MA in Textiles: Weave at the Royal College of Art, having previously gained a BA at Central St Martins.
Body, for the best fashion fabric design, went to Federica Tedeschi, who has recently completed an MA in Mixed Media Textiles at the Royal College of Art. She exhibited at Energy Futures in France in 2012, reflecting her interests in science, new technology, art and architecture.
Woolmark Company Texprint Award
The Woolmark Company Texprint Award encourages designers to use Merino wool and its award goes to the designer using at least 60% Merino wool in an innovative manner. Judged by Nino Cerruti, of the Lanificio Fratelli Cerruti, and Agi Mdumulla and Sam Cotton of the trend setting menswear brand Agi & Sam, the prize was awarded to Tali Furman.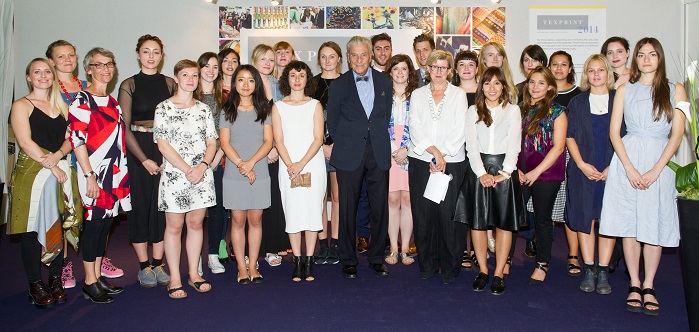 "It has been a very difficult decision because all the candidates for The Woolmark Company award had something interesting and unique to present. So we decided to set the criteria of creativity, innovation and harmonious design, as well as of course respecting The Woolmark Company rule that the work must incorporate at least 60% Merino wool," said Nino Cerruti.
"It is great to see a very high level of work from both a technical and creative point of view - especially to team creativity and energy resulting in ideas that become real practicable textiles."
Miroglio Texprint Award For Digital Innovation
New for 2014 is the Miroglio Texprint Award for Digital Innovation, awarded to one of the Texprint 2014 selected designers – providing the opportunity to gain professional experience with the prestigious brand at the company's Piedmont headquarters in Italy.
It has been awarded to Charlotte Hetheridge for her innovative screen-printed designs created by optimising the natural properties of a variety of base fabrics inspired by objects previously held as status symbols such as falcons, lace and ceremonial armour.
This article is also appears in...