A Nottinghamshire lace knitwear supplier, G.H. Hurt and Son, has seen a weekend boom in trade from home and abroad after the Royal baby was adorned in one of the company's shawls, Nottingham Post reports.
The new princess, named Charlotte Elizabeth Diana, was brought out of the Lindo wing of St Mary's Hospital in London last week, wearing a merino wool shawl made by the Chilwell based firm.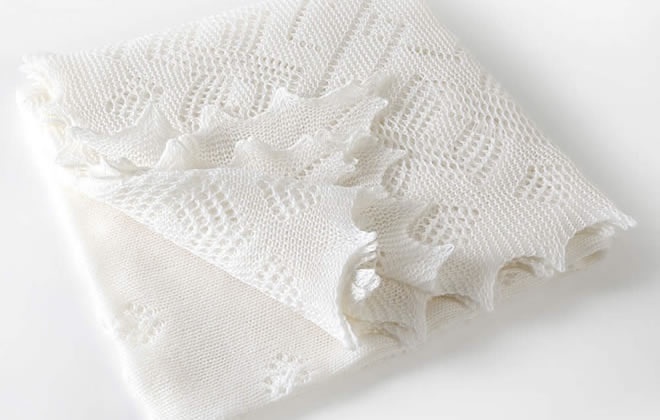 Since then, the firm has received international acclaim, with orders pouring in from around the world for the same garment, which is priced at £68 and is described as the elegant soft wool baby shawl, according to the newspaper.
Grown interest
Gillian Taylor, a director of the firm, based in High Road, told the newspaper: "We have had a lot of interest and web sales have obviously grown over the weekend, as they woke up in the States."
"We were getting orders from America and Australia and all around the world, so it's lovely. I think they have clearly got an interest in the Royal family over there. It's been a delight – we have spoken to some lovely customers."
The lace diamond pattern border on the shawl was first knitted by the firm's factory during the 1920s and recently the knitwear company reintroduced the same border design into a baby shawl. It is ivory white and knitted in 100% merino wool.
Prince George
The company also made the shawl that Prince George was dressed in after his birth in July 2013, leading to an eight-week waiting list for sales and orders from as far away as Australia and America.
Prince George was seen in public for the first time in a luxury flat knitted lace shawl knitted on a Stoll machine. H. Stoll GmbH & Co. KG is a leading manufacturer of flat knitting machines. According to Stoll, following his birth in 1982, Prince William was also wrapped in a blanket made by the company's flat knitting machine.
Unique collection
G.H. Hurt has a unique collection of vintage hand frame knitting machines, which are based on the first stocking frames designed by the Reverend William Lee in 1589. However, the hand frame machines work alongside modern knitting technology to produce exquisite fashion products evoking the Orenburg and Shetland styles.
G.H. Hurt was founded by George Henry Hurt, grandfather of Henry Hurt the present managing director, in 1912. The business was started in an old seed warehouse built in 1781 and remains on the same site today. On 5 July 2012, international design legend Sir Paul Smith, one of Nottingham's most famous sons, unveiled a plaque to commemorate the company's 00th anniversary.
This article is also appears in...