18th April 2011, Nottingham
Nottingham moves to rhythm of Victorian lace machines.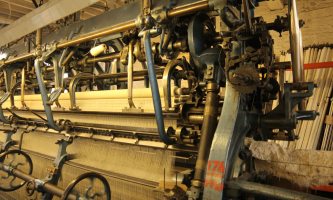 Artist and Nottingham Trent University PhD student Nicola Donovan will be presenting 'Lacework', a project incorporating a sound piece made from recordings of Victorian lace machines, at Nottingham Castle during the forthcoming Easter festivities.
Lacework is the collaborative effort of Nottingham lace enthusiast Nicola Donovan and media student Tom Watts, where Leavers lace machines at Cluny Lace, which has been making Leavers lace in the UK since 1845, provide the bass line for a musical installation in the city of Robin Hood.
The sound piece emphasises the crashing and vibrating bass rhythm of the machinery, a sound that is now deliberately muted to minimise decibel levels in the actual factory to protect the hearing of lace workers.
Leavers lace is made on Leavers lace machines, which produce both patterns and background for complex lace at the same time. The Leavers lace machine was developed by John Leavers in 1813 and was introduced to produce intricate twisted lace patterns similar to those created by hand. The machines were later superseded by high speed Raschel warp knitting machines which produce most of today's knitted laces.
Lacework is a follow on project from Lacepoint, a temporary open studio held at the German Christmas market in Smithy Row, Nottingham, last December. Nicola's work will occupy the disused bandstand within the Nottingham Castle grounds and as with Lacepoint she will be available to meet and chat throughout the two days.
Nicola's aim is to create art events that invite interest in Nottingham lace and encourage conversation about it. An exhibition on the theme of Nottingham lace will be held at the galleries of Nottingham Castle Museum, Nicola's partner institution, in late 2012.
Lacework is part of a collaborative PhD research project organised by Nottingham Trent University's School of Art & Design and Nottingham City Museums and Galleries. The exhibition will be open at the bandstand, Nottingham Castle Museum, from 11 am to 4 pm, on April 23 and 24.
This article is also appears in...