10th June 2011, Nottingham
Nottingham Trent knitwear design student wins gold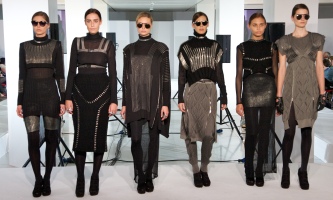 The top award at Graduate Fashion Week has been won by a Nottingham Trent University fashion knitwear design student. Rory Longdon was named the prestigious George Gold Award winner as the showcase came to a close in London on Wednesday night.
In an amazing night for the University's School of Art and Design, another fashion knitwear design student, Wonjee Chung, came home with the Stuart Peters Visionary Knitwear Award.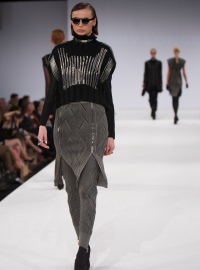 The annual event, now in its twentieth year, acts as a platform to showcase the very best fashion design talent in the UK. Students from the country's best fashion institutions presented their six piece collections on the catwalk throughout the week with a high-profile panel of judges deciding which were worthy of receiving the event's major prizes.
Rory Longdon took his inspiration for his six-piece womenswear collection from the scientific movement Transhumanism and the idea that the human body is altered technologically to enhance capabilities. He developed black and metallic skirts, dresses, sweaters and leggings made from futuristic-looking fabrics to achieve a look of armour-encased warrior women.
He has incorporated different sized metal beads into knitted fabrics to give an armour-like feel and fine gauge engineered ribs are knitted in plated viscose yarns to mimic the networks of computer chips. Zips are used within seams to give tough lines that can alter the shape of garments and silhouettes.
"It's such an amazing feeling, surreal really, it just hasn't sunk in," said Rory who has been awarded £20,000 for winning the top award.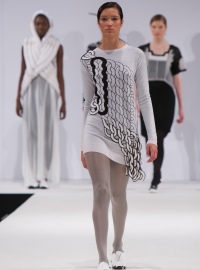 Rory, who also won the Clothworkers' Foundation Award in the Bradford Textile Society Design Competition earlier this year, said: "I've worked extremely hard in the run-up to Graduate Fashion Week, working on my collection day and night, seven days a week. To see my work on the catwalk in London was so exciting, but to be named the gold award winner, when there was so much fantastic talent on show, is a real honour."
Judges praised his 'bold yet simple idea', which translated into a wearable collection, and said it was "cohesive and immaculately constructed with outstanding craftsmanship".
Wonjee's collection, meanwhile, was inspired by the idea of time travel to a parallel universe. Pieces incorporated soft leathers crocheted within delicate knit, while constructed three dimensional tubular shapes created a powerful silhouette.
Nicola Francis, programme leader for fashion knitwear design and knitted textiles at Nottingham Trent University, said:
"We're absolutely thrilled with both Rory and Wonjee's achievements. Both produced stunning knitwear collections and the judges were rightly impressed. What a perfect start to their careers, we will be keeping a very close eye on them both in the future."
This article is also appears in...