If there is one thing the winter outdoor enthusiast can rely on, it's the performance of knitted textiles, from cozy base layers, hats and socks for layering, to fleece and stretch synthetics for more aerobic activities. At the most recent Outdoor Retailer Winter Market (ORWM), the semi-annual industry-wide trade show held in Salt Lake City, knits took a more sophisticated turn, combining functional fibres with innovative constructions and elevated styling.
"Wick-it Good"
With colourful graphic prints and elegant fabrics, base layer and hosiery have come out from underneath. Melange and space-dyed yarns, mis-matched patterns, and prints as well as knitted jacquards are definitely meant to be seen. Kari Traa, a Norwegian line, featured stretchy merino wool performance base layer in fun patterns designed to appeal to young women.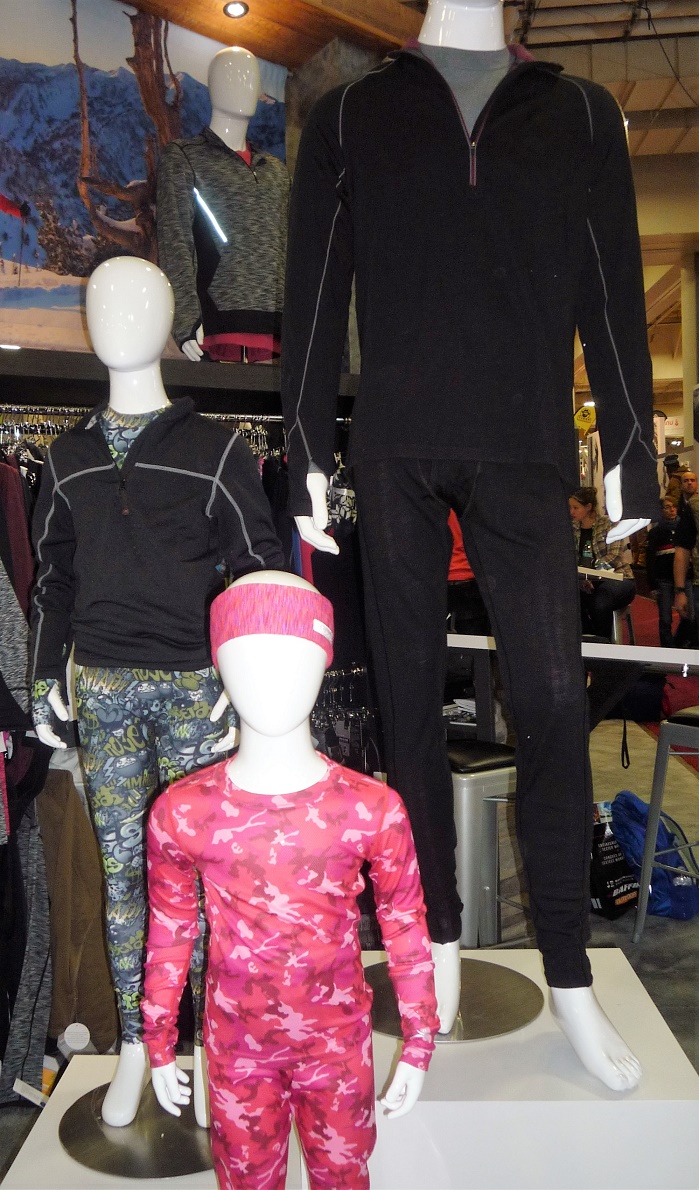 Terramar® Sports promised to "wick-it good," adding melange effects and trendy camo prints to its line of brushed, wickable Cloud 9 polyester base layer, while going upscale with luxurious plaited MerinoSilk stretch pieces. The brand's Thermawool base layer utilised a poly/wool melange yarn with a brushed interior; Climasense™ technology promoted wicking and breathability, as well as odour control.
A new line of base layer clothing called Kora™ was knit in silky 18.3µ yak fibre, said to be warmer and more breathable than merino, due to the higher elevation of the yak's habitat. The line supports the nomadic herding communities of the Himalayas, who live with their animals, and collect the wool as it is moulted.
Engineered for comfort
Socks were not only more colourful, but more technical as well. A winner of the Kokatat American Made Outdoor Gear Award at ORWM, knitter Farm-to-Feet™, which uses only US-grown wool, added a newly-developed 19.5µ merino to its line of 200 needle hosiery. The highly-engineered Damascus Elite hiking and hunting sock also featured micro-channel ventilation and LYCRA® comfort compression.
Inspired by current trends, the Farm-to-Feet™ Hampton sock for women sported deliberately mis-matched patterns on right vs. left socks within the pair.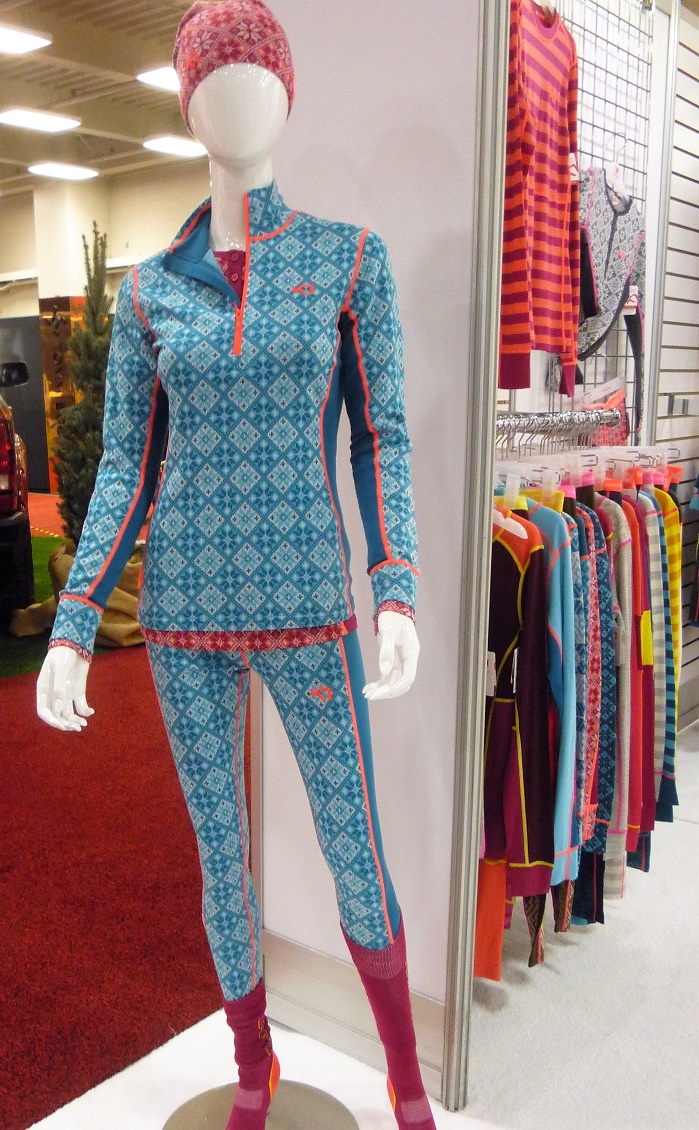 The new PhD® Outdoor Mountaineer sock at SmartWool®, also made in the US, featured the brand's Industractawool durability technology, along with mesh zones for venting, and a compression heel cup.
It all starts at yarn level
Lorpen North America's TR2 crossover sock introduced a performance blend of PrimaLoft® fibre with merino wool. The same micro polyester fibre used in PrimaLoft® insulation is spun with merino wool to create a yarn that is soft, warm, and dry.
PrimaLoft® recently partnered with Mitsui Bussan Techno Products to develop the fibre into yarn and performance textiles, focusing on base layer and fleece, hosiery, and technical T-shirts. Woven flannels and performance denim are also in development.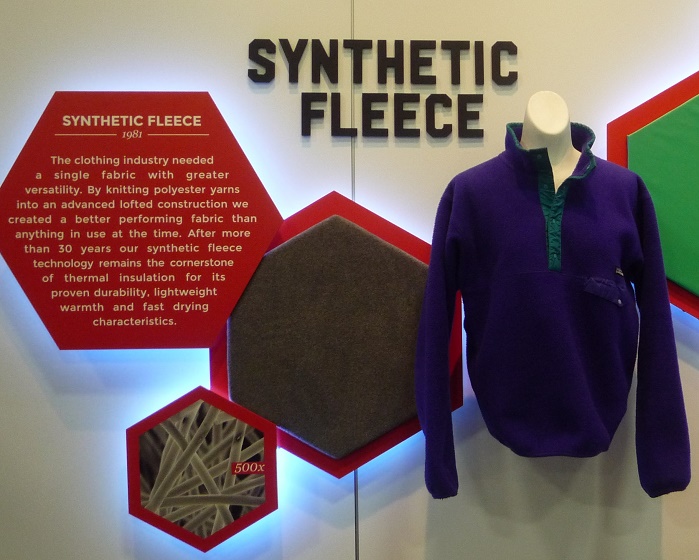 "We're taking the PrimaLoft® story into new product categories with performance lifestyle fabrics to provide comfort solutions," explained John Mitchell, head of sales and product development for the project.
Hyosung's introduced its latest comfort solution, Heat On™ polyester, at ORWM. The heat-generating fibre contains a proprietary mineral that absorbs solar energy and radiates it to warm the body. "Heat On™ development was inspired by consumer demand for garments that offer enhanced warmth in cold weather outdoor activities whether it is hiking, skiing, cycling, climbing, running, or camping," shared Ria Stern, Hyosung global marketing director.
Unifi's latest innovation, XS cross-section technology with dynamic tunability, was also developed with thermal comfort in mind. The fibre can be customised for a variety of attributes, including resiliency, thermal capacity, air and vapour permeability, bulk, and aesthetic effects.
"People forget that innovation starts at the yarn level," remarked Unifi marketing manager for retail branding, Christine Spiegel.
Fleece flashback
After falling out of favour at the hands of lightweight insulated jackets and vests, soft, stretchy, mid-layer fleeces are making a comeback. At Polartec®, where polar fleece was first developed in 1981, "throwback" fleece was trending with brands such as Patagonia and Ducky Stephens.
"Despite all our innovations, we still have fleece at the heart. Today fashion is turning back the clock to heritage textiles," reported Tim Morin, PR director of Breakaway, for Polartec®.
Polartec® continues to drive innovation in knits, such as their collaboration with The North Face on the Summit Series L2 jacket, launched in 2015. The jacket's proprietary version of Polartec® Thermal Pro® hard face fleece pushed the limits of 3D knitting in a garment with a one-piece, engineered jacquard construction that cut waste while promoting warmth and moisture management in key areas.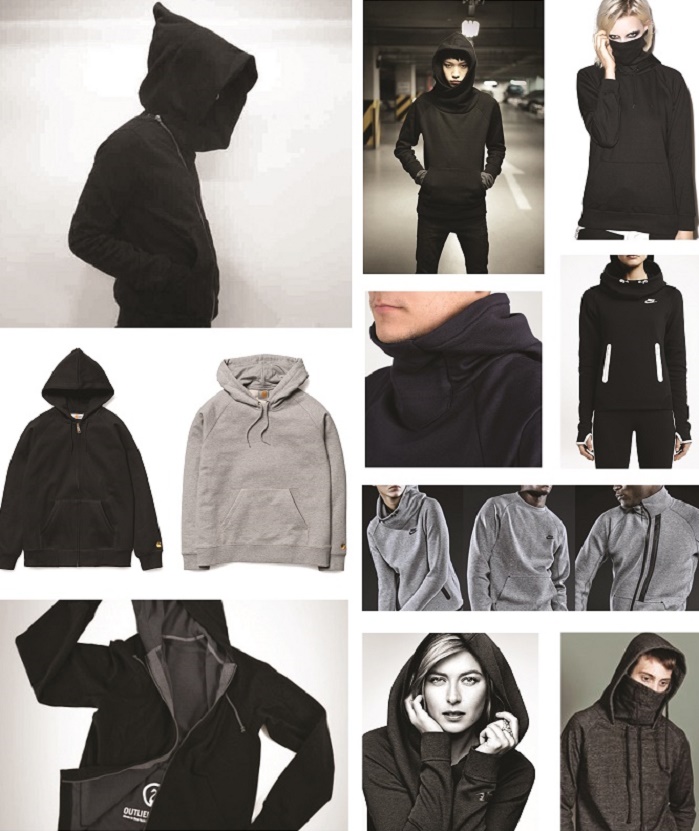 The search for the perfect fleece was the objective of the 4EVER™ Fleece project, introduced at OR by CORDURA®, in collaboration with Struktur Studio and the Portland Garment Factory. The line of hoodies and sweatpants featured Cordura® 4EVER™ Fleece Soft Comfort performance fleece fabrics knitted by Cyberknit, Yoonia, and Ifateks mills.
"To meet the continued desire for apparel that suits both active and casual lifestyles, we've expanded our performance knit portfolio into an exciting new collection of light, mid, and heavy weight fleece constructions," explained CORDURA® global brand and marketing director, Cindy McNaull. "Once you break fleece in, you want it to last."
The Carhartt consumer is also looking for more technology and comfort, according to Lindy Mueller, associate public relations manager for the workwear brand, whose reputation for hard-wearing comfort is winning fans in the outdoor space. The Force Extremes™ signature graphic hoodie featured a rugged polyester fleece armed with 37.5® technology, which speeds up the conversion of moisture to vapour and traps odours, keeping the wearer warm, dry, and comfortable.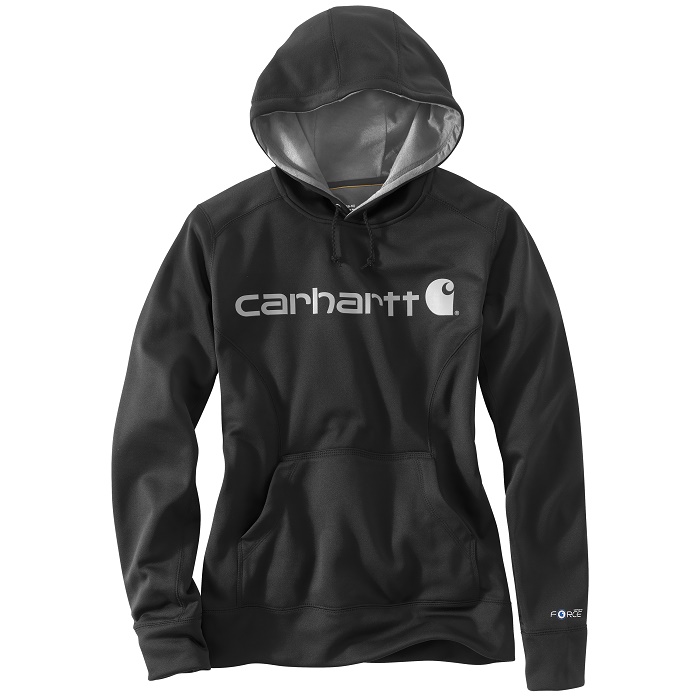 A new outdoor aesthetic
There's a new wave of brands at Outdoor Retailer, including those housed in the show's Venture Out space, combining an outdoor heritage with elegant materials and a younger, urban aesthetic. Duckworth®, which sources its American Rambouillet merino wool from the Helle ranch in Montana, continued to elevate its line of knitted base layer, mid-layer, and outerwear pieces with the addition of wool blend fleece, bi-ply, socks, and worsted merino knitwear.
Duckworth® was also a winner of the Kokatat American Made Outdoor Gear Award at ORWM.
Colorado-based Voormi® sources Rocky Mountain High Country Merino™ for its proprietary constructions, including a plaited wool/poly wicking base layer; a wool/nylon mid-layer with a DWR finish; and their Core Construction™ knit featuring a waterproof, breathable membrane.
Voormi®'s latest innovation is their camouflage knit, developed with space-dyed wool yarns using a biomimetric pattern. The fabric's nature-inspired colors and lack of synthetic shine is designed to appeal to outdoor enthusiasts in general, as well as to the growing market for hunting and fishing performance apparel.
The performance attributes and sustainable benefits of alpaca wool have been beautifully utilised in Nau's new range of sweaters. According to the company, the alpaca wool is GOTS-certified and sourced from Peruvian farmers, with a focus on social and ethical awareness.
The alpaca pieces complement Nau's Randygoat merino wool and recycled polyester collection of knit pieces, including base layers and refined casual wear, all part of the brand's elevated aesthetic and commitment to sustainability.